2020 Hyundai Aura vs Honda Amaze - Dimensions Comparison
Hyundai has already officially revealed the Aura subcompact sedan. Here, we are going to compare the 2020 Hyundai Aura with the Honda Amaze. Yes, size does matter, as it determines how much cabin space and boot space a car will offer.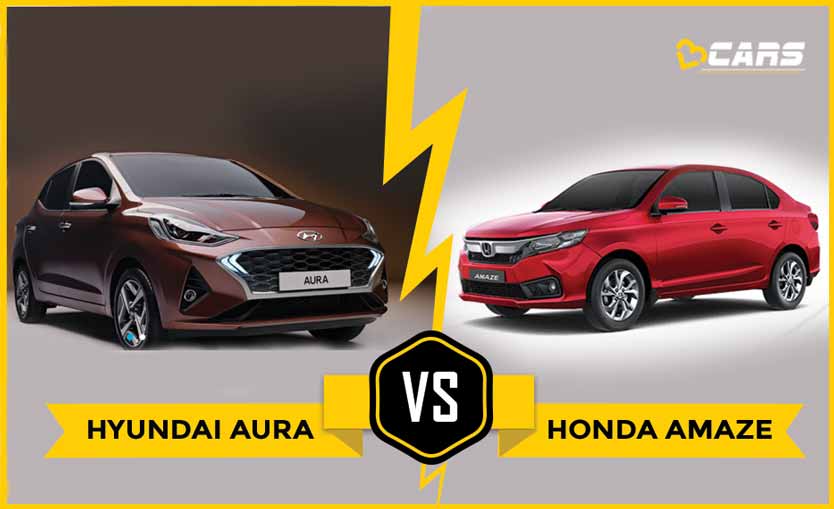 So, let's take a look at the dimension comparison of the 2020 Hyundai Aura and Honda Amaze subcompact sedan models. 
The following are the dimensions details of the Hyundai Aura and Honda Amaze:
2020 Hyundai Aura vs Honda Amaze

DIMENSIONS COMPARISON

 

Hyundai Aura

Honda Amaze

Length

3995mm

3995mm 

Width

1680mm

1695mm

Height

1520mm

1495mm

Wheelbase

2450mm

2600mm

Boot Space

402 litres

420 litres
Both the Hyundai Aura and the Honda Amaze are sub-4 metre sedans. They both have identical length and are just under 4 metres at 3995mm. In terms of height, the Amaze is (1 inch) shorter than the Aura. When width is concerned, the Aura is (1.5cm) narrower than the Amaze. The Amaze offers a tad larger boot capacity at 420 litres, which is 18 litres more than the Aura's. The Amaze also has a longer wheelbase at 2600mm, that is a good 15cm longer than the Aura's wheelbase. This translates into better legroom for the Amaze's occupants.
2020 Hyundai Aura vs Honda Amaze - Dimensions Comparison - Conclusion
After comparing the dimensions, it is clear that the Honda Amaze has overall larger dimensions than the Hyundai Aura. The Amaze offers better width, a longer wheelbase and larger cargo space as well. The Aura is a tad taller than the Amaze, which should make it easier to get in and out of the car.
Thus, in terms of overall interior space and boot area, the Honda Amaze is superior than the 2020 Hyundai Aura.