Hyundai Creta vs 2019 Renault Duster Facelift Comparison: Which Compact SUV To Buy Under Rs 10 Lakh?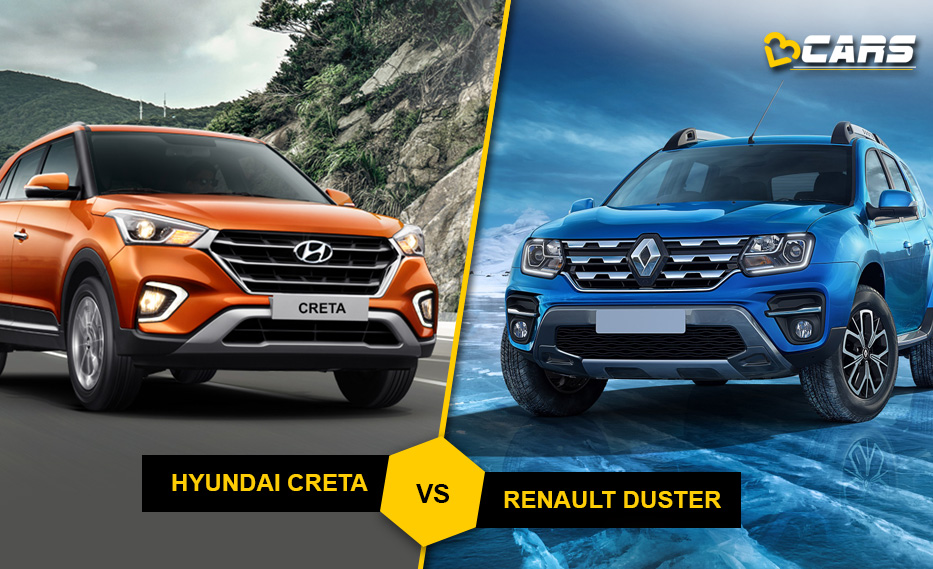 The 2019 Renault Duster facelift has been launched with cosmetic changes and feature updates to make a stronger case against cars like the Hyundai Creta and Nissan Kicks. We compare the 2019 Duster's RxS variant, which is priced at Rs 9.99 lakh (ex-showroom), against Creta's base diesel E+ variant, which costs as much as the Duster RxS, to find out buying which of these two compact SUVs would make more sense.
HYUNDAI CRETA  vs RENAULT DUSTER  | PRICE COMPARISON

EX-SHOWROOM DELHI

HYUNDAI CRETA

1.4L Diesel E+

Difference

RENAULT DUSTER

1.5L Diesel RxS

VARIANT

PRICE

 

PRICE

VARIANT

1.4L Diesel E+

9,99,990

0

9,99,990

RxS Diesel 85PS

-
-
 
-
-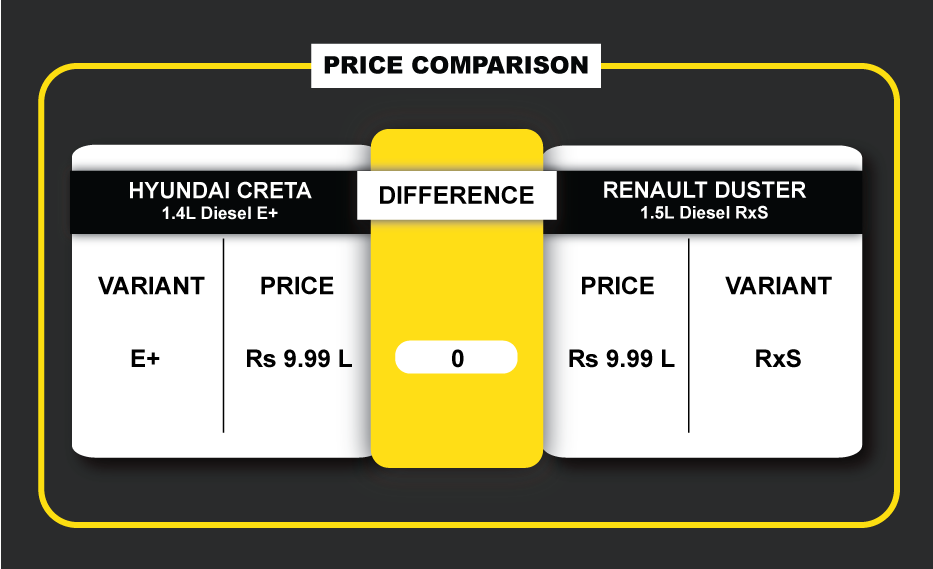 Take into account specifications of these two compact SUVs, and the 2019 Duster turns out to be the bigger car in every dimension, including its wheelbase. A larger wheelbase is usually a sign of more cabin space, so there is a fair chance that the 2019 Duster will be more spacious than the Creta.
However, shift focus towards the engine, and you'll notice that the Creta is the more powerful car of the two. It is also the more torquey and has a sixth cog in its transmission, which might make it a more effortless cruiser than the 2019 Duster's that comes paired with a 5-speed manual transmission. What is worth noting is that both these SUVs come with a more powerful diesel engine as well.
HYUNDAI CRETA  vs RENAULT DUSTER | SPECS COMPARISON

-

CRETA

DUSTER

L x W x H (all in mm)

4270 x 1780 x 1665

4360 x 1822 x 1695

Wheelbase(mm)

2590

2673

Seating capacity

5

5

Powertrain

Diesel-Manual

Diesel-Manual

Engine capacity

1.4L

1.5L

Maximum power

90PS

85PS

Peak torque

220Nm

200Nm

Transmission

6 Speed Manual

5 Speed Manual