Maruti Dzire 2020 vs Tata Nexon 2020 Engine Specs & Mileage Comparison
Know which car gives best performance 2020 Dzire vs Nexon 2020 in comparison of engine specification & mileages.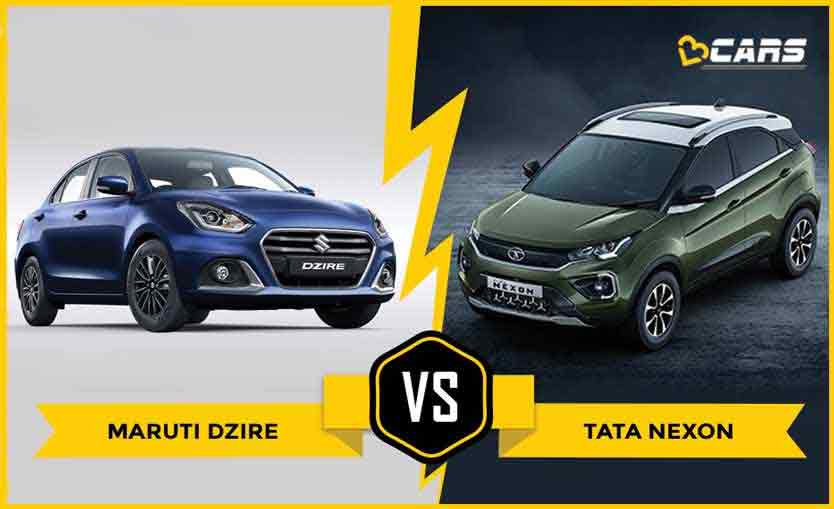 Engine Specs Comparison Dzire 2020 vs Nexon 2020 Facelift
Engine Specs

Maruti Dzire 2020

2020 Tata Nexon

Fuel Type

Petrol Hybrid

Petrol

Diesel

Displacement

1.2-litre

1.2-litre

1.5-litre

Maximum Power

90PS @ 6000rpm

120PS @ 5000RPM

110PS @ 3750rpm

Maximum Torque

113Nm @ 4400rpm

170Nm @ 1750-4000rpm

260PS @ 1500-2750rpm

Transmission

5-speed MT / AMT

6-Speed MT/AMT

6-Speed MT/AMT

Emission Standard 

BS6
The Maruti 2020 Dzire's 1.2-litre Hybrid Petrol engine makes 90PS of power at 6000rpm and 113Nm of torque with 4400rpm. Its petrol engine comes with a 5-speed Manual and Automatic transmission. It comes with BS6 engine.
The Tata 2020 Nexon's 1.2-litre Petrol engine makes 120PS of power at 5000rpm and 170Nm of torque with 1750-4000rpm. Its 1.2litre petrol engine comes with a 6-speed Manual and automatic transmission. 2020 Tata Nexon 1.5-litre 6-speed manual and automatic diesel engine makes 110PS of power at 3750rpm and 260Nm of torque with 1500-2750rpm.
Fuel Efficacy/Mileage Comparison Facelift 2020 Dzire vs 2020 Nexon Facelift
Here's a comparison of 2020 Dzire Facelift fuel efficiency against 2020 Nexon Facelift sub 4 meter SUV.
 

Maruti Dzire 2020

2020 Tata Nexon

Transmission

5-Speed MT

5-Speed AT

6-Speed MT

6-Speed AMT

6-Speed MT

6-Speed AMT

Fuel Type

Petrol

Diesel

Claimed FE

23.26kmpl

24.15kmpl

17.2kmpl

16.0kmpl

22.2kmpl

22.4kmpl
Maruti Suzuki 2020 Dzire Petrol engine 5-speed Manual transmission has fuel efficacy 19.05kmpl and 5-speed AMT transmission has 24.15kmpl. The 2020 Tata Nexon petrol 6-speed manual transmission has fuel efficiency figure of 17.2kmpl and automatic has 16.0kmpl. Its 6-speed Manual Diesel engine has 22.2kmpl and automatic has 22.4kmpl.
Read Also - Maruti Dzire 2020 vs Tata Altroz Engine Specs & Mileage Comparison
2020 Tata Nexon Petrol Variant Comparison - Hindi Video