Home
-
Car Comparison
-
Skoda Superb 2020 vs Competition | Price, Engine & Dimension Comparison
Skoda Superb 2020 vs Competition | Price, Engine & Dimension Comparison
The new Superb's prices, engine specs and dimensions have been revealed, but how does it hold up against the competition? We find out.
---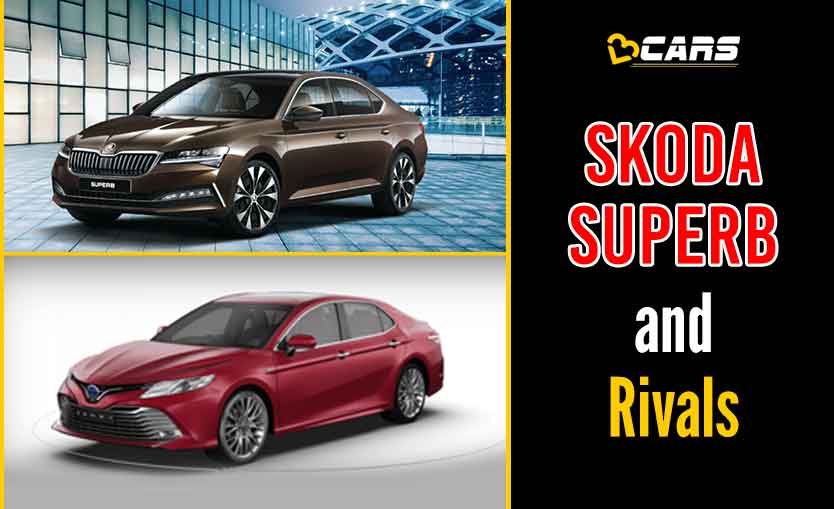 Skoda India launched the 2020 Superb with prices starting from Rs 29.99 lakh ex-showroom. It rivals the Toyota Camry in the premium sedan segment. Here are the prices of Superb and Camry.
Skoda Superb vs Rivals | Price Comparison
PREMIUM SEDANS | PETROL AUTOMATIC | PRICE COMPARISON

EX-SHOWROOM | JUNE 2020

Skoda Superb

Toyota Camry

Sportline

₹29,99,000

Camry Hybrid

₹3788,000

L&K

₹32,99,000

 -

2020 Skoda Superb is available in 2 variants -- Sportsline and Laurin & Klement. It is now the most affordable car in its segment. Its entry-level variant of the Superb is priced at Rs 29.99 lakh. Toyota Camry, priced at Rs 37.88 lakh, is the more expensive car.
Skoda Superb 2.0L vs Rivals | Engine Comparison
PREMIUM SEDAN SEGMENT

PETROL ENGINE SPECS

 

Skoda Superb

Toyota Camry

Displacement

1984 cc

2487 cc

Cylinder

4

4

Capacity

2.0L

2.5L

Maximum Power

190PS @ 4200-6000rpm

178PS @ 5700rpm 

(Total Max Output 218PS)

Maximum Torque

320Nm@ 1450-4200rpm

221Nm@ 3600-5200rpm

Transmission

7-Speed DCT

CVT

Claimed FE

15.10kmpl

19.16kmpl

The Skoda Superb is available with a 2.0L petrol engine with a 7-speed DCT type automatic transmission. The power and torque output of this engine is 190PS and 320Nm, respectively.
Toyota Camry's 2.5-litre engine produces 218PS of power. It is the most powerful engine in the segment, having 38PS more power than Superb.
Superb's 2.0-litre engine produces 320Nm of torque. It has the best torque figures in the segment.
With the automatic transmission, Toyota Camry has the best fuel-efficiency figure of 19.16kmpl. Superb returns a claimed fuel efficiency of 15.10kmpl.
Read Also - Skoda Rapid 2020 vs Competition | Price, Engine & Dimension Comparison
Superb's engine offers the best torque in this segment, so it is expected to offer better driveability compared to Toyota Camry. If you're looking for a car with low running cost, then Camry will be better since it's the most fuel-efficient car in this segment.
Skoda Superb vs Rivals | Dimension Comparison
PREMIUM SEDAN SEGMENT

DIMENSION COMPARISON

 

Skoda

Superb

Difference 

Toyota

Camry

Length

4869mm

16mm

4885mm

Width

1864mm

24mm

1840mm

Height

1469mm

14mm

1455mm

Wheelbase

2841mm

16mm

2825mm

Boot Space

625-lt

38-lt

587-lt

Ground Clearance

156mm

4mm

160mm

Fuel Tank

66-lt

16-lt

50-lt

Tyre Size

215/55 R17

 

235/45 R18

Skoda Superb is 4869mm long, 1864mm wide and 1469mm tall. A wider body normally results in better shoulder room inside the car while a higher roof makes it easier to get in and out of the car. Skoda Superb rides on a wheelbase measuring 2841mm. The wheelbase is the distance between the centre of the front and rear wheels. A longer wheelbase usually results in better legroom.
Toyota Camry is longer than the Superb by 16mm.
Superb is wider than Camry by 24mm.
Superb is taller than Camry by 14mm.
Skoda Superb has the longest wheelbase in the segment. Its wheelbase is longer than the Camry's by 16mm.
Superb has 38-litres more boot space than the Camry.
Camry has the best ground clearance in the segment.
Also Read - Skoda Karoq 2020 vs Competition | Price, Engine & Dimension Comparison
In terms of dimensions, Superb occupied a larger area compared to the Camry.
Between the Superb and Camry, Superb is more affordable by around Rs 8 lakh. Since it gets a lot of equipment and its engine is also considerably powerful, it is the more sensible car to buy.
Previous
Next
---
---
Related Car Comparison