Honda Cars India conducting 'Mega Service Carnival'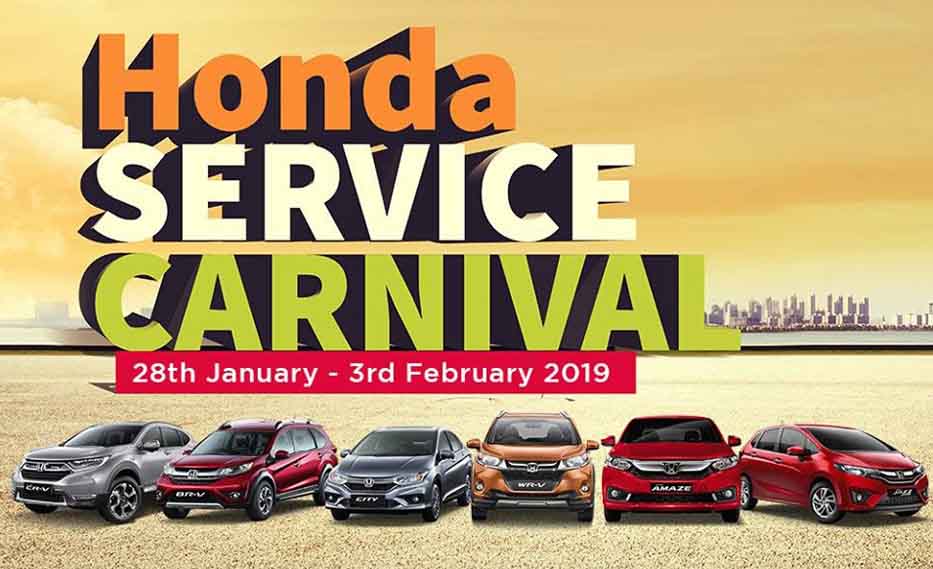 Honda Cars India is organizing a Mega Service Carnival which is currently taking place at all the 239 authorized Honda service centers across the country. This big service camp has commenced on 28th of January, 2019 and will go on till 3rd of February, 2019. Honda Cars India Limited (HCIL) has said in a statement that this Mega Service Carnival is being conducted to offer multiple benefits to its valued customers. The service camp is offering complete diagnosis of a car's overall condition with a thorough 56 point check-up, a top wash, 15 percent discount on value added services, an extension in the coverage period for Road Side Assistance, evaluation of the old vehicles, special discounts and offers on tyres and batteries and much more.
While speaking on the Mega Service Carnival, the Senior Vice President & Director, Sales and Marketing at Honda Cars India Ltd, Rajesh Goel said that the company is committed to offer the best of Honda services to all its customers. This nation-wide service camp is a reassertion of the company's commitment to its customers. Honda Cars India wants all its customers to make of this event, and avail expert care for their cars, while experiencing the joy of owning a Honda car.
So if you are a Honda customer and own any Honda car model, no matter how new or old, you should hurry and visit your nearest authorized Honda Cars India dealer to check out the various offers, discounts and schemes that they are offering on the various Honda services. It is always good to have your car checked-up thoroughly by experts and grab a few goodies for your car at a good discounted price.
Honda Cars India is one of the leading car manufacturing companies in India, and is respected for its stylish and good quality cars. The Japanese auto major has quite a few upcoming launches planned for the Indian car market in order to boost its sales and reinforce its position in the highly competitive Indian auto industry.
;
Honda Cars India has quite recently launched the new generation CR-V compact premium SUV in India, and launched a new petrol top-end model of the City in January. Now, the company is all set to launch other new models this year. The Honda Civic sedan is making its comeback in the Indian car market this year in its latest-gen avatar. The Civic has recently received a facelift in the international market, and this is the model we are going to get in India. The new 2019 Honda Civic premium sedan is going to launch in the first week of March, 2019, although the exact launch date is not out yet.
This time around, the Honda Civic will come along with its diesel counterpart for the first time in India in order to rake larger sales figures. The new Civic is a very sporty, sharp and tech laden car to impress the modern sedan buyers. In all its glory, the world acclaimed Civic sedan will begin its fight afresh in the Indian D-segment of executive sedans with the other established monikers such as the Toyota Corolla Altis and Skoda Octavia.
;
ABOUT THE AUTHOR

An adventurer at heart and introvert by nature, I love to travel, click nature's beauty and beautiful machines on wheels. Art, literature and poetry are also close to my heart.
Previous
Next
---
Related Car News