Home
-
Car Reviews
-
Land Rover Defender Ground Clearance, Boot Space, Dimensions and Tyre Size
Land Rover Defender Ground Clearance, Boot Space, Dimensions and Tyre Size
Land Rover Defender is a premium off-roader. This article will give you a perspective of its ground clearance, boot space and dimensions (Length, Width, Height & Wheelbase).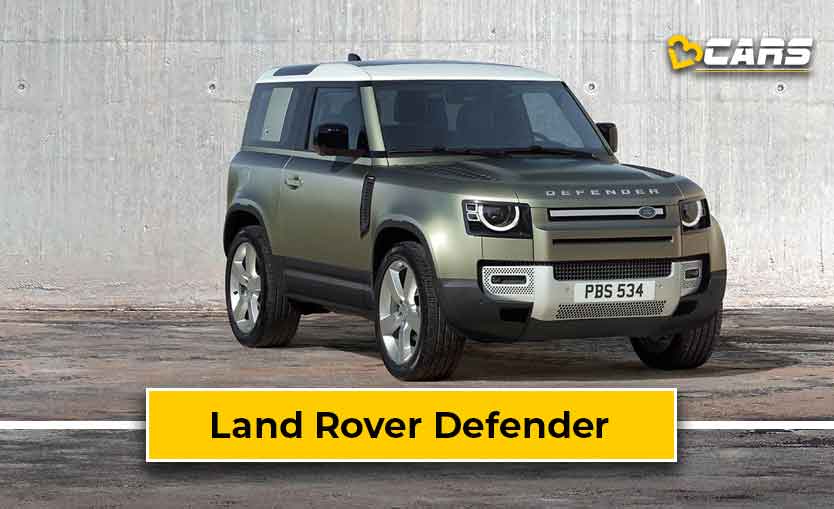 What Are The Dimensions Of Land Rover Defender?
LAND ROVER DEFENDER | DIMENSIONS

 

Defender 90

Defender 110

Length

4583mm

5018mm (+435mm)

Width

2015mm

2105mm

Height

1969mm (Air suspension)/1974mm (Coil spring)

1967mm (Air suspension)

Wheelbase

2587mm

3022mm (+435mm)

Boot Space

297L (2 rows up)

160L (3 rows up)

Ground Clearance

225mm-291mm

218-291mm

Wading Depth

850mm-900mm

900mm

Land Rover offers the Defender in 3-door and 5-door versions. Where the 3-door version is a 5-seater and has a wheelbase of 2587mm, the 5-door version can seat up to to 7 and has a wheelbase of 3022. The 5-door Defender is also longer than its 3-door counterpart by 435mm. 
What Is The Boot Space Of Land Rover Defender?
As far as boot space is concerned, the Defender 90 can load up to 297L which can be further extended to 1263L. The Defender 110, on the other hand, has a boot space of 160L which can be further expanded to 1946L.
What Is The Ground Clearance Of Land Rover Defender?
Land Rover has a maximum ground clearance of 291mm and a water wading capacity of up to 900mm.  That said, it rides on 20-inch wheels. Since the Defender is an SUV it should have a high ground clearance and the Defender has it in abundance. It has one of the highest ground clearance in its class  The Defender is also capable of going through deep waters with a water wading of almost a metre. 
| | |
| --- | --- |
| Ground Clearance (mm) | 291mm |
| Tyre Size (Base Variant) | 18-inch wheels |
| Tyre Size (Top Variant) | 20-inch wheels |

ABOUT THE AUTHOR

Lakshya loves to talk about cars and, therefore, he's mostly in the front of the camera doing the talking. He's usually blunt in his opinion -- good or bad, and backs it up with logic. Lakshya is a senior member of V3Cars' editorial team. 
Twitter handle: @lakshya_khanna
Previous
Next
---
Related Car Reviews