MG Hector vs Hyundai Venue: Price & Specs Comparison
MG Motor was intending to make its upcoming SUV - the Hector the first 'Internet vehicle' of the nation with its iSmart infotainment framework. However, Hyundai then chose to ruin the idea by launching the all-new Venue SUV with its Blue Link framework on May 21st, 2019. Let's have a look at the detailed comparison between the two.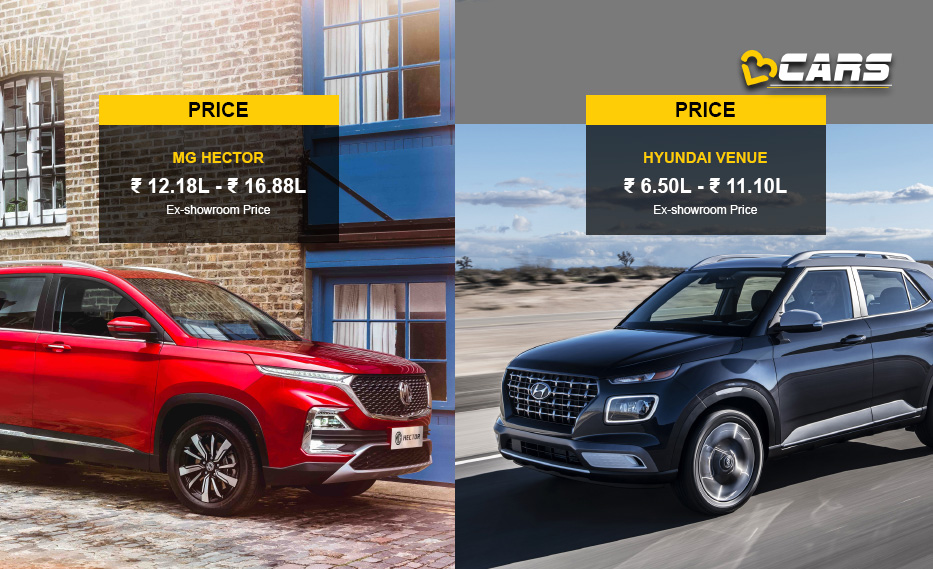 Hector vs Venue Dimension Comparison:
| | | |
| --- | --- | --- |
| Dimension | MG Hector | Hyundai Venue |
| Length | 4655 mm | 3995 mm |
| Width | 1835 mm | 1770 mm |
| Height | 1760 mm | 1590 mm* |
| Wheelbase | 2750 mm | 2500 mm |

The new MG Hector measures 4655 mm in length, 1835 mm in width, 1760 mm in height with 2750 mm long wheelbase and 587 liters of trunk capacity. On the other hand, the Hyundai Venue measures 3995 mm in length, 1770 mm in width, 1590 in height(*1605 mm with roof rails), a wheelbase of 2500 mm.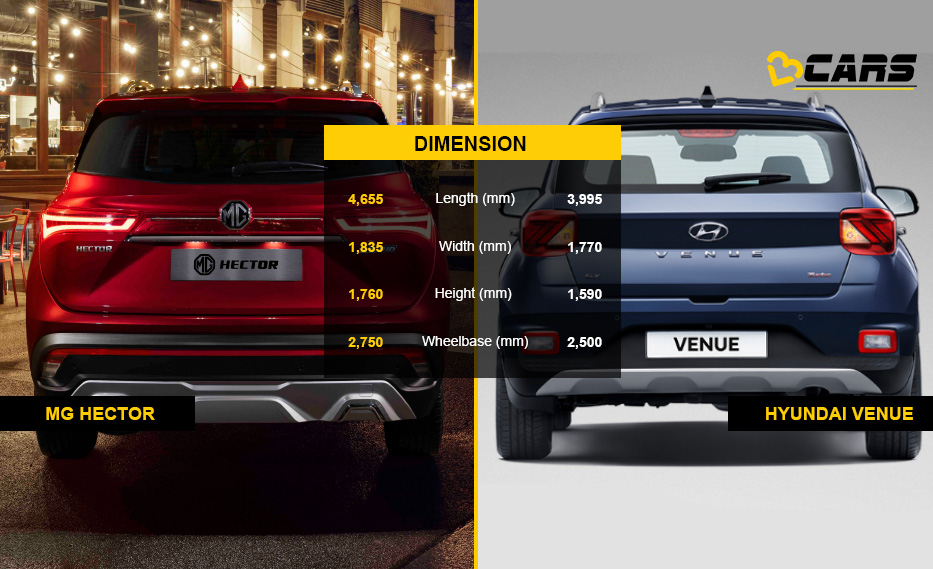 MG Hector vs Hyundai Venue Powertrain:
MG Hector

Diesel

Petrol

Engine

2.0 L

1.5 L Hybrid  

1.5 L

Power

170 BHP

143 BHP

143 BHP

Torque

350 NM

250 NM

250 NM

Transmission

6- Speed MT

6- Speed MT 

6- Speed MT & DCT (AT)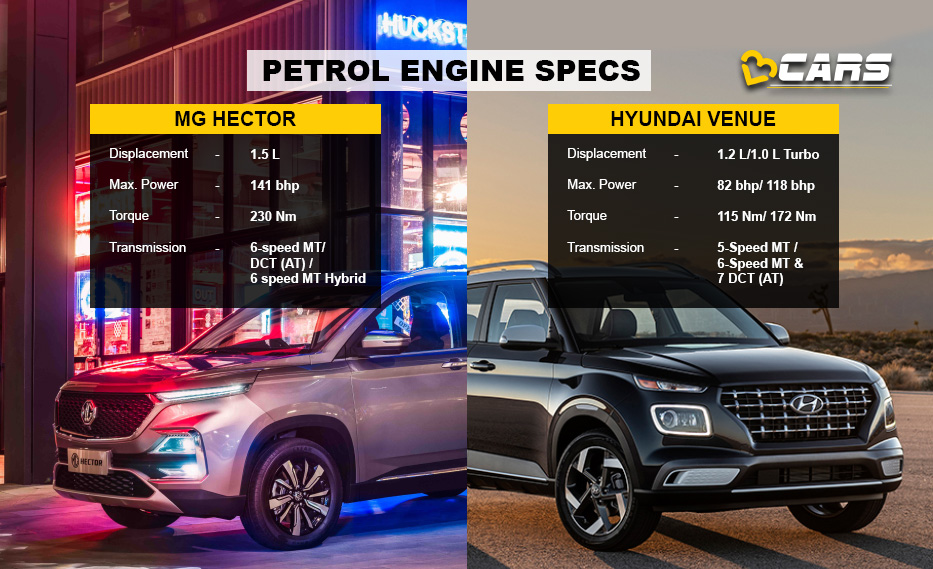 Hyundai Venue

Diesel

Petrol

Engine

1.4 L

1.2 L  

1.0 L Turbo 

Power

89 BHP

82 BHP

118 BHP

Torque

220 NM

115 NM

172 NM

Transmission

6- Speed MT

5-Speed MT

6-Speed MT & 7 DCT (AT)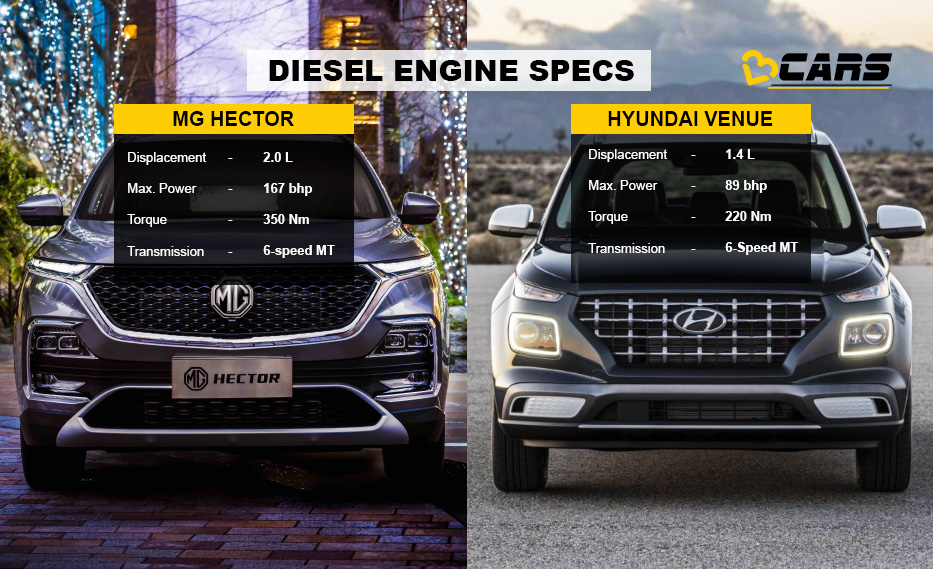 ;
Both SUVs have features that open the gates to connected mobility in India. MG has named this technology as i-Smart Next Gen whereas Hyundai is calling it blueLink connectivity.
Both of these are work by means of a Machine to Machine(M2M) network available via implanted eSIM in the infotainment system. Hence, the infotainment unit of the vehicle stays connected with the server and becomes an interface between car users and tech. This enables the car owners to remotely screen the vehicle and control functions by using a mobile application provided by the manufacturer.
MG India claims that there are 50+ connected car features whereas Hyundai praise about 33 connected features with 10 India exclusive features. Though, there are a lot of features that are common in both the Hector and the Venue. Both the cars feature an AI based voice assistant similar to Apple iOS's Siri and Android's Google Assistant, with whom you can talk to, ask specific questions, make calls, set navigation destinations and more. Other common app-based features are like the Remote Engine Start/Stop, Remote Climate Control, Remote Door Lock/Unlock, Live Car Location Tracking, Geo-Fence Alert, Speed Alert and more.
Both cars also offer common safety and security features such as Crash Notification, Emergency Assistance, Stolen Vehicle Tracking, and Vehicle Immobilisation. In case of any accident or deployment of Airbags, the system will inform the concerned authorities or send a panic notification to registered family members or friends.
Below are the highlight of common features of the two SUVs
Common Features
• Remote Engine Start/Stop
• Remote Climate Control
• Remote Door Lock/Unlock
• Remotely set destination in-car system via the phone app
• Live Traffic Information
• Voice Assisted Calling
• Voice Assisted Navigation
• Geo-Fence Alert
• Speed Alert
• Live Vehicle Tracking
• Car Crash Notification
• SOS/Emergency Assistance
• RSA (Roadside Assistance)
• Driving Behaviour/Information
While the basic features remain the same, Hector's iSMART system gets a couple of extra fancy odds and ends like; Voice commands for controlling functions of sunroof, windows and climate control. Also Free Gaana Premium for endless music of your choice, Preloaded Entertainment Content, and AccuWeather account will be available.
On the other hand, given its lower price point, Venue offers less BlueLink system features that are distinct from Hector's iSmart system. The exclusive features in the Venue incorporate; SOS/Emergency buttons on the IRVM, Remote Horn Blow & Light.
One good thing is that Hyundai has confirmed that the Blue Link services will be free of charge for the first three years of ownership. We will have to wait and see what MG will offer in this regard.
MG Hector vs Hyundai Venue Price Comparison:
| | |
| --- | --- |
|   | Price (Ex-Showroom) |
| MG Hector | Rs. 12.18 Lakh - 16.88 Lakh |
| Hyundai Venue | Rs. 27.83 Lakh - 33.60 Lakh |

In terms of pricing, the MG Hector is priced between Rs. 12 Lakh – Rs. 17 Lakh, however, on the other hand, Hyundai Venue has launched in the price bracket of Rs. 6.50 Lakh – Rs. 11.10 Lakh.
;

ABOUT THE AUTHOR

A diverse bilingual (English and Hindi) Copywriter and Content Creator based in New Delhi, India. With a degree in Journalism, I always had an inclination towards writing.
As a writer, I have worked on content related to automobile, technology, travel, lifestyle, photography and many more.
Previous
Next
---
Related Car Reviews