Home
-
Car Reviews
-
Skoda Karoq Specifications - Engine, Power, Transmission & Fuel Efficiency
Skoda Karoq Specifications - Engine, Power, Transmission & Fuel Efficiency
Skoda Karoq belongs to the premium compact SUV segment. It's a 5-seater SUV that rivals the Jeep Compass and Volkswagen T-Roc. This article will give you a view of its engine specs and fuel efficiency.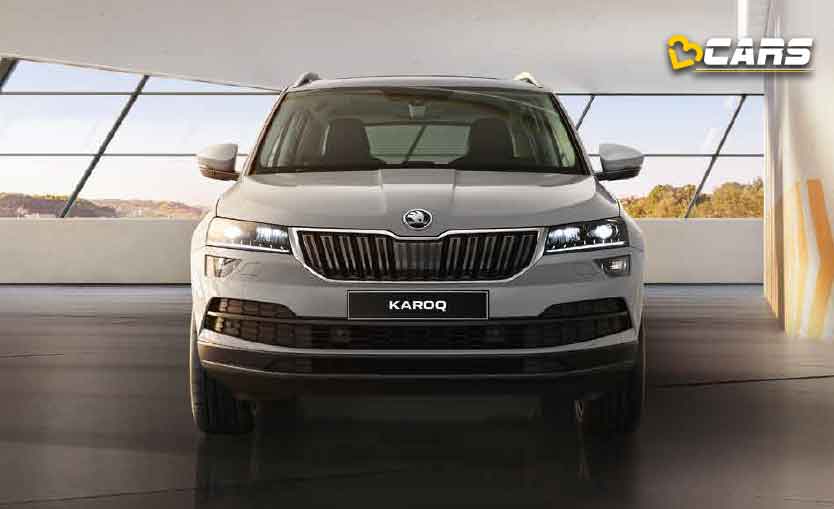 What Is The Power & Torque Of Skoda Karoq 2020?
Skoda Karoq Engine Specifications

Engine Type

Petrol

Displacement

1.5L

Cylinder

4

Power

150PS @ 5000-6000rpm

Torque

250Nm @ 1500-3500rpm

Transmission

7-speed DCT
The Skoda Karoq is available with a 1.5L turbo-petrol engine paired with a 7-speed dual-clutch automatic transmission. The power and torque output of this engine are 150PS and 250Nm, respectively.
Is Skoda Karoq Underpowered?
The Skoda Karoq should not feel underpowered. Its 1.5-litre, turbo-petrol engine produces 150PS of maximum power and 250Nm of peak torque. Karoq's performance should be adequate for Indian conditions. This engine is refined and you are likely to barely hear it while idling.
How Many Cylinders Does The Skoda Karoq Petrol Have?
Skoda Karoq gets a 4-cylinder, turbocharged, 1.5L petrol engine.
What Is The Mileage Of Skoda Karoq Petrol?
Skoda Karoq Fuel Efficiency

Transmission

7-speed DCT 

Fuel Type

Petrol

Claimed FE (WLTP, Combined)

14.49kmpl
Read Also - Skoda Karoq 2020 vs MG Hector 1.5L Turbo Petrol - Price, Specs, Features
The Skoda Karoq's 1.5-litre turbo-petrol engine with the 7-speed dual-clutch automatic transmission has a fuel efficiency of 14.49kmpl.
Is Skoda Karoq Petrol Good For Long Drives?
Yes, Skoda Karoq 1.5L petrol-automatic should be good for long drives as well as city drives. Its turbo-charged engine should be adequate for highway drives.
Is Skoda Karoq 4X4 Or 4WD?
No, Skoda Karoq does not get a 4x4 or 4WD drivetrain in India.

ABOUT THE AUTHOR

Mahesh is a fan of compact, quirky and underrated vehicles that punch above their weight. Multix, Nano, Strom R3 and Navi are his favorites.
Previous
Next
---
Related Car Reviews