Tata Tiago NRG Specifications - Engine, Power, Transmission & Mileage
Tata Tiago NRG is a B1-segment hatchback with a cross-hatch body style. Its a 5 seater car that rivals the Hyundai Grand i10 Nios, Maruti Suzuki Ignis and Maruti Suzuki Swift. From the pricing point of view, the Tiago NRG also competes with the Datsun Go, Maruti Suzuki Arena WagonR, Celerio, CelerioX and Hyundai Santro. This article will give you a perspective of its engine specs and mileage.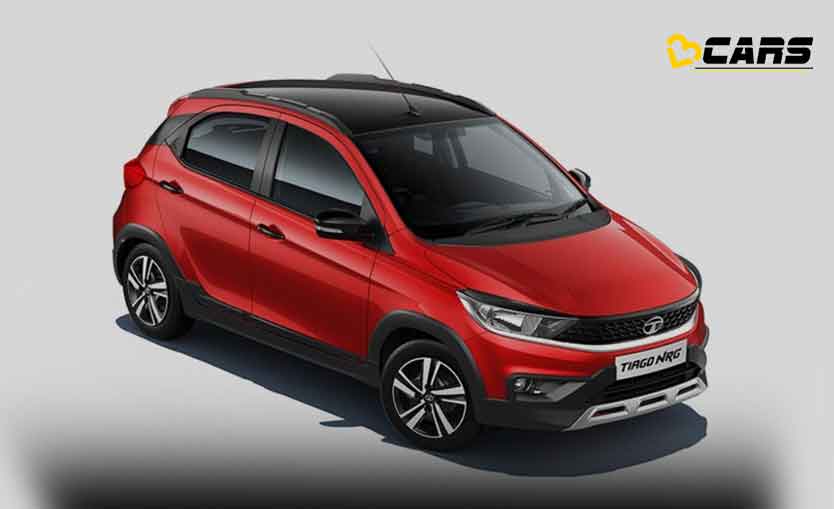 What Is The Power & Torque Of Tata Tiago NRG 2021?
Tata Tiago NRG Engine Specifications

 

Petrol

Engine

1.2 L Petrol

Displacement

1199 cc

Cylinder

3

Maximum Power

86PS @ 6000rpm

Peak Torque

113Nm @ 3300rpm

Manual Transmission

5-speed

Manual FE

20.27kmpl*

Automatic Transmission

5-speed AMT

Automatic FE

19.28kmpl*
*Based on Tiago hatchback
The Tata Tiago NRG is available with a 1.2L petrol engine with either a 5-speed manual transmission or a 5-speed AMT type automatic transmission. The power and torque output of this engine are 86PS and 113Nm, respectively.
Is Tiago NRG Underpowered?
The Tata Tiago NRG is not underpowered for normal drivers. Tiago NRG 1.2L petrol produces 86PS of maximum power and 113Nm of peak torque. Tiago NRGs performance is adequate for Indian conditions.
How Many Cylinders Does The Tata Tiago NRG Petrol Have?
Tata Tiago NRG gets a 3-cylinder, naturally aspirated, 1.2L petrol engine. It's a 3-cylinder petrol engine, so don't expect 4-cylinder level refinement as 4-cylinder engines are naturally balanced.
What Is The Mileage Of Tata Tiago NRG Petrol?
The official mileage figures of the Tata Tiago NRG are not available right now. However, the car is based on the Tiago hatchback and uses the same 1.2-litre normal petrol engine with a 5-speed manual and a 5-speed AMT automatic transmission. So, we can expect similar fuel efficiency figures of 20.27kmpl with the manual and 19.28kmpl with the automatic transmission.
Is Tata Tiago NRG Petrol Good For Long Drives?
Yes, Tata Tiago NRG 1.2L petrol is good for long drives as well as city drives. This naturally aspirated engine is adequate for highway drives. The Tata Tiago has a 4-star safety rating from the GNCAP and Tata uses the exact same body panels and frame for the NRG. So, the NRG also borrows the same credentials. While driving on the highways, you're safer in the Tiago NRG than in other cars in this price range.