How To Negotiate With Car Dealers And Get The Best Discount On New Car (11 Tips)
In this article, we'll explore some tips that will assist you in buying a new car to get the best deal and save some cash. If I discover any new techniques or remember something that I missed, I'll update this article. So consider saving the link to this in your bookmarks. I've also unknowingly applied some of these tips, and later, reading books revealed that even experts consider some of my techniques proven.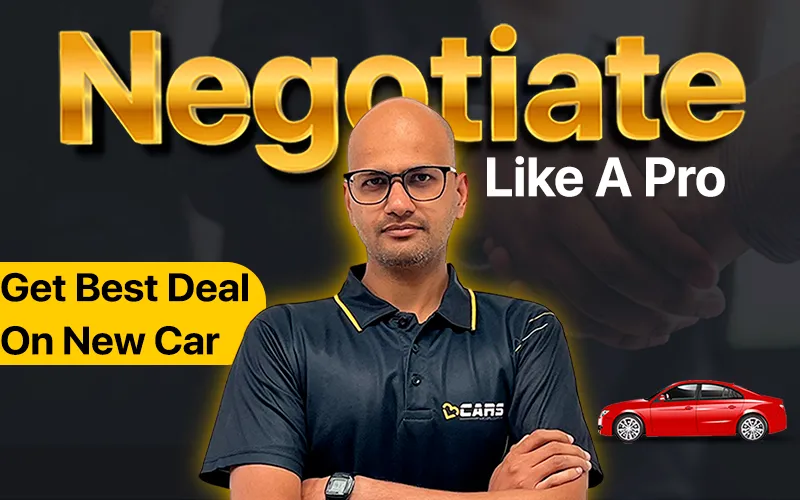 If you prefer watching this information in Hindi instead of reading it in English, you can head to V3Cars Youtube channel or play the video here:
The Art of War, which is a 2,500-year-old Chinese book states, "If you know the enemy and know yourself, you need not fear the result of a hundred battles. If you know yourself but not the enemy, for every victory gained, you will also suffer a defeat. If you know neither the enemy nor yourself, you will succumb in every battle."
Like deep and meaningful books, this one also allows room for individual interpretation. So, I will present my interpretation, which is somewhat inspired by the book Never Split The Difference. Where The Art of War advises you to view both yourself and the car dealer as adversaries, I would recommend approaching the dealer as your ally. After all, you want to buy a car, and the dealer wants to sell one. Both parties want to close this deal, just with different definitions of a "good deal." You want to buy the car for less, and the dealer wants to sell it for more. You need to work to find that point where both parties find an acceptable compromise and close the deal. That's what negotiation is all about. But, as The Art of War book suggests, you need to know the dealer's strengths and weaknesses, as well as your own, to get there.
The tips in this article are based on keeping these factors in mind. So, let's get started.
1. Leverage Dry Periods
The first thing to note is to take advantage of dry periods, meaning when showrooms have fewer customers. Broadly speaking, you can time it with economic boom and bust cycles. Like after the peak of the pandemic when people weren't buying cars, dealers were ready to offer good discounts to clear their stocks. But if you can't wait for such significant economic cycles then on a yearly basis, December is a good time to close a deal. Many people buy cars in January to get the next year's model. That's why sales drop in December. Additionally, some dealers face pressure to achieve their calendar year and quarterly targets. If you start your car purchase in October or November and stretch it until Christmas, you'll have time for a few negotiation cycles. Then you can take the car on temporary registration and do the final registration in January. This way, your registration certificate will show the new year, and your car will become a new model year vehicle.
We bought a WagonR LPG from Delhi on December 25, 2009, which the dealer sold to us at a loss because there was demand for CNG cars in Delhi but not for LPG. We registered it in January, and it became a 2010 model.
Similarly, March is a good time because of the pressure of quarterly and financial year-end targets.
If you look at auspicious dates, before Diwali, Navratri is considered a good time to bring a car home, but just before it, the period of Shradh or Pitru Paksh for 15 days is considered inappropriate. If Shradh falls between October 1 and 3 in a year, it means that almost the entire second half of September sees lower sales. Additionally, some dealers face pressure to achieve their month-end and quarter-end targets. So, you can negotiate a good deal during this time.
In 2014, I had booked my Beat during Shradh, but keeping my family's beliefs and request in mind, I took delivery and made the balance payment during Navratri. I got a good deal and I also got the delivery on an auspicious occasion. You can also get better discounts, if you plan your purchase around such dry periods.
2. Go With A Friend
It's a good idea to take a friend with you when visiting dealerships. Let your friend know in advance that they need to negotiate on your behalf, and you shouldn't incur any loss. Make it clear to the salesman as well that you'll sign the check, but only if your trusted friend approves everything.
When you're in the car-buying frame of mind and have already liked a car, salespeople can tell in one look that there's no need to put in extra effort for this buyer. But your friend, who isn't emotionally attached to the car and doesn't care which car you buy, can argue or negotiate more rationally on your behalf.
3. Clarity Of Target
Once you're ready, you should know what you want to negotiate on, the price or the waiting period. Cars in high demand often come with longer waiting periods. So, you shouldn't expect discounts on these cars, but you can negotiate on the waiting period.
Salespeople typically try to steer you towards higher variants either by offering discounts or shorter waiting times. I went to a dealership with a friend who was interested in the base variant of a car with a 12-month waiting period. In just one hour, we managed to get the salesman to offer immediate delivery instead of waiting for a year. On the same day, we also reduced the waiting time for a different brand's car from 3 years to 1 year. Our next point will explain how this magic happened.
4. Be Ready To Not Buy The Car
I've lost trust in the waiting period mentioned by dealers. For instance, a car with a 3-year waiting period was reduced to just 1 year by my friend. It was slightly beyond his budget but better suited his needs. I made it clear to the salesman and said: "This car is appealing but is slightly beyond our budget, and the waiting period is also too long. Now, we have a few options: we can either go with a different car from another brand that fits my budget, or we can wait until we have a higher budget."
With these words, we conveyed to the dealer that we're ready to buy a car but we're not in a hurry. It gave the impression that the sale was slipping through the dealer's hands, so he was ready to reduce the waiting period.
If you have time, you have control over negotiation. If the dealer is in a hurry to sell a car, they will have to offer a better deal. If you are in a hurry to buy a car, you'll have to pay a higher price.
If the car you're buying is in high demand, you can only negotiate on the waiting period. But if your selected model, variant or color is not in high demand, you have scope to negotiate on the price as well. If the dealer already has that car in stock, you are doing them a favor by taking it off their hands, and you could negotiate further for discounts. For top-selling cars like Swift, Creta, Punch, Nexon, the chances of getting a discount are lower because if you don't buy, someone else will. The scope for discounts is higher for less popular cars.
You might wonder how the waiting period can be reduced so much. There could be two reasons behind it, and this is where the "know your enemy" comes into play. If you're in love with a particular car and have conveyed this to the dealer through your actions and body language when booking, then the dealer knows that even if the car is delivered in 14 months instead of 12, they won't lose the sale. You love the car so much that you can wait. But there's another buyer who will buy something else if they don't get the car within 6 months. So, giving priority to that buyer is essential, even if it means pushing your delivery. Another reason could be that the dealer already has some negotiation buffer. They might quote 12 months for a car that can be delivered in 6 months and make it seem like a special concession they're making on your behalf if you book it soon. Some buyers feel the guilt at this move and make the booking.
One thing to remember is that you have a lot of scope to take the deal further than what you get in the first meeting, whether it's a discount or a reduced waiting period.
Whatever you get in the first meeting is just the baseline. Negotiation starts from here.
Let's see how we do that.
5. Cross Shop Dealers, Brands & Even Segments
Now, go to other showrooms and jump straight into negotiations. There's no need to waste time. Clearly state what deal you already have and ask what better they can do. In a new showroom, make it clear in the first meeting that you don't want to waste time by discussing negotiations repeatedly. So, if you get a better deal elsewhere, you won't give the dealer a second chance to revise their offer.
Here, we are minimizing both the dealer's and our own time. By directly jumping into negotiation, we've also conveyed to the dealer that you are a genuine buyer because sales teams don't waste their energy and time on window shoppers.
If you are flexible with the engine, transmission, variant and color, make that clear too. Ask if there's a deal on a car that's in the lot. Sometimes, changing to a slightly higher or lower variant or a different color can get you a significant discount. If you're flexible with the car, you have a better chance of getting a good deal. If you're getting a discount and faster delivery for choosing the Venue instead of the Exter, then you can consider stretching your budget a little and jumping to the Venue.
One thing to remember is never to disclose to any dealer the name of the other dealer which has offered you a deal already. Straight up refuse if the salesperson asks this question. They may say that you probably don't have an offer and are just bluffing. That's why you can't disclose the dealer's name. When you actually have a better offer, your confidence will naturally show in your voice. You won't need to disclose the name. We maintain their privacy to make sure they don't get in touch with each other and fix the pricing.
6. Pre-Approved Loan
In the next few days, dealers will reach out to you to improve their offers. But mostly, to find out if you've a better deal from somewhere else. When this happens, let them know that you haven't received any noteworthy deal yet, so you're waiting.
Your tone and words are one thing, but you also need to make it clear through your actions that you're a genuine car buyer and not just window shopping. This will help build pressure on the dealer, and they will take you more seriously. So, after the first showroom visit, get a substantial amount approved from your bank for a loan.
Dealers don't revise their offers for everyone. The General Manager of the showroom hides many offers in some office corner for those who are both capable and willing to buy a new car. I'm sure of it because salespeople always say they will talk to GM sir, and half an hour later, they come back with a better offer that they said was impossible just two days ago.
Break
If your brain is getting overloaded, you can read the rest of the article later. Save the link somewhere for now. If you know someone who is thinking about buying a car, share it with them too. It will automatically get saved in the chat. Organize the points you've learned so far in your mind first and then move on to the next. But if you're ready, let's see the next point.
7. Negotiate Only On The Ex-Showroom Price
Back to knowing your enemy – dealers have various ways to extract money from you. Accessory packs, insurance, loans, old car exchanges and even registration sometimes include runner and documentation costs. You need to make it clear from the beginning that you're negotiating only on the ex-showroom price. Everything else, we'll discuss separately.
Otherwise, what can happen is say the dealer is offering a Rs. 10,000 discount on the on-road price but will say that you have to buy insurance from them. In that insurance, if there is already a Rs. 10,000 markup, you didn't get any extra discount but you may feel like you got a discount. Or they might upsell you with an overpriced accessory pack. So, discuss the car's discount only on the ex-showroom price. The rest is separate.
If the dealer is giving you a separate Rs. 5,000 discount on insurance, you can check online to tell them that it's not a discount, and it's still Rs. 10,000 more expensive than the online prices. But if the dealer is offering a Rs. 20,000 discount from their side but selling the insurance at a Rs. 5,000 higher cost, then you are still saving net Rs. 15,000 and it's a better deal. You need to give them some breathing room and a winning feel. At least research the approximate costs for insurance and registration ahead of time so you know how much you're being charged.
8. Check Manufacturing Date
Nowadays, cars are getting manufactured and sold as soon as they come to the dealerships. But, I'm sure the market will cool down eventually. So, you shouldn't buy a car that is more than 2-3 months old. Although cars parked in a dry area for up to 6 months normally don't have any issues and you shouldn't mind an older car either. But if you are buying a car that is more than 3 months old, you are essentially freeing up the dealer's locked capital. This provides you with another opportunity to negotiate.
For example, when I was buying the Chevy Beat in 2014, I initially asked the dealer for a car that was up to 2 months old, but I was willing to accept one up to 3 months old. However, before the registration, I asked to see the car's condition. Based on the chassis number, I found out that it was 5-6 months old. So, I went back to negotiate. By that time, I had already negotiated hard with them. So, they just allocated a 3-month-old car to me.
9. Exchange Bonus Deals
Let's talk about exchange bonuses. You take your old car to the dealer, and the dealer says: "We will give you Rs. 50,000 for it. Plus, if you exchange it with us, you'll get an additional 20,000 as an exchange bonus."
You might think you're getting Rs. 70,000 for a car worth Rs. 50,000, which seems like a good deal. But, if you tried selling it yourself, you may have gotten Rs. 1.0 lakh for it. So, even with a Rs. 30,000 loss, you may still feel like you got a good deal. This is quite a common trick.
First, before having your car evaluated by the dealer, have it evaluated at at least 2-4 other places to get an idea of its fair value. Then, you can have them compete with each other for a better selling price. At the very least, you should get a similar price from the dealer and the exchange bonus on top of it when buying a new car. Or else, you'll end up making a loss while believing you got a good deal.
Secondly, you don't even have to sell your car to the dealer. If the dealer is genuinely desperate to sell the car, you can get an exchange bonus without giving them your car. Find out what documentation they need to get the exchange bonus and provide those. Even though I didn't have a Chevrolet car previously, and I didn't have to sell my car to the dealer to get the exchange bonus.
So, anything is possible if you have the skill to negotiate and the time to negotiate.
10. Leave A Sweet Taste
Now, my bag of tricks is running empty, but we don't want to ruin relationships with anyone. If you know someone who wants to buy a car, you have a contact who will give you the best deal without wasting your time. They shouldn't feel like they made a mistake by giving you discounts. Research also suggests that no matter how bad your overall experience might have been, if you get a positive result in the end, you'll have a positive perception of the whole episode. A classic example for this is women's experience with childbirth. Even though the experience is largely painful, it feels like a pleasant memory once they hold their child.
If you've received decent discounts, there's no harm in spending some of that money on the dealership staff. I gave my salesman a scotch gift pack on the day of delivery, a box of sweets for the entire staff and a separate Cadbury's Celebrations box for the showroom GM. I spent about Rs. 5,000 on this, but in comparison to the discounts of Rs. 90,000, 5,000 is nothing.
With this tip, we've improved the mood of the sales staff. Now, let's talk about those who didn't give us good discounts.
11. Rub It In Their Faces
During the buying journey, you would have built contacts with several dealerships whose offers you didn't like. Now, share some photos of your new car's delivery with them personally in a chat. Along with this message: "This time, we didn't get the chance to buy a car from you, but if any of our relatives ever need to buy a car, we'll definitely connect them with you. And we hope that the offer you'll give them will be much better than what you gave us."
This message will serve two purposes. First, it's possible they didn't take you seriously because they didn't see you as a genuine buyer and that's why they didn't give you a good deal. With this photo, they will see that you were indeed a genuine car buyer, and they should feel a little regret for losing a sale.
Secondly, this will benefit them because due to this guilt, if you connect them with a relative, they will take them more seriously and offer the best price without wasting much time. So, your purpose should be not to leave anyone feeling sour. Maintain a good relationship with everyone because you never know when someone might come in handy.
These are the tips and techniques I have. Other small details, like the current offers from the manufacturer, is something you should already know before you even leave home.
The main purpose of creating this article is not just to get more views. Our goal is for you to practice these techniques to get a better deal for yourself and your friends and family, and save as much money as possible. But all of this won't come in practice right away. So if someone in your circle is buying a car, go with them as their wingman. If you're not emotionally attached to the car, you can negotiate better, and it will also help you practice your negotiation skills. Finally, you can also read the book "Never Split The Difference." It has some pages dedicated to car buying. Besides, it'll also significantly improve your negotiation skills in other aspects of life as well.
Amazon: Buy Never Split the Difference — Negotiating as if your life depended on it By Chriss Voss
Flipkart: Never Split the Difference — Negotiating As If Your Life Depended On It by Voss Chris
Note: Instantly Sell Your Old Car With V3Cars Sell Used Car Platform
With this, we conclude this article. I hope that it'll help you improve your negotiation skills and save you money. I'll update this article as and when I learn any new tricks or if I remember something that I failed to include in the first version of this article. So, make sure you save the link to this somewhere safe.
Also Read: Honda Car Offers For October 2023; Amaze, City
Hyundai Car Offers For October 2023; i20, Nios, Aura, Verna
Renault Car Offers For October 2023; Kwid, Kiger, Triber
Nissan Car Offers For October 2023; Magnite
Tata Car Offers For October 2023; Altroz, Tiago, Tigor, Nexon, Punch
Citroen C3 Aircross Gets Rs. 55,000 Discounts In 2 Weeks After Launch
Note: Now Find Out The Fuel Price In India Using V3Cars