Home
-
Car Comparison
-
New Renault Triber vs Certified Second-Hand 2016 Maruti Suzuki Ertiga
New Renault Triber vs Certified Second-Hand 2016 Maruti Suzuki Ertiga
The new Renault Triber is an almost too-good-to-believe option considering the price and the practicality it offers. A 7 seater with a starting price of under Rs. 5.0 lakh (ex-showroom) and a good design is the kind of value that'll make you reconsider your plans of buying a hatchback. But you know what will make you reconsider your decision of buying a Renault Triber? The option of buying a Maruti Suzuki Ertiga for the same amount of money or less. As of today, you can buy a mildly used 2015 or 2016 model Ertiga VXI for around Rs. 6.5 - 7.0 lakh. ON-ROAD! That's considerably lower than what you'd pay for a new Renault Triber.
---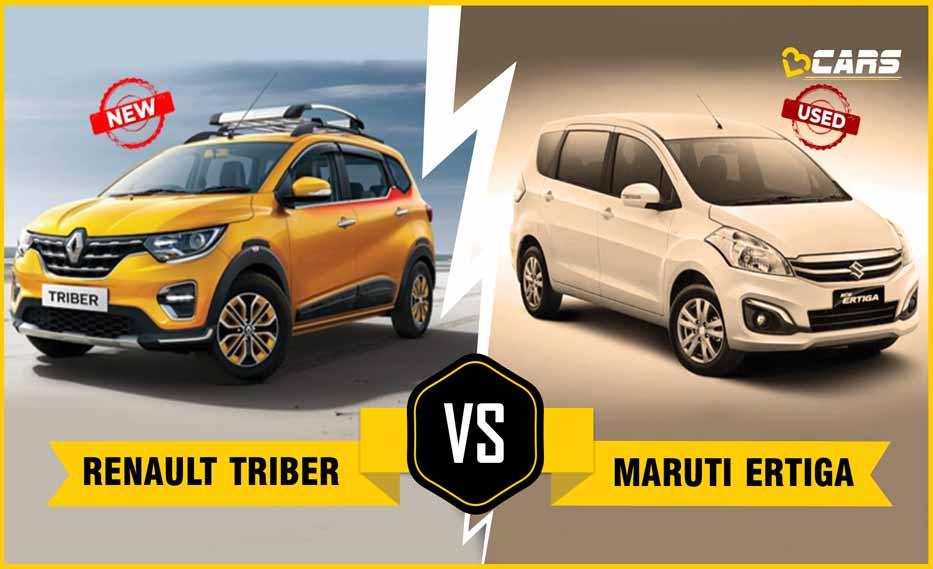 Let's do the math and help you decide if a second-hand Maruti Suzuki Ertiga makes any sense!
Here are the prices of a brand new Renault Triber:
RENAULT TRIBER PRICES

EX-SHOWROOM DELHI

VARIANT

PRICE

RXE

Rs 4.95 lakh

RXL

Rs 5.49 lakh

RXT

Rs 5.99 lakh

RXZ

Rs 6.53 lakh

Renault Triber vs Second Hand Maruti Ertiga - Overview & Prices
We did our research and found that a second hand 2015 or 2016 Maruti Ertiga with anywhere between 50000 and 60000km could cost you around Rs. 6.5 - 7.0 lakh. Depending on the condition and variant, the prices could fluctuate a little.
| | | |
| --- | --- | --- |
|   | Renault Triber | 2015-2016 Maruti Ertiga |
| Model Year | 2019 | 2015 or newer |
| Variants | RXE, RXL, RXT, RXZ | VXI or above |
| Powertrain | Petrol-manual | Petrol-manual & Petrol-AT |
| Price range | Rs 5.5 - 7.5 lakh (approx. on-road price) | Less than Rs 7.0 lakh |
| Odometer reading | Brand new (around 100km) | < 60,000 km (recommended) |

2019 Renault Triber vs Used Maruti Suzuki Ertiga - Dimension Comparison
In the size department, the second hand Maruti Ertiga will always beat the Renault Triber. It's longer and taller. It also has a considerably longer wheelbase and a marginally better ground clearance. The Triber has a slightly wider body, though.
| | | |
| --- | --- | --- |
|   | Renault Triber | 2015 Maruti Ertiga facelift (Used) |
| Length | 3990mm  | 4265mm |
| Width | 1739mm | 1695mm |
| Height | 1643mm | 1685mm |
| Wheelbase | 2636mm | 2740mm |
| Ground Clearance | 182mm | 185mm |
| Boot Space 7-seat | 84 litres | 135 litres |
| Boot 5-seat mode | 625 litres | Unknown |
| Boot 2-seat mode | Unknown | 735 litres |

The shorter length of the Triber haunts it when comparing the boot space. With all 7 seats up, the Maruti Ertiga has about 50 litres of additional room compared to the Triber. We couldn't find what the Ertiga offers in 5 seat mode but folding the second and third rows liberates 735 litres of space.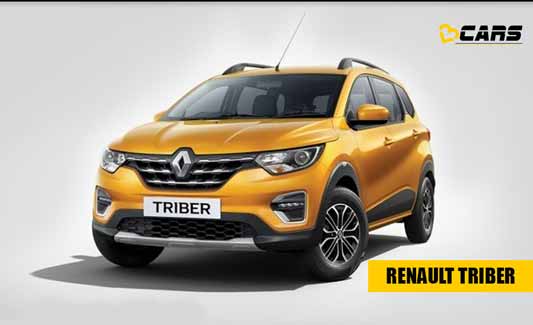 The Renault Triber offers 625 litres of boot space in 5-seat configuration. Note that the Triber's rear seats not only fold but are also removable. Adding and removing the third row of seats in the Ertiga isn't nearly as easy. But if you do end up removing the third row of the Ertiga, it'll most likely beat the Triber's figure. We don't have an official figure for Triber's boot space in 2 seat mode (second row folded and the third row removed).
No matter how much we delve into the specifics of boot space, one thing is clear - both of these cars can move your house. But with all 7 seats up, the Ertiga's length adds a bit of extra boot space.
Winner: Used Maruti Suzuki Ertiga
New Renault Triber vs Used Maruti Ertiga - Engine Specification Comparison
| | | |
| --- | --- | --- |
|   | Renault Triber | 2015 Maruti Ertiga Facelift (Used) |
| Engine displacement | 1.0-litre | 1.4-litre |
| Power | 72PS @ 6250rpm | 94PS @ 6000rpm |
| Torque | 96Nm @ 3500rpm | 130Nm @ 4000rpm |
| Fuel Efficiency | 20kmpl | 17.5kmpl |

A used Maruti Suzuki Ertiga once again shines in the engine comparison. Compared to a new Renault Triber, the Ertiga has about 400cc extra and it shows in its performance. The engine makes 22PS more power and 34Nm of extra torque. Without a doubt, the Ertiga will do a better job than the Triber when carrying 7 occupants or when driving on the highway. Especially so, when doing both - carrying 7 occupants on the highway.
Even in the city, the extra torque helps in quickly closing gaps in the traffic. The only downside of this larger engine is its lower fuel efficiency figure.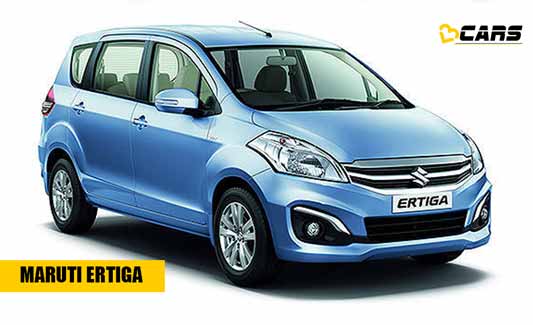 Do note that the more powerful engine of the Maruti Ertiga will cruise at a relaxed RPM on the highway when carrying a full load of passengers and luggage. Compared to the Ertiga, the Triber will have to rev higher to maintain 100kmph on the highway/expressway. In such circumstances, the Ertiga could also deliver comparable fuel efficiency figures.
However, in the city, when you have to idle the engine quite often, the bigger engine will burn more fuel. This is where the Triber is likely to deliver a better fuel efficiency figure.
Winner: Used Maruti Suzuki Ertiga
New Renault Triber vs Certified Maruti Suzuki Ertiga - Reliability Comparison
Reliability is something you should not ignore at all. In fact, this should form the basis of deciding which specific used Maruti Suzuki Ertiga car you buy. Even if you have to compromise on the variant or colour, you should pick the car that's mechanically sound.
On the reliability front, Maruti Suzuki's 1.4-litre petrol engine is pretty sorted and reliable, to begin with. This engine has been on sale for a long time and Maruti Suzuki has had time to refine it further. So a used Ertiga's 1.4-litre petrol engine is a great choice to consider.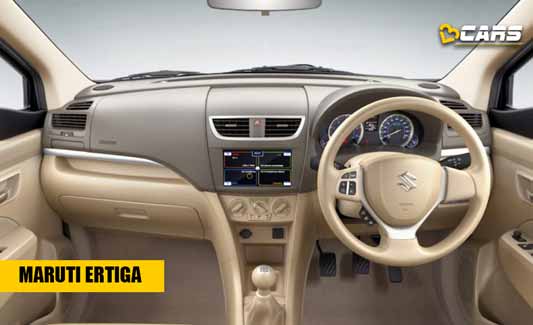 The Renault Triber's 1.0-litre petrol engine is also not completely new. This engine debuted with the Renault Kwid a few years ago. For the Triber, Renault has made some changes to the engine to generate more power and torque. This engine has not been in production for nearly as long as the Maruti's 1.4-litre petrol engine. Not to mention, the tweaked version of this engine just launched with the Triber. With no history, it's difficult to say how this engine will perform in the long run. With a new car, especially if it has a new or newly-tweaked engine/transmission, it's impossible to predict how long the engine will work reliably. But a 4-year warranty takes care of any engineering or manufacturing flaws that may crop up during the ownership.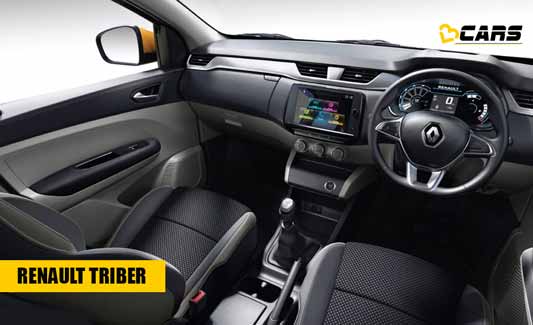 A used Ertiga, on the other hand, will have a service history to help you figure out how healthy that engine has been since it started running.
If you're not familiar with reading a car's service history, then you can go the certified route. If you buy from a well-known brand, then you can also get a 6 to 12-month warranty with the car. That should give you the peace of mind and safeguard you against any financial shocks due to unexpected mechanical failures.
It's difficult to pick a clear winner here as the preference and appetite for taking risk varies from one buyer to another.
Winner: None
New Renault Triber vs Used Maruti Suzuki Ertiga - Feature Comparison
A certified used Maruti Suzuki Ertiga is still an old car. The features also tell the same story. A touchscreen infotainment system and push-button start are exclusively available in the ZXI Plus variant of the Ertiga. ABS was optional in the LXI variant. Parking sensors weren't available in the base variant. So, Ertiga VXI variant is the bare minimum we'd recommend when shopping for a certified used Maruti Ertiga. That's exactly what we're considering for this comparison.
2015 MARUTI SUZUKI ERTIGA (FACELIFT)

KEY FEATURES

LXI / LXI (O)

VXI

ZXI

ZXI Plus

Black Outside  Handles & Mirrors

All features of LXI (Optional)

Remote Central locking

All features of VXI

All features of ZXI

15-inch wheels (without wheel caps)

Body-coloured door handles & ORVMs

Second-row accessory socket

Rear Wiper, Washer & Defogger

Push Start Button with Smart Key

Driver airbag

Day/Night Internal Mirror

50/50 split third row

Alloy Wheels

Rear parking camera

60:40 split second row

Front Fog lamps

Front and rear power windows

Height-Adjustable Driver's Seat

Touchscreen infotainment system

Seatbelt pre-tensioner with load limiter (Optional)

Driver and Front Passenger Airbags

4-speaker music system

2 Tweeters

Apple Carplay

ABS (Optional)

Wheel Covers

Tachometer

 
 

Passenger airbag (Optional)

Electric adjustment for outside mirrors

Rear parking sensors

 
 

Manual AC

Music Controls On Steering

Second row AC

 
 

Sliding and reclining second row seats

 

Second-row armrest

 
 

Even if you get the ZXI Plus variant of the Ertiga, you'll still miss out on thorax (side) airbags for front passengers, removable third row, cooled storage, projector headlamps and third row AC vents. All of these features are available in the Renault Triber RXZ variant. The Ertiga has Apple Carplay in the top variant but Android Auto is still missing. Compared to the VXI variant of the Ertiga, a new Triber will come across as a more feature-loaded option the better option.
RENAULT TRIBER RXZ
UNIQUE FEATURES OVER 2015 ERTIGA VXI

Projector headlamps

2nd-Row Tumble Option

4 Airbags (2 Front + 2 Thorax/Side)

AC Vents for Third Row

Speed-Sensing Door Lock

Impact-Sensing Door Unlock

12V socket for 3rd row

Removable 3rd Row

Cooled Storage

LED DRL

Rear Parking Camera

Rear Defogger

Touchscreen infotainment system with Apple CarPlay and Android Auto

Push Button Start/Stop

Rear Wiper and Washer

 

However, even the VXI variant of a used certified Ertiga will give you an electric folding for outside mirrors, steering mounted-controls for music and armrest in the second row.
2015 ERTIGA VXI
UNIQUE FEATURES OVER TRIBER RXZ

Steering-mounted music controls

Electrically-foldable ORVMs

Front fog lamps

2nd-Row armrest

As both cars have some useful and unique features, it's difficult to pick a clear winner.
Winner: None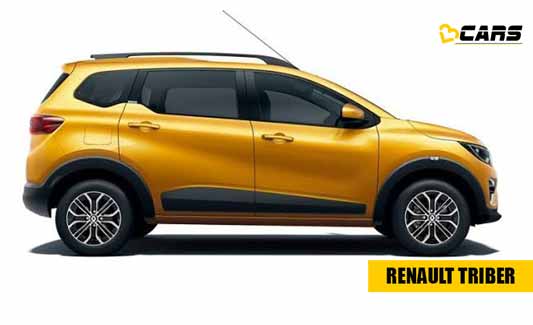 New 2019 Renault Triber vs Certified Second-Hand Maruti Suzuki Ertiga - Resale Value Comparison
The resale value of any car depreciates fastest during its initial years and then flattens as it gets older. Maruti Suzuki vehicles typically maintain healthy resale value. That's one reason why even a 4-year old used Ertiga is as expensive as it is. The Triber is unlikely to maintain such high residual value.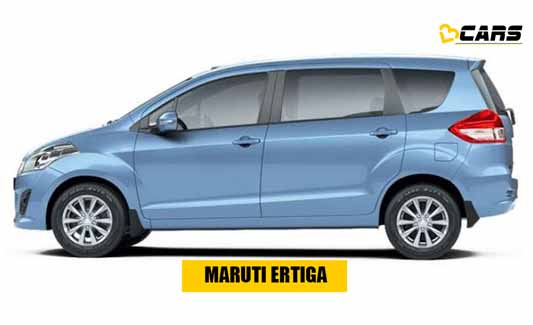 A used Ertiga must have already dropped in price quite a bit. So, in percentage terms, the Ertiga will lose less value compared to a new Renault Triber when you decide to sell it after a few years.
Winner: Used Maruti Suzuki Ertiga
New Renault Triber vs Used Maruti Ertiga - Final Result Comparison
Why you should buy New Renault Triber?
Choice of any variant and colour

Option of better safety features with top variant

Unique features like 3rd row AC vents, cooled storage, removable seats

Lower interest rates

Suitable for city driving

4-year manufacturer warranty

Low maintenance cost during initial years

ZERO scratches and dents
Why you should buy Certified Second-Hand Maruti Suzuki Ertiga?
More powerful engine is suitable for city as well as highway driving

Proven and reliable engine-transmission combo

Wide service network and spares availability

Higher segment car compared to Renault Triber

Unique features like steering-mounted controls, power-folding mirrors and rear armrest

Strong resale value because of lower depreciation

Cheaper to buy (chances of saving more money if you can negotiate well)

Option of getting a certified car with up to 12-month warranty
It's surprising to see that a car with ex-showroom prices starting under Rs. 5.0 lakh is able to go toe-to-toe with a bigger car from a higher segment. It has a unique set of strengths that make it a better car for some people. But for a lower price, you can get a bigger car with more power, better resale value, wider service network and proven mechanicals. Seriously! Why shouldn't you consider a certified second hand Maruti Suzuki Ertiga?
Winner: Used Maruti Suzuki Ertiga
Previous
Next
---
---
Related Car Comparison