Used Car Buying Guide - Age Vs Mileage - What Is The Ideal Combination?
In this used car buying guide, we'll help you figure out if you should buy a used car based on age or based on mileage, or kilometre travelled. However, let's first try and understand how the psychology of a typical car owner evolves during the ownership period.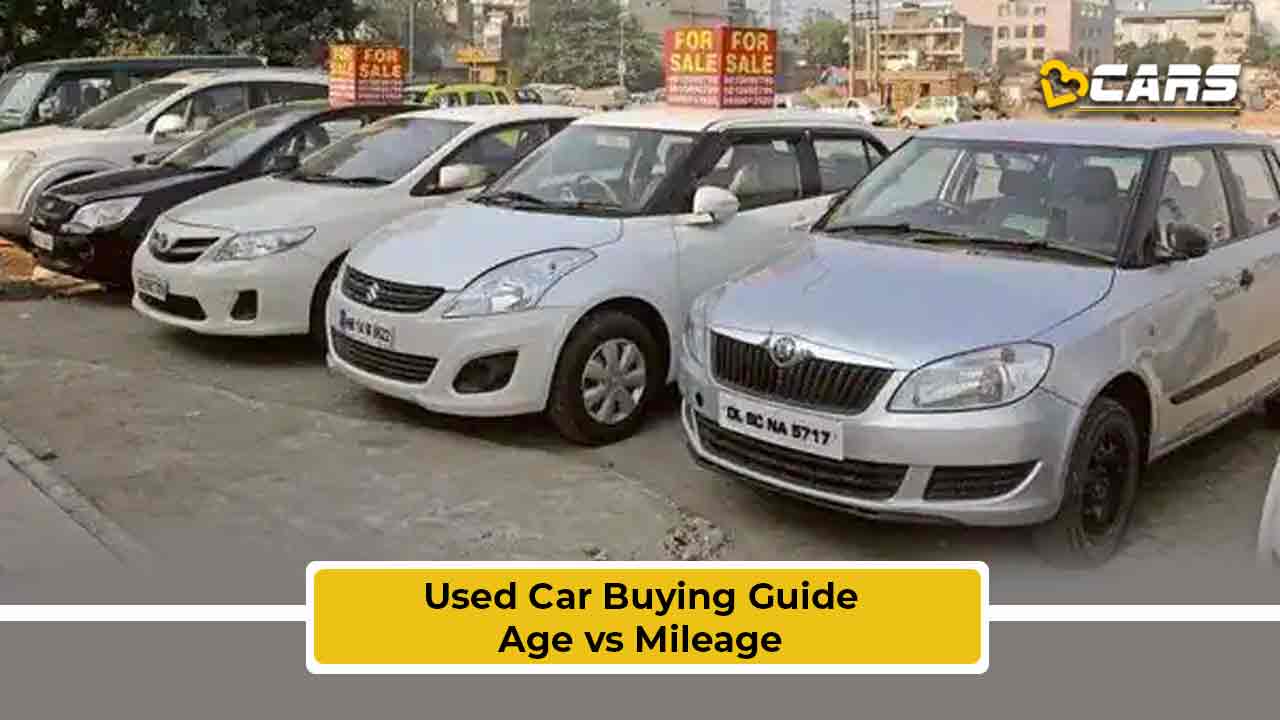 Psychology Of A Car Owner
On Day 0, Mr Akash bought a new Hyundai Grand i10 for Rs. 8.0 lakh. While he could only afford to buy a Rs. 3.0 lakh car with upfront payment, he's glad that he stretched his budget and bought a better car with an additional loan of Rs. 5.0 lakh. His loan tenure is 5 years and his EMI figure comes around Rs. 10,000, which is manageable.During the first couple of years, the car ownership experience is completely smooth. But in the third year, one fine day, someone brushes against his car doors and damages them. Mr Akash is sad about this incident, but he is smart and he has been paying extra for zero-dep insurance cover. So, he gets his car fixed from the dealership with top-notch workmanship and it only cost him an additional Rs. 1,000 as compulsory claim charges.
He's now in the fourth year of his Grand i10 ownership. The car is still running smooth but once in a while throws a tantrum. Sometimes, a cold start on a winter morning is a problem. Sometimes, the alignment and wheel balancing are so off that the authorised dealership's costs are starting to seem unreasonable. His car needs a new battery, and the tyres are also almost toast. But he wants nothing but the best care for his car, so he bites the bullet and gets the necessary replacements done in a timely fashion.
Akash finds the perceived per kilometre cost too high as the car was entirely trouble-free for the first few years. But, he has continued with the authorised dealership so far. He bought an extended warranty for up to 5 years. He's worried about losing warranty coverage and wants to stick with the recommended service schedule, and decides to continue visiting authorised service centres.
Now Akash is about to enter the 6th year of ownership with the Grand i10. He has accepted that minor scratches are part and parcel of car ownership. He still has the zero-dep coverage, but he wants to save it for a severe incident as he can only make 2 zero-dep claims in a year. Mr Akash has also received 5 salary increments during these years. He's no longer an individual contributor at his workplace. He's a manager now and has a team of his own. The junior employees in his team have the i20 while his peers are driving Honda City and Hyundai Creta.
As his Grand i10 turns 6, the EMIs stop draining his bank account. At the same time, his warranty coverage is also over. His monthly salary has grown quite a bit since he purchased the car. He's no longer paying EMIs, and the monthly savings are starting to feel like an unexpected raise.
Mr Akash now has the appetite for a much larger EMI and wants to upgrade to an SUV and use his old car as a down payment. The car is in pretty good shape, visually as well as mechanically, and this should help him get the best resale value. Akash is itching to upgrade to a big car to reflect his social and financial status. After sitting in his colleagues' cars, he's starting to notice things he doesn't like about his own car.
Outcome
This is the story of most new car buyers. Right around the 5-year mark, give or take, they tend to upgrade to bigger cars. For a good chunk of the first 5-year ownership, they pamper their cars. It visits only authorised service centres. The car gets zero-dep insurance cover and timely repairs through insurance claims, even for minor dents and dings. Moreover, the urge to upgrade to a bigger, more powerful and feature-rich car overshadows the willingness to spend a little cash to fix up the current small car and continue using it.
This itch and artificial urgency force them to sell the old car at a significantly lower price than what they paid for it.
Depreciation Curve
Have you heard of someone who bought a used Maruti 800 for Rs. 30,000, drove it around for a couple of years and sold it off for Rs. 25,000? A nominal depreciation of just Rs. 5,000 sounds like peanuts, but it's possible. You may have even heard of someone who bought the 800 for 25,000 and sold it for Rs. 30,000 after using it for a few years. If that anecdote is too old for you, then you must have at least heard of someone who bought the Honda Civic for Rs. 3.0 lakh and sold the car after a few years for a similar amount.
This happens because of the depreciation curve. A car depreciates fastest when it's new, and the car's market value curve drops less and less every subsequent year. After a while, the curve nearly flattens, and the car retains its value. This is because the car still has enough metal and parts, which it can donate to other cars, which justify a certain valuation.
The best thing is to buy a 1-month old car as you get the biggest percentage-wise savings along with a near-new car. But that's rare. The percentage of yearly depreciation is about the same for all cars, which is why you save the most money on cars, which are expensive, to begin with. So, for the luxury of driving a brand-new car, the first owners have to cough up the depreciation.
Therefore, something between 4 and 6 years old is just perfect. Here's why:
The first owners have used their cars with utmost love and care during the initial years of ownership

The car gets the attention of authorised service centre to maintain the warranty coverage

The car has depreciated significantly to make it worth looking into

The car is visually and mechanically in near-perfect condition

The car is still a fairly recent model, so it has some features to provide a decent modern-car-like ownership experience

The car is probably still under factory warranty

The car has a complete maintenance history as the first owner had to get all service done at authorised service centres to keep the warranty coverage intact.

Any niggles the first owner is facing are usually easily repairable for cheap, or they're just nitpicking to justify upgrading to a newer car

The first owners have the urge to upgrade their car, which making them desperate to get rid of the car even for a barely reasonable, if not the best price
Mileage vs Vintage
With age out of the way, let's get to the mileage. Please allow me to share my experience. Because of changing work-related requirements, I have had long stretches where I have had to use the car so much that I was clocking more than 3000km every month. On the flip side, I have also had long dry spells where my cars have rested for months in the garage, doing nothing but eating dust.
This is coming from 15 years of car ownership. Take it from me - my cars have suffered more damage when staying stationary. Once rats nibbled on the plastics and wiring in the cabin and upholstery while this other time, they chewed up the tyres. During the 2020 monsoon, the car grew fungus, and the battery died. In the same years, the tyres started developing cracks as the car remained in one spot with underinflated tyres. One of my cars developed a crack in the air intake hose, which caused performance issues while the ECU kept throwing warnings on the dash.
My cars have stayed in far better shape when I'm using them regularly. So, I don't mind the distance a car has covered. However, it shouldn't be so high that I have to immediately start spending on timing belts, suspensions, clutch packs and such parts.
Here are the rules you can follow:
A petrol car should have covered an average of 8 - 12,000km every year

A diesel car should have covered an average of 10 - 15,000km per year
The mileage limit is higher for diesel cars because diesel car owners tend to drive more, which is why they bought a diesel car in the first place. Moreover, diesel engines have a more robust construction to deal with more torque and higher compression ratios. Therefore, they tend to last a lot longer on the road.
Highway Mileage vs City Mileage
Internal combustion engines have a hard time dealing with stop-and-go city traffic on a hot day while keeping themselves and the car's cabin cool. Out on the highway, the heat exchanger and the engine get enough fresh and cool airflow. Driving on open stretches of roads also causes less wear and tear on the brakes, tyres and suspension. The smoother roads with less traffic make the odometer reading just a number. So, if you know for a fact that the first owner covered most of the kilometres on highways, then don't mind adding another 10 - 20% to the upper limit. In this case, you can buy a petrol car with an average running of up to 14,500km/year and a diesel car with up to 18,000km/year.
Conclusion
I hope this guide helped you figure out the ideal age and mileage combination you should consider when shopping for a used car.