What Is Android Auto System And How Does It Work?
Our cars have become an essential part of our connected lives in this fast-evolving digital era. Google's innovative Android Auto technology connects our smartphones to our cars, providing a smoother and more practical method to access and control apps while driving. For a smooth driving experience, we'll examine Android Auto in detail in this article, showcasing its capabilities and outlining its pros and cons.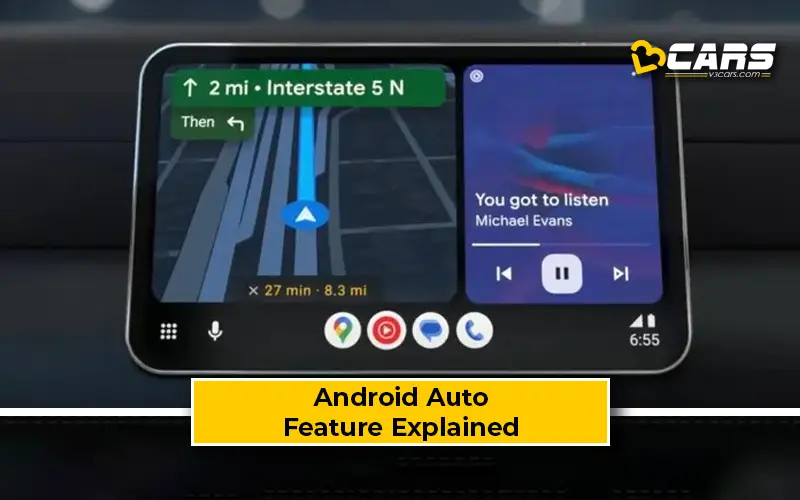 What Is Android Auto?
Android Auto is a software platform, which allows passengers to integrate their Android smartphones with compatible vehicles. Once connected, it transforms the car's infotainment system into an extension of their mobile device. By mirroring essential apps and services directly onto the car's display, Android Auto enhances the driving experience and provides easy access to navigation, music, messaging, and other essential features. Moreover, the larger fonts and icons also make it easier and safer to access media features, and calling interfaces, and initiate navigation without even pulling the phone out of our pockets. Well, that's if the infotainment has wireless connectivity.
How Does Android Auto Work?
Android Auto operates through a straightforward and user-friendly interface, ensuring minimal distractions while driving compared to most other traditional infotainment interfaces. Let's take a closer look at how it works:
Phone Compatibility: Android Auto requires an Android smartphone running on Android 6.0 or later versions to function properly. Users need to connect their smartphones to their car or SUVs infotainment system via a USB cable or wirelessly (if supported).
Car Compatibility: To enjoy the benefits of Android Auto, your vehicle needs to be compatible with the system. Many car manufacturers offer Android Auto support as a built-in feature or an aftermarket option. It's essential to check if your vehicle supports Android Auto before attempting to use it.
Setting Up Android Auto: To begin using Android Auto, download the Android Auto app from the Google Play Store. Launch the app on your smartphone, grant the necessary permissions, and follow the on-screen instructions for initial setup. Make sure to enable Bluetooth and location services for a seamless experience.
Connecting to the Car: Connect your smartphone to the vehicle's infotainment system using a USB cable or wirelessly, depending on your vehicle's capabilities. For a wireless connection, both the smartphone and the car's system must support wireless Android Auto. Once connected, the Android Auto interface will appear on the car's display.
Android Auto Interface: The Android Auto interface features a simplified design optimized for safe use while driving. The home screen showcases compatible apps, including Google Maps, music streaming services, messaging apps, and more. Users can control these apps using the car's touchscreen, steering wheel controls, or voice commands.
Note: Check your Car EMI with our - Car Loan EMI Calculator
What Is The Standout Feature Of Android Auto?
One of Android Auto's standout features is its integration with Google Assistant. By simply saying "Hey Google" or pressing a dedicated button on the steering wheel, users can access a wide range of voice-activated commands. From sending messages to making phone calls, playing music, and getting directions, Google Assistant makes it easy to stay connected while keeping your hands on the wheel and your eyes on the road.
Android Auto supports a growing number of third-party apps, providing users with a diverse range of options. Popular navigation apps like Google Maps, music streaming platforms like Spotify and YouTube Music, and messaging apps like WhatsApp and Telegram are just a few examples of apps compatible with Android Auto. Google continues to expand the app ecosystem, ensuring a rich and personalized experience for users.
What Are The Pros Of Android Auto?
Using Android Auto while driving is the safest way to use the functionality of your Android phone. You can operate phone functions with voice commands, steering wheel controls, or your car's touchscreen. It works with many well-known apps, including WhatsApp. Additionally, you can use your phone's entertainment features.
Note: Know your Future Car On Road Price with V3Cars
What Are The Cons Of Android Auto?
Android Auto does not support every app. Although Android Auto allows users to access their apps in a safe manner, they must make sure the apps they like and use frequently are compatible. Secondly, the development of voice recognition technology is still ongoing. It is incredibly annoying to rectify mistakes multiple times before sending a text message using voice recognition. And last, while Android Auto can help make multitasking while driving safer, it is not completely risk-free. You shouldn't use your phone at all while driving, not even with voice commands when traffic and poor road conditions are present.
What Cars Come With Android Auto In India?
Almost all new cars sold in India offer Android Auto. The Google-based in-car infotainment system is available right from affordable cars such as the Maruti Alto 800 VXi+ variant to B2-segment SUVs such as the Maruti Brezza and Tata Nexon all the way up to luxury cars such as the Mercedes-Benz S-Class.
Conclusion
Android Auto revolutionizes how we interact with our vehicles, offering a seamless and safer driving experience. By integrating our smartphones with compatible infotainment systems, Android Auto allows us to access essential apps and services through a simplified interface, reducing distractions on the road. With its voice-activated commands and expanding app support, Android Auto is set to play a vital role in the future of automotive technology, making our journeys more convenient, connected, and enjoyable.
Note: You can use our Fuel Cost Calculator to see how much any petrol, diesel, or CNG car will cost to run based on the latest fuel price in your city.