Maruti Suzuki Fronx Official Accessory List With Price — Which Accessory To Buy? | V3Cars
Maruti Suzuki recently launched the Fronx in India and it is available in a total of 5 variants. While the top variants of the Fronx come loaded with all the bells and whistles one would expect from a B2-segment car, prospective buyers of its lower variants may fancy some more features. Fret not as we share our list of handpicked accessories for the new Fronx along with their indicative prices.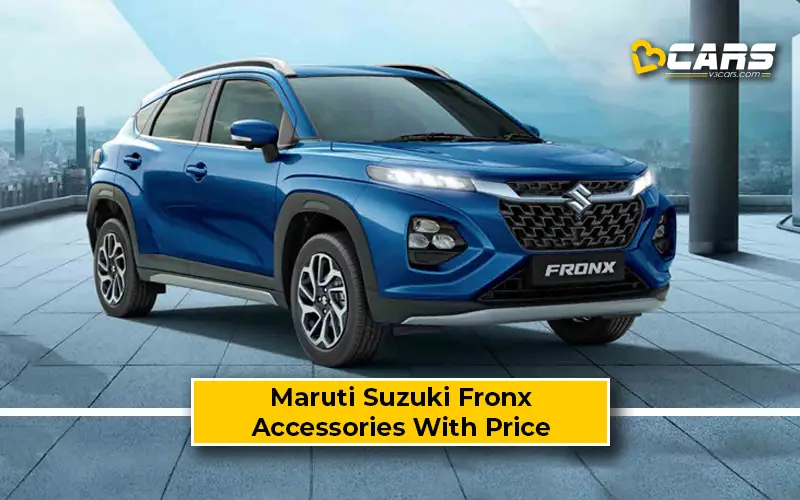 But before we delve into the details of individual accessories offered by Maruti Nexa for the Fronx, let's take a look at the Vilox Collection accessory package that offers pre-selected accessories by the carmaker.
Note: Check out the list of Electric Cars in India
Maruti Suzuki Fronx Vilox Accessory Pack
Take a look at the list of accessories in the Vilox collection package:
Maruti Suzuki offer the Vilox accessory package for all variants of the Fronx. The Vilox accessory package for the Fronx costs Rs. 29,990. However, Maruti are only offering the seat covers that are part of the accessory package with the Sigma, Delta and Delta Plus variants of the Fronx. The Zeta and Alpha variants of the Fronx do not get seat covers because of the presence of side curtain airbags. However, the customers do get the option to choose seat-airbag compliant seat covers from the accessories list.
Note: Check your car's fuel cost with Fuel Cost Calculator India
Maruti Suzuki Fronx Official Accessories With Price
Take a look at the official accessories of the Fronx with their indicative prices:
It is worth noting that the aforementioned accessories are handpicked by our team based on our needs. Maruti Nexa dealerships offer several other style and functional accessories for the Fronx that may appeal to you or serve a special purpose. Additionally, getting these accessories from a Maruti Nexa dealer ensures that your warranty does not get cancelled. The prices mentioned for the accessories above are indicative and bound to change in the future.
Also Read: Tata Altroz CNG Variants, Features And Specifications — Brochure Leaked