2020 Kia Carnival Review | Limousine Variant Driven
The Kia Carnival is an MPV (multi-purpose vehicle). It is bigger and more powerful than the Toyota Innova Crysta. Kia dealerships that are accepting bookings for the upcoming model suggest that its prices could start around the Rs. 30.0 lakh mark. At that price, the Carnival will be around Rs. 7.0 lakh more expensive than the Innova's top-of-the-line variant. Does it justify that premium? And exactly how much extra should you pay for this MPV over the well-established Toyota Innova Crysta? Read the review to find out.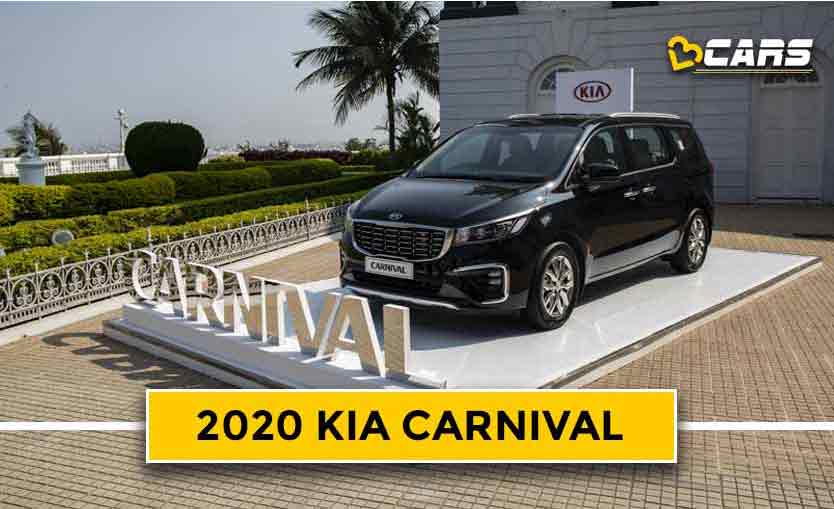 Dimensions & Exterior Design
2020 KIA CARNIVAL vs TOYOTA INNOVA CRYSTA

DIMENSION COMPARISON

 

Kia Carnival

Difference

Toyota Innova Crysta

Length

5115mm

380mm

4735mm

Width

1985mm

155mm

1830mm

Height

1755mm

-40mm

1795mm

Wheelbase

3060mm

310mm

2750mm

Seating Options

7/8/9

9 Seat Option

7/8

Boot space

540-lt

--

--

Fuel Tank

60-lt

5-lt

55-lt
Read Also - Kia Carnival vs Toyota Fortuner Dimensions Comparison
The Kia Carnival is a large MPV. It is longer than the Innova Crysta by 380mm. Its wheelbase also exceeds Innova's by over 300mm. The Carnival is also 155mm wider than the Toyota, but it is 40mm lower. Since it's long, wide, but not as tall, it doesn't look like a traditional MPV. And that "cab wali" feeling₹It's not there, even in white exterior colour. In fact, its design has that aspirational touch to it and much of it has to do with its size. It's over 5 metres long, and almost 2 metres wide. So it has an imposing road presence that you just can't ignore. But at the same time, it is not butch, in fact, some may even find it classy. And you can't say the same about the current crop of  MPVs we have in India. The only other car with a similar air of opulence and elegance is the Mercedes V-Class.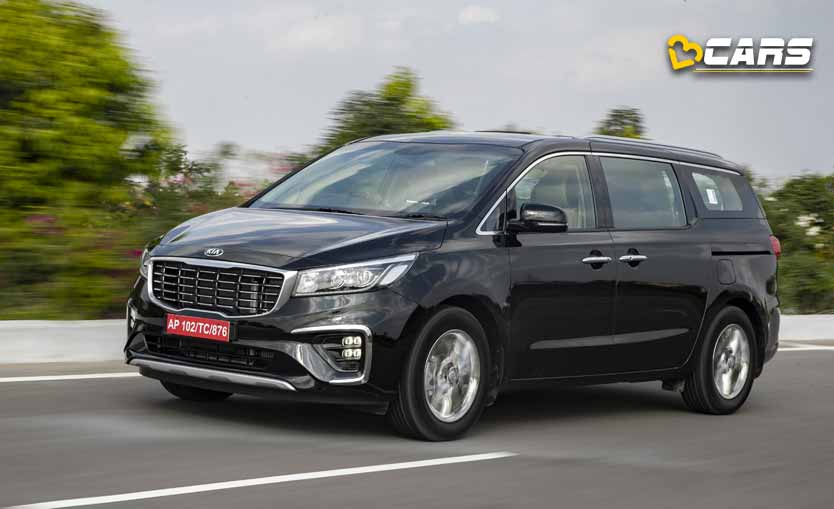 Talk about the individual design elements, and the front grille stands out. It is big and can't go unnoticed. If you get up close with the Kia Carnival, then you're also likely to appreciate its chrome-finished alloy wheels, two sunroofs and that long roofline that drops gradually towards the rear. Not too many cars draw as much attention from the side as the Carnival, especially in India where premium vans are not popular. If there's one angle from which may not excite you as much, it would be its rear, where the number plate housing seems a bit overdone.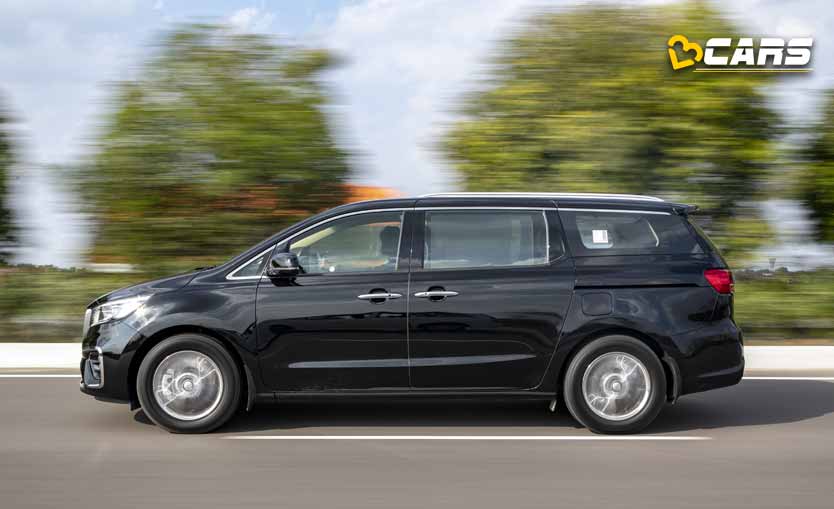 So, does the Carnival look like an expensive car₹Well, yes. It is like gold jewellery: striking. You may or may not like it. But you know it's expensive. And would you be okay to see yourself driving one₹Those who stick to the SUV or sedan body style because they think MPVs are nothing but taxis, they won't. However, those who appreciate the utility and practicality of a spacious MPV will finally have a product that has significant aspirational value.
Interior
The Carnival, especially in the Limousine variant, is built for those who prefer to sit at the back than drive the car themselves. As a result, Kia is offering a one-touch opening rear sliding door, making entry and exit special for rear passengers. The Limousine variant features 7 seats: two at the front, two in the middle and a bench for three in the third row.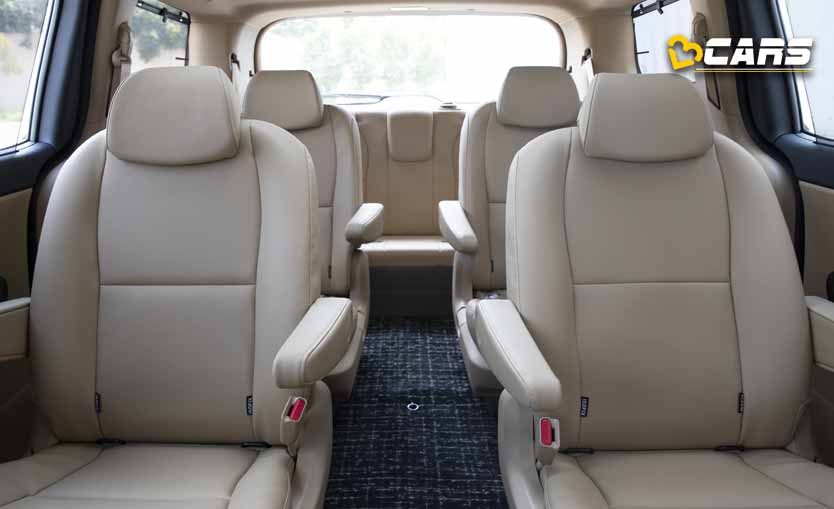 The second row in this variant features two VIP captain seats wrapped in Nappa leather. These get leg support extensions for you to stretch your legs. The extensions are, however, not very useful, especially if you're sitting right behind the driver or if someone is sitting in the front passenger seat because you'll find your feet touching the front seat. It is usable if the front passenger seat is slid forward. It is worth noting that there's no arrangement by which the rear passenger or the driver can move the front passenger seat forward, and someone will have to get down and adjust it.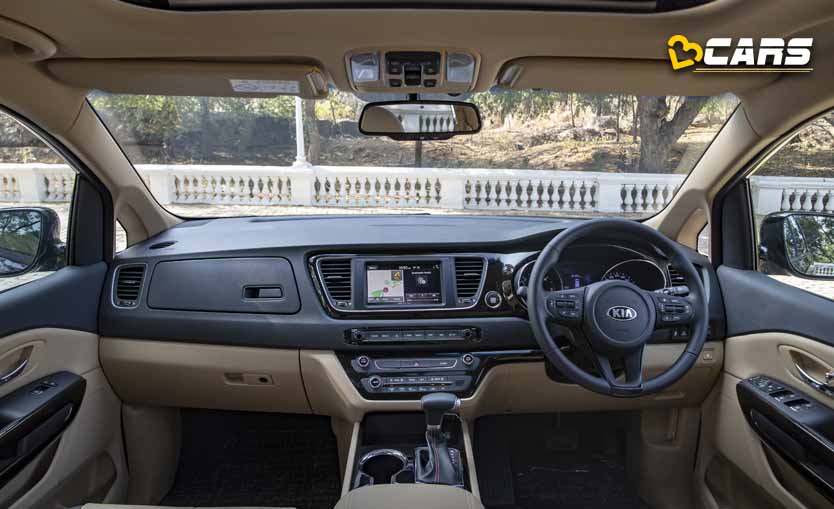 Other than the VIP seats, the two rear passengers also get their separate rear entertainment system, an automatic AC zone, window curtains and view out from the top (sunroof). While the sense of space inside the Carnival is tremendous, the VIP seats keep you far from the door pockets. Also, there's no mobile charging and stowing station within reach. The rear air conditioning controls are also on the right side near the roof, so only the driver or the right side rear passenger can operate them. They should have been positioned in the middle.
The highlight of the VIP seats is the cushioning and overall comfort, and if these seats also had the massage option and were even electrically adjustable, they would have taken the overall cabin experience up by a couple of notches. That said, in this Limousine variant, we can certainly say that these are the best rear seats that you can buy in the premium mass market space.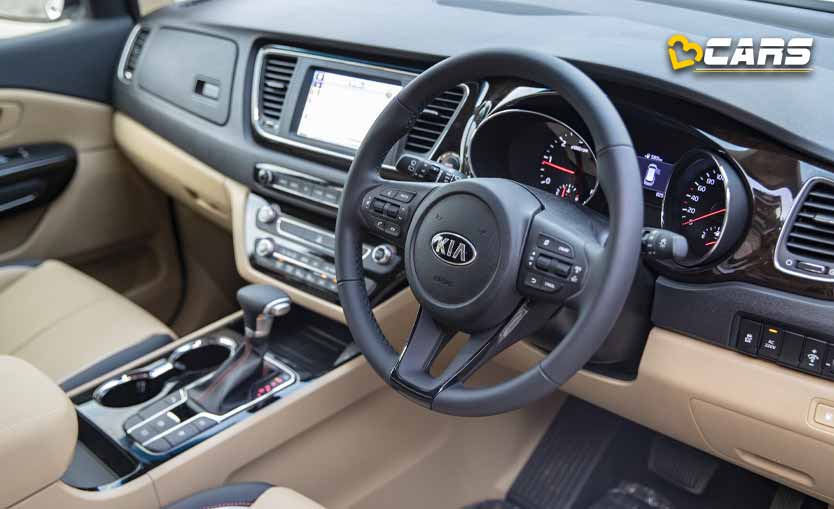 These captain seats can recline, slide and even move sideways to make space for passengers to get into the third row. There's room for 3 there but we'd advise limiting its usage to 3 kids or two adults. The rear bench is a bit too low and adults will have to sit with their knees pointing skywards. Not a comfortable position for long drives. If you're late to call dibs on the other seats, your only saving grace is that you can recline the backrest and use your phone to kill time. You have a charging socket back there. You may as well use it.  To move some cargo, you can fold down the third-row seats flat making the Carnival Limousine a four-seater with a lot of luggage space.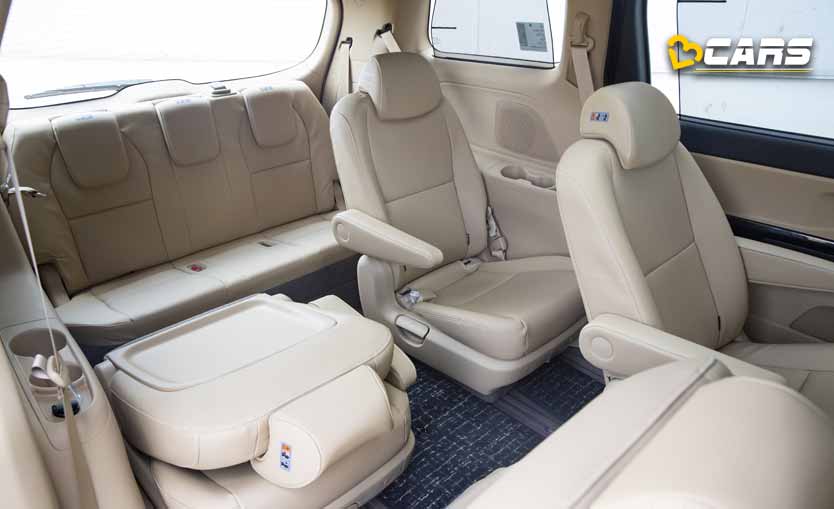 We managed to step inside the nine-seater Carnival Prestige as well. It features four captain seats in two rows behind the front row and a bench for three at the rear. The bench, in this case, is good enough to be forgotten because it won't get much legroom if all the captain seats in the front three rows are adjusted for adults. In this case, the boot space is also next to zero, because the fourth row almost touches the boot lid. It is worth noting that the captain seats in the second row in the Prestige variant are not the same as those in the Limousine version. These have less cushioning and don't feature the extendible ottoman. However, it might still be the nine-seater Carnival Prestige that will be more comfortable for six people, all of whom get their own captain seats. Keep the fourth row folded flush to the floor and use it for luggage.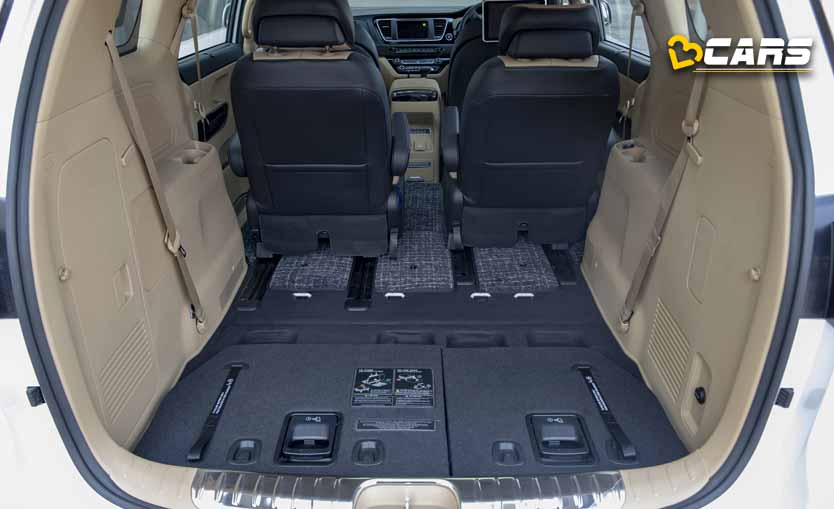 Talk about the luggage space, and you'll be surprised to see the space in the boot in the Limousine variant. With the third row up, the Carnival's boot space is 540 litres, enough to keep weekend's luggage for 6 people.
In the driver's seat, it's easy to find a good position, and controls are well within reach. We would have liked to see some modern touches inside the cabin, like ambient lighting and a better looking MID. The dashboard design feels a little outdated and too similar to Hyundai cars. The Carnival has an 8-inch touchscreen infotainment system. There are a host of utility spaces in the front, starting with a large storage space under the armrest, two cup holders in the middle, wireless charging dock, two-part dashboard and additional storage space under console on the passenger side, which also gets a 12V socket. Overall, when you sit in the driving seat, you don't feel like sitting in a traditional MPV, but it is likely that its size would overwhelm a lot of drivers graduating from compact or midsize cars.
Engine Specifications & Performance
2020 KIA CARNIVAL 

DIESEL ENGINE SPECS COMPARISON

 

Kia Carnival

Toyota Innova Crysta

Displacement

2.2-litre

2.4-litre

2.4-litre

Capacity

2199cc

2393cc

2393cc

Maximum Power

200PS @ 3800rpm

150PS @ 3400 rpm

150PS @ 3400 rpm

Maximum Torque

440Nm @ 1500-2750 rpm

343Nm @ 1400-2800 rpm

360Nm @ 1400-2600 rpm

Transmission

8-Speed AT

5-Speed MT

6-Speed AT

Emission Standard 

BS6

BS6

BS6
The Kia Carnival is only available with a 2.2-litre diesel engine and an 8-speed automatic transmission. There's no petrol engine on offer right now.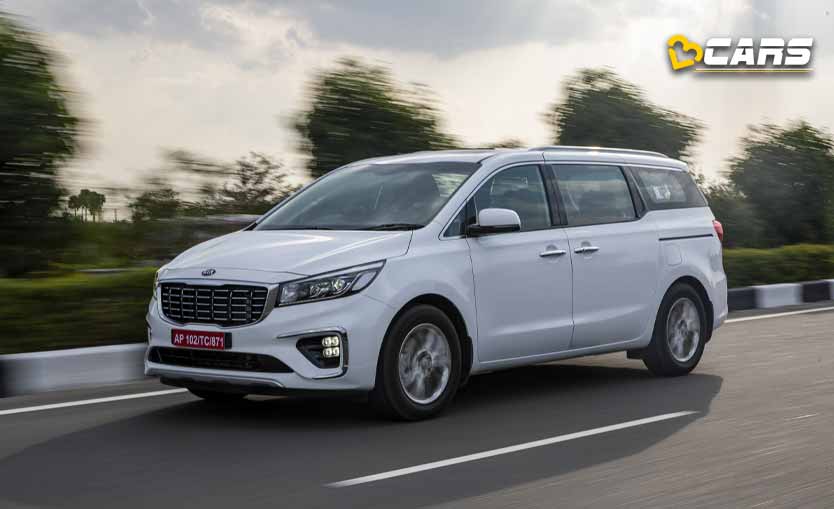 Carnivals engine is smaller in displacement versus the Innova Crysta's but it makes 50PS more power and 80Nm more torque than the Crysta diesel automatic. So, it has the pull to haul that extra weight around all day. 
For its size and mass, the Carnival feels light on its feet, easily picking up pace from a standstill. Press the accelerator harder and after a slight delay in power delivery, typical of turbo diesel-torque converter combo, it is relatively quick to gain momentum. The point worth noting here is, if you're spending around Rs. 30.0 lakh on the Carnival, you won't be disappointed with its performance considering its size and utility, and frankly, that is what matters.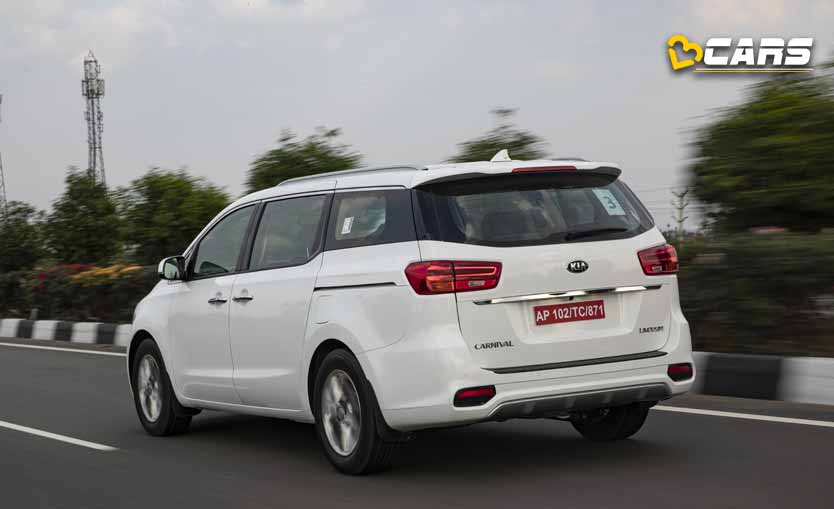 Talking of engine noise inside the cabin, you will hear it when it goes above the 3000rpm mark. By then, you're already pushing it hard, but even then, it doesn't get too harsh. The Carnival can cruise at triple-digit speeds at around 2000rpm. So as long as you're not in a hurry, the engine noise won't ruin the cabin experience. The only grouse that some people may have is with the steering wheel, which feels a little heavy at parking speeds and is not particularly precise on highways. As far as its ride is concerned, we drove the Carnival mostly on well-paved roads, so it was really comfortable. Since it is a monocoque MPV, the body roll is controlled quite well, and the overall ride feels mature and very car-like.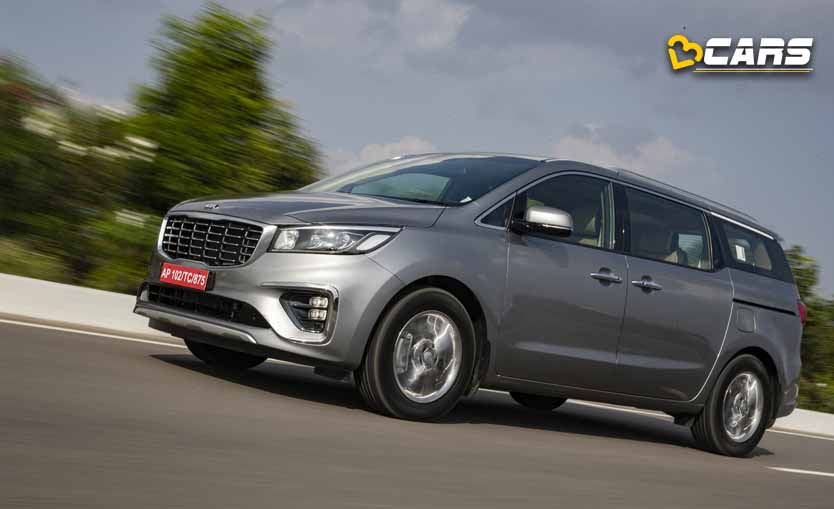 If you're still wondering if this hulking MPV can be your daily driver, then ask yourself if you can live with an Innova Crysta. If yes, then the Carnival will do all that the Innova does, only better.
Features & Variants
The Carnival is available in 3 variants: Premium, Prestige and Limousine. Some of the more important features that you get as standard in the Carnival are touchscreen infotainment system with Apple CarPlay and Android Auto, tilt and telescopic steering, electrically adjustable outside mirrors, auto headlamps, 3-zone auto AC and alloy wheels. The fact that you don't get a rear parking camera, electrically-foldable outside mirrors, side and curtain airbags, LED headlamps, auto-dimming IRVM and front parking sensors in a car that might cost over Rs. 25.0 lakh is a downer. As a result, we would recommend the base Premium variant only to commercial buyers. For those planning to book the Carnival for their own use, the Prestige variant is a better pick, though we don't know how much extra you'll have to spend over Carnival Premium to get this one.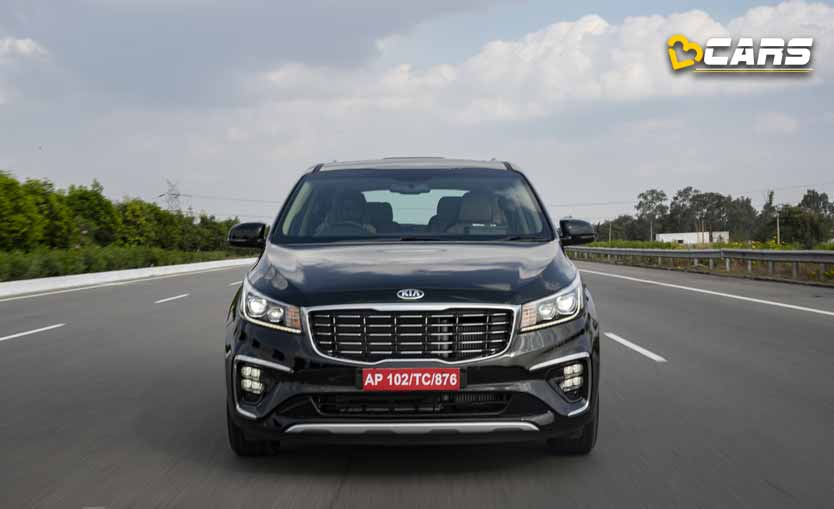 The Prestige variant gets features like two sunroofs, LED headlamps and fog lamps, ESC, hill-start assist, side and curtain airbags, front parking sensors, electrically foldable ORVMs, UV cut front windows, driver seat with lumbar support and laptop charger. So there are a lot of functional and style features on offer above the Prestige. But again, features like auto-dimming inside mirror and 360-degree parking camera are missing.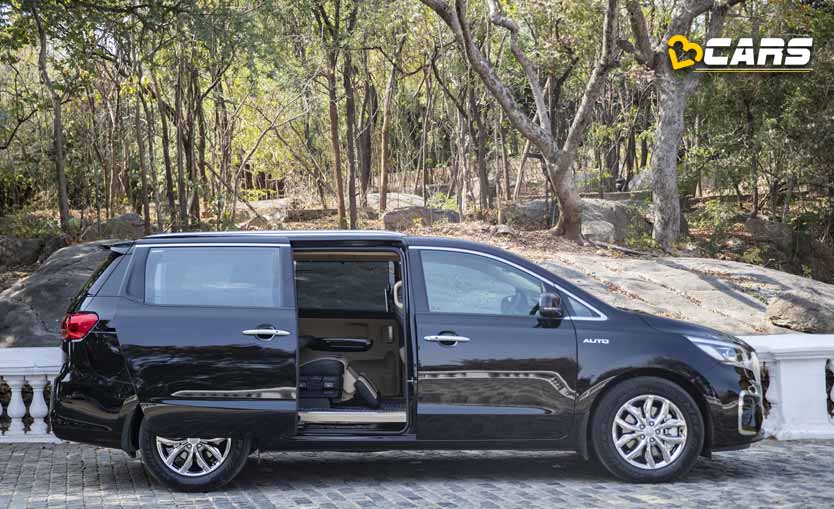 For a car like the Carnival, especially in its Limousine variant, one is expected to spend a lot of time in the back seat, while going to the office or when on a road trip. So it gets rear-seat entertainment screens coupled with a Harman Kardon 8-speaker audio system, which does its job quite well. The Carnival features 3-zone automatic air conditioning and it's possible to set a preferred temperature for the driver, front passenger and the rear cabin. The Limousine variant is suitable for buyers who are spending much of their time at the back seats.
Exterior colour options
The Kia Carnival will be available in just 3 exterior colour options: white, black and silver.
Price Expectation
The Carnival's Prestige variant will suit the needs of buyers who will drive the car themselves. Given its equipment list, size and performance, if this variant is priced at a premium of Rs. 3.0 lakh over the top-spec Innova Crysta diesel-automatic, which is priced around Rs. 23.0 lakh ex-showroom Delhi, it could be a compelling buy. The Limousine variant, which has managed to set a benchmark as far as middle row passenger comfort is concerned, seems to be a product aimed at those who don't drive. In this case, you're paying for the most comfortable backseat in the premium mass-market range. This variant might be a few lakh rupees more expensive than the Carnival Prestige.
Verdict
Overall, the 2020 Kia Carnival has managed to impress us on more than one count, and we can say it with the conviction that it has it in it to draw some of the Innova buyers if priced sensibly. And along with that, the Carnival has also come across as an MPV that existing Innova buyers can upgrade to. If you're not content with what the Kia Carnival offers, then just wait and watch. Toyota may soon launch the Vellfire for you.