2021 Audi A4 Facelift Review, Specification Details And The First Impression
V3Cars offers a full review of the 2021 Audi A4 facelift along with specification and features details to give you a better idea about this car. The A4 facelift gets powered by a 1.2-litre petrol engine that gets paired with manual and AMT type transmission options.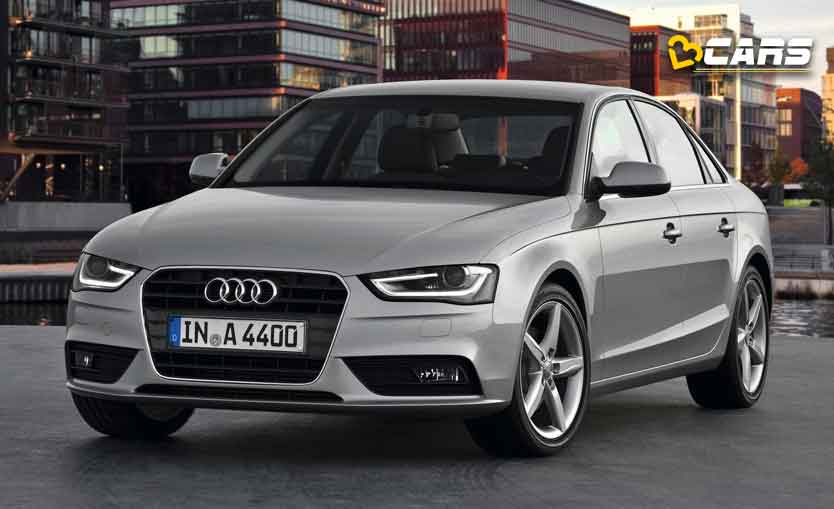 Exterior Review | How Are The Exterior Design And Features Of The 2021 Audi A4 Facelift?
The A4 facelift's front facade's signature element is its hexagonal grille with horizontal slats, which gives it a wider appearance. This grille comes with a shiny chrome surround, but the slats and the fog lamp housings get a brushed aluminium finish.
It is worth noting that the A4 flaunts only artificial fog lamp units for styling purposes, and there's actually no light source in them. On the sides of the Fog lamp housings are air deflectors, which is supposed to help improve aerodynamics.
The A4 comes with integrated DRL bars in their headlamps, which double up as turn indicators. The headlamps have LED type low beam projector, while the main beam is LED reflector type.
Apart from these, some of the other exterior features include headlamp washers and front parking sensors.
Move to the side and you'll immediately notice its broken shoulder line, which stretches from the headlamps and extends till the tail lamps. The door handles are positioned below this character line, which gives the car a low-slung visual appeal. The door handles pull in a slightly upward angle, making it super convenient to use them.
It's worth pointing out here that Audi has endowed a plastic protection on its running board, which can protect the metal from accidental damage while taking turns.
Apart from these, other key styling features include - 5-spoke 17-inch alloy wheels, door-mounted ORVMs with turn indicators, chrome window line and shark fin antenna.
Move to the rear, and the talking point of the A4 is the tail lamps, like most Audi cars. These very attractive tail lights come with LED lamps and dynamic turn indicators. The 2-part tail lamps flaunt chrome detailing and are joined with a chrome strip, while the dual-tone bumper comes with satin silver finish.
The A4 gets 2 exhaust tips with exaggerated wide design to offer a sporty appeal to the rear facade.
Open the boot lid and you get 460 litres of cargo space, which should be able to easily accommodate a week long luggage for 4 people. Under the boot floor, there is a 19-inch space saver, but the tool kit is stored separately in the boot floor near the rear seat ke paas. The tool kit can be accessed from the cabin by folding down the rear seat.
The notable features in the boot are - boot lamp, shopping bag hook, netted storage space and net hooks.
On the whole, the A4 has contemporary exterior design with a particularly likable rear styling.
Interior Review | How Practical & Comfortable Is The Cabin Of The 2021 Audi A4 Facelift?
The A4 gets a monotone black dashboard with brown seat upholstery, and we find this colour combination upmarket.
Its front seat offers a good general view out. The dashboard's upper and lower middle portions feature a layer of soft touch material, but the glovebox lid and center console's outer layer is hard plastic. It doesn't look cheap though, and the center console gets a good fitment as well.
Talking of quality, we have to say that its air con controls panel is of premium quality. The air con knobs and its switches operate nicely, and the rest of settings get active just by touching their respective buttons, but for adjustments the switches have to be pressed.
It's worth noting that the A4's air con vents are connected type, however, only the middle two and the extreme vents throw air, while the ones over the glovebox are artificial.
The glovebox can easily accommodate a bottle or some other things, while Audi has also provided a separate glovebox on the driver's side to store the owner's manual, which is also quite spacious.
Apart from this, both the front doors offers a bottle holder each along with a utility space to store some other items. There is also a wireless charging pad for phones under the front armrest along with a c-type USB port and a 12V socket as well.
The A4's armrest is extendable and you can adjust it as per your convenience. In front of this on the center console, you get the controls for the audio system, gear lever, parking brake and auto hold option. There is a usable pocket ahead of this, in which you can keep your phone. There are 2 backlit cupholders as well beside which there's a 12V socket, a USB port and the engine start/stop button.
Just above this there's the drive mode selector, engine start/stop, traction control and auto parking controls. In case of the auto parking, the A4 automatically controls the steering wheel to help while parking the car.
Its displays is a 10.1-inch touchscreen on the infotainment system, which also supports Apple Carplay and Android Auto connectivity options. However, they don't connect wirelessly. This system is of good quality and its touch feedback as well as audio quality are nice. The audio system can be accessed from the steering mounted controls as well, while there are steering mounted buttons as well to access digital instrument cluster.
The digital cluster's view can be adjusted as per your preference, and its full-screen navigation display is quite overwhelming. The MID displays information such as date and time, fuel level, fuel efficiency, tripmeters, energy consumption and phone connection.
It is worth noting that the A4's cruise control is on the left side of the stalk steering column.
The A4 comes with a powered, 8-way adjustable driver seat along with lumbar support option. The driver seat also comes with 2 memory options.
For a person with average height, this seat is comfortable, but tall drivers might not find it very generous. Its steering wheel offers tilt and telescopic adjustments, and from the driver's perspective, some of its notable features include - powered auto-dimming ORVMs, auto dimming IRVM, touch-sensitive cabin lamps and vanity mirror.
Rear Seat Review | Is The Rear Seat Of The 2021 Audi A4 Facelift Comfortable?
The A4 offers comfortable ingress at the rear, and you certainly need to squat while exiting.
We adjusted the driver seat as per a 5'8" person's comfortable driving position and had more than adequate knee room and enough leg space as well.
The rear seat's recline angle is slightly upright, but the rear armrests on the door and in the middle are usable, while the center armrest also features 2 cupholders.
There's enough headroom at the rear for passenger's of average height, while the seat is also comfortable.
Although the rear seat is meant for 3 passengers and also comes with 3 adjustable headrests, we feel that it can accommodate only 2 passengers to travel very comfortably.
The rear passenger specific key features of the A4 include - 40:20:40 rear seat with access to boot, door pockets, window curtains, ambient lighting, rear AC vents, rear temperature zone, 12V socket and front seat back nets.
On the whole, the A4 ka cabin is contemporary and youthful, especially in its black-brown interior theme. However, we think that this car is more driver-centric, which is why its front seat is more comfortable compared to the rear seat.
Test Drive Review | How's The 2021 Audi A4 Facelift Like To Drive?
The Audi A4 facelift comes equipped with mein 2.0-litre turbo-petrol engine that can produce 190PS of maximum power and 320Nm of peak torque.
It is paired with a 7-speed automatic transmission and comes with 5 drive modes -- Comfort, Dynamic, Efficiency, Auto and Individual.
In the Individual mode, you can select the steering force and powertrain response as per your preference.
We drove the A4 primarily in the Comfort mode, and in this mode also its powertrain remains responsive.
The A4 feels quick and agile while driving it aggressively. When doing so, the automatic transmission goes into its sportiest, and upshifts happen beyond 2000rpm, so that you can pick up speed quickly. It achieves its peak torque at 1450rpm, hence you get a good burst of torque while driving it aggressively.
Moreover, on the 7th gear at 100kmph, it cruises at around 1600rpm. So, you're always in the peak torque band even at highway speeds, and it picks speed the moment you step down on the accelerator.
You can operate its gears manually with the gear lever or by the paddle shifters, and the transmission quickly responds in both the cases.
The A4 also offers a comfortable and smooth ride, even in the Dynamic mode. We feel that it could have more cushioning on its seats, nevertheless, on the whole it's a comfortable car.
We also like its braking capability. It offers a good initial bite, and it always feels in control.
We drove the A4 facelift only for a short distance, which included mixed city traffic and highway stretch, and it indicated a fuel efficiency of around 13.5kmpl.
You can check the specification details of the A4 and its rivals in the following tables:
Engine Specification | How Does The 2021 Audi A4 Facelift Fare Against Its Rivals In The Powertrain Department?
D1-SEGMENT LUXURY SEDANS

ENGINE COMPARISON

A4

S60

C-Class

3 Series

Displacement

2.0-litre

2.0-litre

2.0-litre

2.0-litre

Cylinder

4

4

4

4

Cubic Capacity

1984cc

1969cc

1991cc

1998cc

Maximum Power

190PS @ 4200rpm

190PS @ 5000rpm

203PS @ 5800rpm

258PS @ 5000rpm

Peak Torque

320Nm @ 1450rpm

300Nm @ 2800rpm

280Nm @ 3000rpm

[email protected]

0-100kmph (claimed)

7.3s

7.1s

7.7s

5.8s

Automatic Transmission

7-speed

8-speed

9-speed

8-speed

Automatic Claimed FE

17.42kmpl

WLTP Combined

12.5-14.8

11.9kmpl

16.13kmpl
Dimensions | What Are The Dimensions of The 2021 Audi A4 Facelift?
D1-SEGMENT LUXURY SEDANS

DIMENSION COMPARISON

Audi A4

Volvo S60

Mercedes-Benz C-Class

BMW 3 Series

Length

4762mm

4761mm

4686mm

4709mm

Width

1847mm

1850mm

1810mm

1827mm

Height

1433mm

1431mm

1442mm

1435mm

Wheelbase

2819mm

2872mm

2840mm

2851mm

Boot Space

460-lt

391-lt

480-lt

480-lt

Ground Clearance

NA

142mm*

157mm

157mm

Fuel Tank

54-lt

60-lt

66-lt

57-lt

Tyre Size (Base)

225/50 R17

235/45 R18

225/50 R17

225/50 R17

Tyre Size (Top)

225/50 R17

235/45 R18

225/50 R17

255/40 R18
*Global spec
Useful Features | What Are The Most Important Features Of The 2021 Audi A4 Facelift?
We drove the A4's top Technology variant. Over the Premium Plus variant, this top variant adds-in features such as wireless charger, driver seat and ORVMs with memory, auto parking, foot swipe boot open, digital instrument cluster and in-built navigation.
You can view all the added primary features of the 2021 Audi A4 Technology variant in the table below:
AUDI A4 TECHNOLOGY | FEATURES OVER PREMIUM PLUS

Functional

Style & Entertainment

Wireless Charger

12.30-inch Digital Instrument Cluster (Virtual Cockpit w/ Dynamic, Classic, Sport Display)

Driver Seat & ORVMs w/ Memory

Chrome Detailing on Front Grille, Fog Lamps & Rear Bumper

Auto Parking

Piano Black Interior Inserts

Foot Swipe Boot Open

In-built Navigation

Apart from these above mentioned features, the A4 offers a whole host of features. Some of the noteworthy safety features of this premium car includes - LED headlamps, rear parking camera, side and curtain airbags and auto-dimming IRVM and ORVMs
The A4 comes with a 10.1-inch touchscreen infotainment system with Apple CarPlay & Android Auto and a 10-speaker audio system.
Some of the key functional features of the A4 include - headlamp washers, rear window curtains, split rear seat w/ adjustable headrests and armrest, powered driver seat, 3-zone auto AC and multiple drive modes.
As far as style is concerned, the A4's important features include - 17-inch alloy wheels, dynamic rear turn indicators, LED DRLs, sunroof, leather upholstery, leather-wrapped steering wheel and ambient lighting.
The following table lists all the primary features that are offered by the 2021 Audi A4 Premium Plus variant:
AUDI A4 PREMIUM PLUS | FEATURES

Safety

Entertainment

Functional

Style

Std. Safety Features

10.1-inch Touchscreen

Headlamp Washer

R17 Alloy Wheels

Tyre Pressure Monitoring System

Apple CarPlay & Android Auto

Rear Window Curtains

LED Tail Lamps

LED Headlamps

Bluetooth & USB Connectivity

x-way Powered Front Seats w/ 4-way Lumbar Support

Dynamic Rear Turn Indicators

ISOFIX

Steering-mounted Controls

Front & Rear Armrest

LED DRLs

Rear Parking Camera

10-speaker Sound System w/ Subwoofer & Amplifier

Split Rear Seat

Sunroof

Auto Hold

Electrically Adjustable & Foldable Heated ORVMs

Leather upholstery

Rear Disc Brakes

3-zone Auto AC w/ Rear AC Vents

Scuff Plates

Side & Curtain Airbags

Cruise Control

Leather-wrapped Steering Wheel

Electronic Stability Control

Drive Modes - Comfort, Dynamic, Efficiency, Auto, Individual

Ambient Lighting

Auto-dimming IRVM & ORVMs

Engine Start/Stop (Mild Hybrid)

Coloured MID

3 Adjustable Rear Headrests

Shark Fin Antenna

Rear Armrest

Chrome Door Handles

Front & Rear Power Windows

Adjustable Front Seatbelts

Prices | What Is The Price of The 2021 Audi A4 Facelift?
The 2021 Audi A4 is available for sale in just 2 variants, namely - Premium Plus and Technology. The Premium Plus is priced at Rs 42.34 lakh, while the Technology variant costs Rs 4.33 lakh more. Although the Technology variant's added features are quite enticing, we think that for these added features spending Rs 4.33 extra is quite expensive. So we'd recommend you to buy the Premium Plus variant.
The following table offers the pricing details of the 2021 Audi A4 facelift:
AUDI A4 | PRICES

Variant

Price

Premium Plus

Rs 42,34,000

Difference

Rs 4,33,000

Technology

Rs 46,67,000

Verdict | Is The 2021 Audi A4 Facelift Worth Buying?
After driving the A4, we can say with certainty that this car is primarily driver focused. Its powertrain and dynamics are its primary highlights, and the black-brown combination gives its cabin an upmarket look and feel. At Rs 42.34 lakh, the Premium Plus variant is our variant of choice for those who are considering buying the A4.
Exterior Colour Options | What Are The Colour Options of The 2021 Audi A4 Facelift?
The A4 comes in 5 exterior colour options, namely - White, Silver, Black, Blue and Grey. Apart from these, there are 2 interior themes to choose from -- Beige upholstery with dual-tone black-beige dashboard, and Brown upholstery with monotone black dashboard.