5 Reasons Why You Should Buy A Best-Selling Car - And 2 Reasons Why You Shouldn't
If you're planning to buy a new car, then this list of pros and cons should help you decide if you should consider buying a popular model or buy a market flop and save some cash in the process.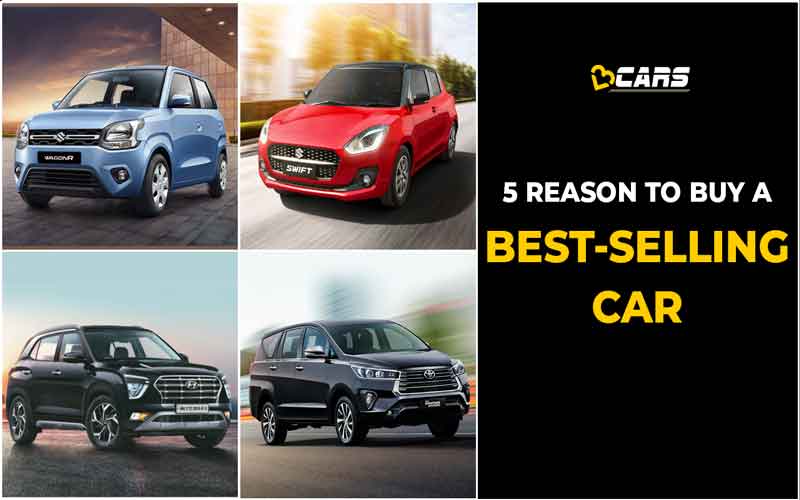 Why You Should Buy A Best Selling Car?
Let's count the 5 reasons why you should buy a bestselling car and avoid a market flop.
1. More Reliable
If a car is selling in big numbers, then it's a bread and butter product for the carmaker. They can't afford to upset the customers with poor reliability. So, the bestsellers become the carmakers' top priority.
When the customers report an issue with the service centre, the carmaker takes notice and fixes it at the source with urgency. On the other hand, the low-volume cars sit low on the priority list. Therefore, a popular car is usually a lot more reliable than a poorly-selling model from the same manufacturer.
2. Easier To Find Accessories
When a car sells in large numbers, the accessories manufacturers have a greater incentive to make something for these potential customers. As a result, such car owners enjoy a wide range of accessories made specifically for their cars.
If your variant didn't come with a specific feature, it's often possible to find the part and install it as an accessory from the aftermarket. Usually, the fit and finish are so good that it looks like it came from the factory. For example, some Creta base variant owners have installed auto-AC, cruise control and power mirrors from the higher variants.
3. Easier To Maintain
A car selling in large numbers means there are more of them running around. So, more people want to get their cars routinely serviced and repaired. This means the mechanics at authorised and multi-brand garages need to learn about these cars and stay up to date to work on customers' cars satisfactorily. This makes it very easy to find a competent mechanic.
Also Read - 10 Safest Cars in India Under 10 Lakh
Similarly, you have an easier time finding spares for your car. The dealerships also normally keep spares for their top-sellers in stock. Meanwhile, in the aftermarket, you get to pick between multiple options. These spare parts are OEM-spec but not OEM-certified. More often than not, these parts are made by manufacturers who otherwise supply high-quality parts to reputable carmakers. They probably just didn't win the contract for this particular part.
Therefore, if you're ready to let go of the carmaker's branding on the part and its packaging, you can make a sizable saving when shopping for spares.
4. Easier To Sell
If a car has high demand among new-car buyers, it generally also has a comparable demand in the used car market. That means there are more buyers for your car compared to a market flop. So, you have an easier time selling your car as you neither have to wait for months to find a buyer nor do you have to drop the price substantially.
5. Less Depreciation
While the higher demand in the used car market is one thing that helps you get a reasonable price for your car, there's one more factor that influences your car's valuation. Because of the high demand for the best-sellers among new car buyers, the carmakers have the upper hand, and they often keep increasing the prices of these models from time to time. Therefore, after a few years, you'll notice that the same variant of the car you bought has gotten considerably more expensive.
The used car buyer can't go back in time and buy a used model. They want the car today. So, the price you paid is irrelevant. While deciding the value in the used car market, they consider the cost of the new model at the time of purchase. And, if the new model has gone through a dozen price revisions, you also stand to gain from those price increases.
Also Read - Cars And SUVs With Best Ground Clearance Under 10 Lakh
For example, a new mid-spec Innova used to cost around Rs. 10 - 10.5 lakh on-road when it was launched. This car went up in popularity so much that the cost of a new model almost doubled before the first-gen model was discontinued. At the time, people have clocked even 4-5 lakh kilometres sold off their cars for around Rs. 7 lakh after owning the car for almost a decade.
Why Should You Not Buy A Best-selling Car?
While there are sound reasons for you to buy a bestseller, we look at both sides of the equation so you can make an informed decision. There are at least a couple of reasons why you should avoid buying a bestselling car.
1. Expensive
Bestsellers are usually expensive. You can't easily find a decent discount on these cars and the dealer isn't keen to negotiate on the price either. Moreover, the popular cars are also overpriced compared to their competition.
For example, let's compare the Tata Altroz XZ variant and the Hyundai i20 Sportz dual-tone. Both of these cost about the same. While the Altroz is a hot commodity for Tata Motors, it's new in the market and not as established as the i20 brand.
Therefore, despite their comparable prices, the ALtroz XZ petrol offers the following additional features over the i20 1.2 Sportz DT:
Cruise control
5-star safety rating
Keyless entry with push-button start/stop
Auto-frint wipers
Rear armrests
Halogen projector headlamps
Full-colour instrument cluster
Rear washer/wiper
That's a fairly substantial list of additional features for about the same asking price. This makes it abundantly clear that the i20 is grossly overpriced compared to the new kid on the premium hatchback block.
Also Read - Top 10 Cars With Best Boot Space Under 10 Lakh
Similarly, if you compare the Baleno Delta petrol manual with the more popular Swift ZXI, you'll find that the Swift justifies its Rs. 30,000 higher price with features like a touchscreen and keyless entry with push-button start/stop.
Numbers still don't add up alright, though, as the Baleno Delta also manages to offer some unique features that aren't available in the Swit ZXI. For starters, the Baleno is a larger car with 1 segment higher positioning. On top of that, the Delta variant has the following unique features:
LED headlamps with projectors (Swift ZXI has halogen reflector headlamps)
2 Vanity mirrors (instead of 1)
2 cabin lights (instead of 1)
If the Baleno Delta didn't have these extra features and was about as big as the Swift, then these differences would've justified the price gap. While Baleno and Swift are both part of the top-sellers list, the Swift brand still commands a premium, which is not very obvious. Therefore, these cars don't appear overpriced when you just glance through the feature list.
2. Theft
The second major concern with a popular car is theft. Because there are a lot of people using the same model, there's good demand for parts and accessories. Thieves steal music systems, alloy wheels, tyres, batteries, and other parts from parked cars as it's easy to find a buyer for these stolen parts.
If you're very, very unlucky, the thieves may even try to steal your car. Once it's stolen, they may rip it apart for parts or try and sell it to an innocent buyer with fake documents and a restamped engine and chassis number.
The digital initiatives by MoRTH are making it more difficult for thieves to do such things. However, if a car is too damn popular, you will also have a hard time spotting your own car out on the street, even when it's right in front of you. So, there are fewer chances of finding the car again.
Also Watch - Top 15 Best Selling Cars