Honda WR-V Expert Review
V3Cars offers an expert review on the Honda WR-V to help you find out all the important details of the car, and make an informed buying decision. The WR-V comes equipped with a 1.5-litre diesel engine paired with a manual transmission; it doesn't have an automatic transmission option.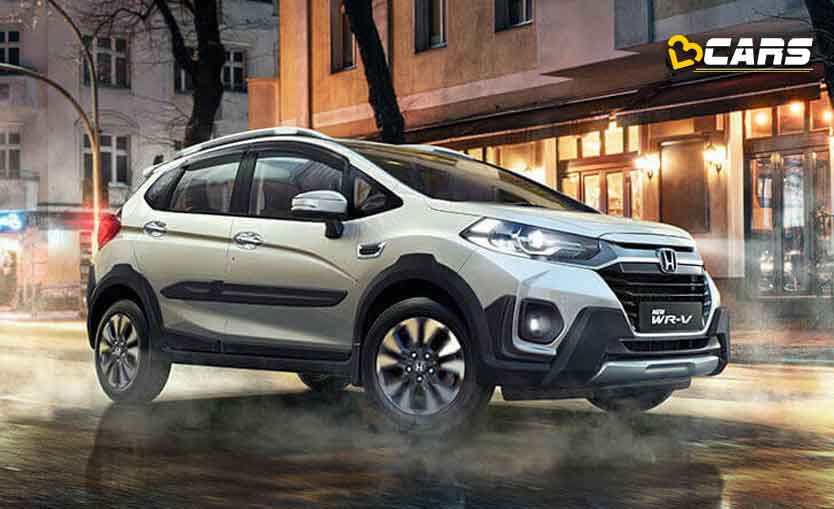 Honda WR-V Exterior Review
The Honda WR-V was launched over 3 years back, so its face is familiar. The car's front bumper has multiple contours and thick cladding, while a thick chrome insert stretches through the quadrilateral grille till the headlamps. The 2020 facelift of the car offers some minor design alterations -- for instance, now the grille features horizontal slats instead of the honeycomb pattern, the fog lamps get plastic housings and there are LED projector headlamps. Its fog lamps are also LED type, while the LED DRLs have been retained from the earlier model. Thus, the overall light beam is white for the VX variant, but the indicators still come with halogen bulbs.
Under the bonnet and there are two noteworthy elements. Firstly, there's sound insulation under the bonnet; and secondly, the edges get rubber beading. Obviously, both serve one purpose -- that's to reduce the NVH levels of the car. This ensures that only 1/3rd of the engine noise reaches the cabin of the car. Nevertheless, the clatter of the diesel engine is still audible in the cabin, but it reduces considerably with the AC's air flow and music. The WR-V's rather mild sounding horn though, might not be very effective to clear the road with a lot of commotion. 
Moving to the side; it's worth noting that the WR-V's DRLs glow even in the stretched part of the headlamps, which definitely looks good. The car gets 16-inch dual-tone alloy wheels with Michelin Primacy 3ST rubber -- probably aimed to reduce the road noise. It's worth noting that the plastic cladding all around the car is thick, and it can offer protection to the metal in the case of minor brushes with other cars.
There's also a front and rear quarter glass; the front one improves driver's visibility, while the rear one helps make the cabin feel airy. Both serve their purpose well. The door-mounted ORVMs are big, and these are positioned in a way that they don't hamper the visibility of the driver while taking a turn. 
The WR-V features rubber beading around the front doors as well, and the doors shut with a reassuring thud. Both its variants come equipped with roof rails that serve cosmetic purpose only, as you can't put any load on them. 
The top VX variant has turn indicators integrated in ORVMs, chrome door handles, shark fin antenna and LED tail lamps, which have been recently introduced. 
Apart from these, the key highlights of the rear end include defogger, wiper, chrome applique over the licence plate, and black and silver plastic cladding on the rear bumper, which protects the lower section of the bumper. However, the bumper and the tailgate are almost flat, so even in the case of low speed rear impact, the boot lid may get damaged. 
The WR-V offers a boot space of 363 litres, and in this segment, only the Sonet offers more cargo space than the WR-V. Its boot can easily carry the luggage of 4 people for a weekend trip. Loading cargo on the WR-V is also easy, as its boot lip is not very high. 
The WR-V's rear seat can be folded to facilitate more space, but its not a 60:40 split type. A good thing is that the parcel tray can be removed and stored in the boot, as it doesn't take a lot of space. The boot also has a lamp and around its spare wheel there's also a utility space, in which you can store a puncture repair kit and tyre inflator. It gets a full-sized spare wheel, but its not an alloy wheel. It is worth noting that the entire boot area has a layer of sound insulation material, but its not there on the underside of the boot lid.
We think that the overall exterior design of the WR-V is a little busy. It features a number of chrome bits and brushed aluminium finish. It has a muscular appeal at the front, but the rear is quite flat. 
WR-V vs RIVALS

DIMENSION COMPARISON

 

WR-V

Venue

Sonet

Brezza

Nexon

EcoSport

XUV300

Length

3999mm

3995mm

3995mm

3995mm

3993mm

3998mm

3995mm

Width

1734mm

1770mm

1790mm

1790mm

1811mm

1765mm

1821mm

Height

1601mm

1605mm

1647mm

1640mm

1606mm

1647mm

1627mm

Wheelbase

2555mm

2500mm

2500mm

2500mm

2498mm

2519mm

2600mm

Boot Space

363-lt

350-lt

392-lt

328-lt

350-lt

352-lt

257-lt

Ground Clearance

188mm

190mm

205mm

200mm

209mm

200mm

180mm

Fuel Tank

40-lt

45-lt

45-lt

48-lt

44-lt

52-lt

42-lt

Tyre Size (Base)

195/60 R16

195/65 R15

195/65 R15

205/60 R16

195/60 R16

195/65 R15

205/65 R16

Tyre Size (Top)

195/60 R16

215/60 R16

215/60 R16

215/60 R16

215/60 R16

215/60 R16

215/55 R17

Honda WR-V Interior Review 
The WR-V's cabin is black with brushed aluminium accents, while the central part of the dashboard features a glossy black finish. The plastic on the dashboard is hard, but in terms of appearance it doesn't seem cheap. Its glovebox is spacious enough to accomodate owner's manual along with a half liter or 1 liter bottle, but it does not get the cooling feature. 
When storage space is concerned, the front doors have a bottle holder along with space for small knick-knacks, the driver's side of the dashboard has a bottle holder near the air vent, the armrest has storage space along with a 12V socket, there's utility space in-between the front seats, where you can keep the keys, while just behind the gear lever there are 2 cupholders and one bin, where you can keep your phone. It offers 2 USB slots and one power socket, but these are not backlit, which is a miss.
The WR-V's central console is a bit shaky, and we think there's room for quality improvement here. Above this you will get the controls for the automatic AC, which is a touch panel and it will require you to look at it to operate it, but we don't think it's a major drawback because the whole purpose of the auto AC is to ensure that you don't have to adjust the AC controls time and again. It also looks upmarket. Next to it is the push-button start/stop, which glows red and white.
Both the variants of the WR-V come with a 7-inch touchscreen infotainment system, which has physical buttons for volume and to access the basic menu. The touchscreen has been placed strategically, which ensures you can read the display properly even in the sunlight, although its display quality is not very crisp.
The WR-V's central AC vents are high-set, but the airflow can be adjusted in such a way that it offers even air flow. The car comes with manual day/night IRVM, which is a disappointment, as a number of cars in this segment offer auto-dimming IRVM, and this feature is quite helpful for night driving. 
You also get controls for the sunroof on the roof-mounted console, and we think that the sunroof size is adequate for this car. There are mirrors on both the sunvisors, but there isn't any additional lighting as such. The steering wheel is leather-wrapped and it is not slippery to touch. It feels easy to hold and its controls are user friendly. 
Behind the left arm of the steering, you'll find the controls for bluetooth calling, on the left are the controls for the audio system, while on the right are the controls for cruise control. However, to access the MID information and to adjust the backlight, there's a pin on the instrument console. 
On the instrument console, you'll get the readout for all the important information such as fuel level, distance-to-empty, tripmeter, clock, instantaneous fuel efficiency and average fuel efficiency. 
The WR-V gets a 3-dial instrument cluster with backlighting around the speedometer, which changes to blue or green depending on the driving pattern; in which green means you are driving the car at a linear and comfortable speed. 
However, no matter how fast you drive and rev up the engine, the backlighting never changes to red, which we think Honda should have included as an alert system. 
The WR-V's driving seat is height adjustable and there's tilt and telescopic steering as well. The cushioning on the driver's seat is a bit too soft, while the underthigh support also seems to be a bit inadequate. The WR-V's driver seat has a square base, so it is suitable for most drivers. For an average male of around 5'8", depending on the driving position, the front armrest and door armrests are not much usable. However, the WR-V offers good visibility. The doors have power window controls, while the driver side window gets the auto up/down function. The door mirrors or ORVMs are electrically adjustable and foldable. It is worth noting that only the driver power window controls are backlit, we do wish that the ORVM controls were also backlit.
In the WR-V there won't be any problem regarding ingress/egress, but we feel that the rear seat cushioning is on the softer side. While sitting on the rear seat, it feels like you are kind of sinking inwards. We also feel that the rear seat angle is tilted too much, and as the WR-V doesn't get adjustable headrests and its fixed headrests are also quite soft, it won't be providing adequate support to the neck of the passengers. 
You also don't get an armrest or separate AC vents for rear passengers, and if you need to charge your phone, then you have to rely on the 12V socket on the front armrest. The rear headroom is just about okay for Indians of average height, while knee room is plenty. The platform under the front seat is a bit raised, so this offers good space for the legs. As already mentioned earlier, the presence of rear quarter glass makes the WR-V's cabin feel airy. 
Seating 3 adults at the rear will not be very comfortable. On the whole, we think that the WR-V's cabin focus is definitely on the driver. Hence, if you drive your car all the time and have a small nuclear family, then the WR-V's cabin will be sufficient.
Honda WR-V Diesel | Drive Review 
The Honda WR-V comes equipped with a 1.5-litre diesel engine that offers 100PS of maximum power and 200Nm of peak torque. The car's power:weight and torque:weight ratios are not the best in segment, but it doesn't feel underpowered. The 200Nm torque can be accessed at 1750rpm, but at idle speeds the car can easily crawl and the torque delivery is also linear. Thus, driving the WR-V on the city roads offers an easy and non-jerky experience, which makes it primarily a city car. 
On the highway, on the 6th gear you can cruise at a speed of 100kmph at around 2000 rpm. So, you will have a lot of torque left for overtakes. The WR-V's gear lever is compact, its throws are short and it feels like a joystick. Hence, you'll enjoy shifting gears, and its clutch is also not heavy. 
You are likely to enjoy the car's light steering while parking in tight spots and at city speeds. However, the steering remains light even at high speeds, which is not confidence inspiring. 
Braking is fine, and its initial bite is also satisfactory. The brake's effectiveness is good, even if you press the brake pedal rather hard.
The WR-V's ride is soft and it feels comfortable if there aren't many or continuous road inconsistencies. However, its suspension can bottom-out on deep potholes, and do expect a bouncy ride on a stretch of rough road.
The WR-V's diesel engine's key highlight is its fuel efficiency, and its claimed fuel efficiency is 23.7kmpl. In our test drive, the WR-V's indicated mixed fuel efficiency was 18kmpl. 
You can check the Honda WR-V's engine spec details and comparison with rivals in the table below:
WR-V vs RIVALS

DIESEL ENGINE SPECS

 

WR-V

Sonet

Venue

XUV300

Nexon

EcoSport

Displacement

1.5L

1.5L

1.5L

1.5L

1.5L

1.5L

Cylinder

4

4

4

4

4

4

Cubic Capacity

1498cc

1493cc

1493cc

1497cc

1497cc

1498cc

Maximum Power

100PS @ 3600rpm

100PS @ 4000rpm

115PS @ 4000rpm

100PS @ 4000rpm

117PS @ 3750rpm

110PS @ 4000rpm

100PS @ 3750rpm

Power:Weight

81.04PS/t

NA

NA

84.96PS/t

82.45PS/t

83.65PS/t

76.80PS/t

Peak Torque

200Nm @ 1750rpm

240Nm @ 1500 - 2750rpm

250Nm @ 1500 - 2750rpm

240Nm @ 1500 - 2750rpm

300Nm @ 1500 - 2500rpm

250Nm @ 1500 - 2750rpm

215Nm @ 1750 - 2500rpm

Torque:Weight

162.079Nm/t

NA

NA

203.91Nm/t

211.42Nm/t

197.72Nm/t

165.13Nm/t

Manual

Transmission

6-speed

6-speed

--

6-speed

6-speed

6-speed

5-speed

Manual FE

23.7kmpl

24.1kmpl

--

23.29kmpl

20.1kmpl

22.44kmpl

21.7kmpl

Actual FE

18kmpl

--

--

--

--

--

--

Automatic

Transmission

-

--

6AT

-

6-speed AMT

6-speed AMT

-

Automatic FE

-

--

19kmpl

-

19.7kmpl

22.44kmpl

-

Like all the diesel engines, the WR-V's engine is also pretty harsh and you can hear the engine clatter inside the cabin. However, because of good cabin insulation, the engine clatter is not very loud, and gets easily suppressed with air-con's air flow and music. 
Honda WR-V Variant-wise Features Review 
The Honda WR-V is available for sale in only 2 variants, namely - SV and VX. The base SV variant covers almost all the must-have features. Some of its key features are rear defogger, 7-inch touchscreen infotainment system with Apple CarPlay, Android auto, steering-mounted audio controls, rear parking camera, height adjustable driver seat, auto AC, tilt and telescopic steering wheel and 16-inch alloy wheels. 
You can check all the features of the Honda WR-V SV variant in the table below: 
HONDA WR-V | SV VARIANT FEATURES

Safety

Entertainment

Functional 

Style

Dual Front Airbags

7-inch Touchscreen w/ In-built Navigation

Height Adjustable Driver Seat

LED DRLs

ABS w/ EBD

Apple CarPlay & Android Auto

Adjustable Front Headrests

Body Coloured Bumpers, ORVMs & Door Handles

Rear Parking Sensors (2)

USB & Bluetooth connectivity

Fixed Rear Headrests

Rear Chrome Garnish

Seatbelt Reminder

4 Speakers

Auto AC

Roof Rails

High Speed Alert

Steering-mounted Audio Controls

Remote Central Locking

Skid Plates

Fog Lamps

 

Front & Rear Power Windows w/ Driver Side Auto Up/Down

Silver Inside Door Handles

Speed Sensing Auto Door Lock

 

Electrically Adjustable ORVMs

Front Center Panel w/ Piano Black Finish

Rear Camera

 

Power Socket

All-around Cladding

Defogger

 

Foldable Rear Seat

R16 Alloy Wheels

Day & Night IRVM

 

Tilt & Telescopic Steering

 

DPF Indicator (Diesel)

 

Driver & Passenger Side Vanity Mirror

 

Fuel Reminder Control System (Diesel)

 

Coat Hanger & Rear Parcel Shelf

 

The WR-V VX primarily adds a handful of feel-good features to make the package more enticing for the buyers. Some of the key features of the VX variant are sunroof, cruise control, LED projector headlamps, LED fog lamps, electrically foldable ORVMs and leather-wrapped steering wheel. 
The following table lists all the features that the Honda VX variant offers over the SV variant:
HONDA WR-V VX | FEATURES OVER SV VARIANT

Safety

Entertainment

Functional 

Style

LED Projector Headlamps

Front Tweeters

Seat Back Pocket

Sunroof

LED Fog Lamps

 

Push-button Start/Stop w/ Smart Key

LED Rear Combination Lamp

Rear Wiper & Washer

 

Cruise Control

Turn Indicator on ORVMs

Double Horn

 

Electrically Foldable ORVM

Chrome Door Handles

 
 

Front Center Armrest w/ Storage

Shark Fin Antenna

 
 

USB & Power Outlet in Armrest

Leather Wrapped Steering Wheel

 
 

Front Map Lamp

Silver Finish Dashboard & Door Ornament

According to our internal data, the WR-V VX variant's extra features over the SV variant justify the additional premium of Rs 1.2 lakh. 
However, this makes the VX variant's price cross the Rs 10 lakh slab, and thus, in many states it will attract more road tax compared to the SV variant. As a result, the WR-V diesel's on-road price difference between the SV and the VX variants will go up to around Rs 1.5 lakh. 
Hence, the WR-V VX variant with its Rs 1.5 lakh incremental cost is suitable only for those buyers who have high perceived cost for these additional feel-good features. 
So, for the Honda WR-V diesel, we recommend the SV variant for the value-conscious buyers. 
Honda WR-V Prices 
The WR-V diesel is on sale in only 2 variants - SV and VX. The SV variant is priced at Rs 9.8 lakh, while the VX variant is tagged at Rs 11 lakh. The 2 variants thus, have a price difference of Rs 1.2 lakh. 
HONDA WR-V DIESEL | PRICE COMPARISON

EX-SHOWROOM DELHI | SEP 2020

SV

DIFFERENCE

VX

₹9,79,900

₹1,20,000

₹10,99,900

The WR-V diesel's 5-year claimed periodic maintenance cost is around Rs 31,000. The BS6 compliant WR-V comes with a DPF, which is a diesel particulate filter and this doesn't get AdBlue or any other additive. As standard, WR-V comes with a 3 years/ unlimited km warranty, which is extendable. 
Honda WR-V Verdict 
The WR-V diesel is suitable for those buyers who drive themselves, and who require to run their car quite a lot. This is because its focus is around the driver instead of the rear passengers comfort. The car also has an easy-to-drive engine, it has cruise control, multiple charging points, vanity mirror for both front occupants to suit the modern buyers' taste and requirements. However, certain key features such as rear passengers AC vents, charging slots, armrest and adjustable headrests are missing. 
The diesel engine of the WR-V is fuel efficient, and its NVH (noise, vibration and harshness) levels are also relatively low -- so it does feel refined. Before you decide on buying the WR-V, we would recommend that you test drive this car, and then shortlist it if you find the driving seat comfortable. 
Honda WR-V Exterior Colour Options 
The Honda WR-V is available for sale in 6 exterior color options - Amber, which is a bit like copper colour; Silver, Grey, Brown, White and Red.