Maruti Suzuki Ignis Expert Review
V3Cars offers an expert review on the Maruti Suzuki Ignis to help you find out all the important details of the car, and make an informed buying decision. The Ignis comes equipped with a 1.2-litre petrol engine paired with a manual as well as an AMT type transmission option.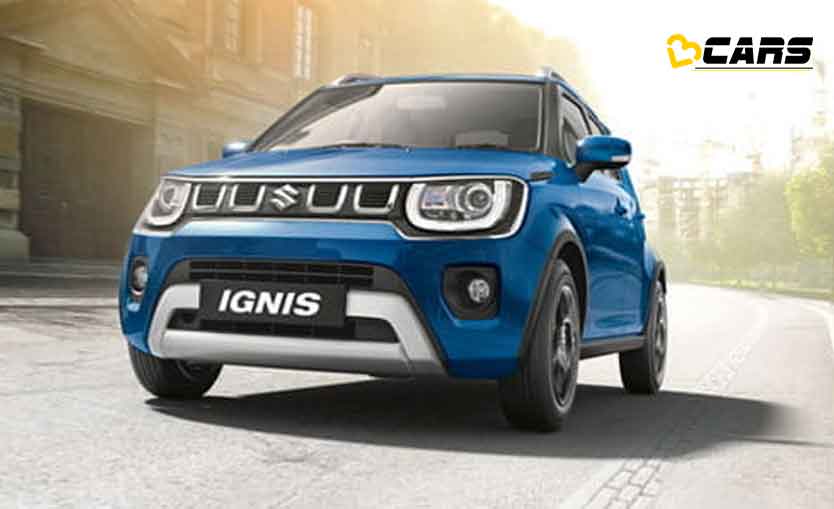 Maruti Suzuki Ignis Exterior Review
The 2020 Maruti Suzuki Ignis comes with a modified front grille and bumper design. The car features a new, sportier toothed grille and faux skid plate on its bumper, while the fog lamp housings are also new. It is worth noting that the Ignis' front bumper doesn't have any plastic cladding, but you do get it on the sides. While the former Ignis' bumper design and especially its fog lamp housing design were very aggressive, it is more SUV-inspired and conventional now, not to mention - less quirky. The headlamps are integrated into the grille, and we like this design. It also comes with chrome detailing around it, which looks unique in its own way.
Since we have the top variant with us for the review, the car gets LED projector headlamps, while the LED DRLs are fitted around these large headlamps. However, the Ignis gets halogen type fog lamps; thus, while the headlamps offer a white light beam, the fog lamps offer yellow.
Under the bonnet of the Ignis, you will find sound insulation. As it is, this engine is not very noisy, and 30 percent of it gets reduced in the cabin. We checked its horn noise, and believe it will serve the purpose.
As already mentioned, the Ignis' side profile gets cladding, but it is not thick. Hence, the cladding is more of a styling element rather than serving the purpose of protecting the car. Talking of cosmetics, the top variant offers black alloy wheels, which complement the design of the car.
The Maruti Ignis' styligh highlights include a relatively petite bonnet, upright A-pillar, kink in the rear window and unconventionally designed C-pillar, while you can't ignore the roof rails and integrated rear spoiler as well, but these 2 features are available only the Delta variant onwards. Ignis shares its door handles with the Brezza, Dzire and some other Maruti Suzuki cars. It does get the keyless entry features, but you still have to press a button on the door to unlock or lock. Its doors do not close with a metallic clank - thanks to rubber beading. However, we can feel that the car's doors are not adequately heavy. It is worth noting that the Ignis achieved a 3-star adult safety rating from the Global NCAP.
Moving to the rear, the rear bumper design has also been updated, and instead of the previous thick black plastic bar, now there's a silver faux skid plate. We think that the previous black plastic was more practical in terms of mild protection, while the more cosmetically appealing silver faux skid plate's colour will get ruined even in case of minor rear collisions. Rest of the design of the car has been retained, which means there is a rear defogger and wiper, and still the same halogen tail lamps. We think that the Ignis deserves more stylish LED tail lamps.
The Ignis offers a boot space of 260 litres, so you can easily carry 2 medium sized travel bags along with duffle bags. Under the boot floor, there is a full size spare tyre and around this there is some empty space, where you can store a puncture repair kit or tyre inflator. It also has a boot lamp, while the parcel tray is removable to offer more storing space. It is also worth noting that the Ignis comes with a flexible 60:40 split rear seat, which offers the option of carrying unusually long objects along with 3-4 occupants.
On the whole, the Maruti Suzuki Ignis' design stands out in the crowd. However, everyone might not find its design appealing, but we find it quite cool. We personally think that the Ignis is currently the best looking tall hatchback in our market. This is because it is a well proportionate car, meaning - its ratio of tyre size, body panels and windows are all appropriate. The Ignis has been around for over 3 years now, and despite its unconventional visual appeal, we still feel that it is a nice modern car.
The following table offers you a look at the Maruti Suzuki Ignis' dimensions and comparison with its rivals:
IGNIS vs COMPETITION

DIMENSION COMPARISON

Ignis

Swift

Grand i10 Nios

Tiago

Length

3700mm

3840mm

3805mm

3765mm

Width

1690mm

1735mm

1680mm

1677mm

Height

1595mm

1530mm

1520mm

1535mm

Wheelbase

2435mm

2450mm

2450mm

2400mm

Ground Clearance

180mm

163mm

165mm

170mm

Boot space

260-lt

268-lt

-

242-lt

Fuel Tank

32-lt

37-lt

37-lt

35-lt

Tyre Size (base)

175/65 R15

165/80 R14

165/70 R14

175/65 R14

Tyre Size (top)

175/65 R15

185/65 R15

175/60 R15

175/60 R15

The Ignis is the tallest car in its own segment, owing to its tall-boy design. It also has the highest ground clearance among all its rivals, which is a plus.
Maruti Suzuki Ignis Interior Review
The Ignis gets a dual-tone interior, and there's faux carbon fibre trim around its side air-con vents. It features a simple dashboard design, and hard plastic has been used all over. However, its colour combination makes the Ignis' interior look upmarket, especially the ivory plastic on the lower half looks rich. However, we feel that it would require extra care and effort to keep it clean, especially around the power window switches and the bottle holders, where hand touch is frequent. There are bottle holders on all 4 doors, but these can only fit pet bottles. The front doors come with a space to store a notebook apart from the bottle holders, but rear doors lack it. The Ignis' glovebox has 2 compartments - the upper one can store the owner's manual, while the lower space can hold a bottle or a tissue box. Above the glovebox, on the dashboard there's an open empty space, but it's of no use. There's also a storage space on the passenger side door. We like the Ignis' stylish body coloured door handles, and the similar trim is also there on the center tunnel.
The center tunnel feels well built at the front, but its rear portion's fitment could be improved. Here you get another bottle holder, a storage bin under the parking brake and 2 cupholders behind the gear lever along with a storage space where you can keep your phone.
Above this, there's a 12V socket on the dashboard along with a USB and auxiliary port. Just above this are the auto AC controls, which have a good design and quality. It's noteworthy that these come with orange backlight, while the instrument cluster features blue backlighting. It would have been nice, if both came in the same backlight colour. The 7-inch touchscreen infotainment system is placed just above this, which is a little offset with the center console. Although it doesn't look awkward, we would have liked it better if it was slightly tilted towards the driver. The Ignis offers manual day/night IRVM and a vanity mirror on the passenger side sunvisor.
Talking about the steering wheel, we feel that its rim is thin, because of which it doesn't offer a good grip. We also think that it would look better with a cover. However, if you like it as it is, then it's fine because it has good quality, soft touch plastic. There are steering mounted infotainment system and bluetooth telephony controls, and you can change information on the MID on the instrument cluster with the help of the info button. The MID offers information such as fuel efficiency, range, average speed, drive time, gear, tripmeter, fuel gauge, and open doors warning; it also offers the option to change language. To adjust this there are buttons on the dashboard on the right side of the steering.
The Ignis gets tilt adjustable steering and height adjustable driver seat. The front seats are upright, offer adequate underthigh support and are comfortable. The front doors have buttons for the power windows and to adjust the ORVMs, but only the driver's power window button is backlit.
Although the Ignis is a tall hatchback, its door opening is not high - this can be a matter of concern for tall passengers. You get an upright rear seat that offers a high seating position, which is comfortable. However, the underthigh support is not enough. Also, because of the upright seats, the headroom is not expansive, but it's decent for adults of average height. There's also not a lot of knee space at the rear. Thankfully, there's space to rest your feet under the front seats, so you can adjust yourself and sit in relative comfort.
In terms of features for rear passengers, the Ignis has adjustable headrests, but lacks an armrest and rear AC vents. There are no charging sockets at the rear as well. The window kink reduces the greenhouse, but doesn't really block your view. It is worth noting that its quarter glass is pretty big. Speaking of the seating capacity, 3 adults won't be fitting here, but for 2 it will be comfortable enough. We do wish that the kneeroom was better, as the rear seat is otherwise not uncomfortable.
Overall, the Maruti Ignis is a car that is more focused on style and making you feel sitting inside a vibrant car. Thus, its interior complements its exterior design.
Maruti Suzuki Ignis Drive Review
The Ignis' 1.2-litre petrol engine offers 83PS of maximum power and 113Nm of peak torque. The same engine also powers the Swift, but as the Ignis is lighter than the Swift, its power:weight and torque:weight ratios are better. In the B1-hatchback segment, the Ignis is the second best in terms of power and torque:weight ratio, after the Hyundai Grand i10 Nios Turbo. The Nios Turbo can reach 0-100kmph in just 11.5 seconds, while the Ignis AMT can do it in around 15 seconds. We think that the manual version might take less time to do the same 0-100kmph sprint, as we felt that the AMT gear shifts are a bit slow, even in the manual mode.
There are a lot of likeable elements about this engine. It is refined, so its NVH levels are low; it is peppy to make the Ignis feel lively at almost all city speeds, and it is also fuel efficient. In our test drive it offered a mixed city and highway fuel efficiency of 18kmpl. So, basically engine-wise there's nothing to complain about -- apart from one minor thing. You'll be doing 100kmph at 2800 revs in 5th gear on highways, and beyond this, if you are cruising at triple digit speed, then this engine feels strained. Although it will still have some power and torque left to pick up more pace, but it will negatively impact the fuel efficiency.
Now, coming to the AMT, if you are driving on fully automatic mode, then it does induce head nod on gear change, especially when shifting from first to second and second to third gear. We also feel that the transmission upshifts very swiftly sometimes, when you least expect it. However, it's something that you can live with. The transmission basically understands the gear changes depending on your accelerator inputs. Thus, if you increase its speed and lift your foot off the accelerator, just like you change gears with a manual transmission, then the AMT would upshift predictably and there won't be any head nod.
If you manually upshift and lift off pressure from the accelerator every time, the way we do with manual transmission, then there won't be any head nod. We feel that AMT has 2 advantages over ACMT. One, it has a full automation option for those days when you don't want to shift gears, and two, on manual mode you have to just focus on upshifting, as it automatically handles the downshifts. For all this - we think that it is totally worth spending an additional Rs 50,000 for this transmission over a manual.
Apart from the refined engine, another key USP of the Ignis is its ride quality, which is very matured. Its cabin composure remains good even when driving on uneven surfaces; meaning it offers good stability, while the suspension noise also doesn't filter inside the cabin. Its steering and brakes remain predictable when at high speeds - so you get a confident driving experience.
The following table offers a look at the Maruti Suzuki Ignis' engine specifications and comparison with its rivals:
IGNIS vs COMPETITION

PETROL ENGINE SPECS

Ignis

Swift

Grand i10 Nios

Tiago

Displacement

1.2L

1.2L

1.2L

1.0L Turbo

1.2L

Cylinder

4

4

4

3

3

Capacity

1197cc

1197cc

1197cc

998cc

1199cc

Maximum Power

83PS @ 6000rpm

83PS @ 6000rpm

83PS @ 6000rpm

100PS @ 6000rpm

86PS @ 6000rpm

Power:Weight

97.08PS/t

94.32PS/t

90.12PS/t

101.73PS/t

87.58PS/t

Peak Torque

113Nm @ 4200rpm

113Nm @ 4200rpm

114Nm @ 4000 rpm

172Nm @ 1500-4000rpm

113Nm @ 3300rpm

Torque:Weight

132.16Nm/t

128.41Nm/t

123.78Nm/t

174.97Nm/t

115.07Nm/t

0-100kmph

--

--

--

11.5s

--

Automatic Transmission

5AMT

5AMT

5AMT

--

5AMT

Auto FE

20.89kmpl

21.21kmpl

20.5kmpl

--

19.28kmpl

Auto Tested FE

18kmpl

--

--

--

--

On the whole, the Ignis is impressive on the move. It comes with a tried-and-tested engine, which, for a car of the Ignis' size, is just too good. Also, the Ignis rides well, so you feel confident about it.
Maruti Suzuki Ignis & Features Review
In case of the Ignis AMT, the Zeta variant is our top recommended variant, as it offers the best combination of features and value. Apart from some of the important features of lower variants, such as day/night IRVM, adjustable rear headrests and electrically adjustable ORVMs, the Zeta variant offers a number of features that make it a modern-day car, and that too at a good price.
Some of the key additional features of the Zeta variant are - rear defogger and wiper and washer, touchscreen infotainment system with Apple CarPlay & Android Auto, electrically foldable ORVMs and alloy wheels.
The following table lists the Ignis Zeta variant's additional features over the Delta variant:
IGNIS ZETA | FEATURES OVER DELTA

Safety

Entertainment

Functional

Style

Front Fog Lamps

7-inch Touchscreen Infotainment System

Push-button Start/Stop

Alloy Wheels

Rear Defogger

Apple CarPlay & Android Auto

Electrically Foldable ORVMs

Chrome Strip Around Front Grille & Headlamps

Rear Wiper

2 Speakers & 2 Tweeters

Voice Commands

The Alpha variant is not a value-for-money upgrade over the Zeta, but it is not absurdly expensive either. This variant offers added features that will improve your ownership experience. Thus, for those who can compromise on the value a bit, for the sake of useful feel-good features, they can definitely choose to buy the Ignis Alpha variant.
In fact, if we personally had to choose a variant of the Ignis, then we would go for the Alpha, as the LED projector headlamps and DRLs enhance the quirky and cool essence of the Ignis. Moreover, the Ignis Alpha offers auto AC with stylish controls that add to the visual appeal of the cabin.
You can take a look at the Maruti Suzuki Ignis Alpha variant's additional features over the Zeta in the table below:
IGNIS ALPHA | FEATURES OVER ZETA

Safety

Functional

Style

Reverse Parking Camera

Auto AC

LED DRLs

LED Projector Headlamps

Height Adjustable Driver Seat

Meter Accent Lighting

Puddle Lamp

Maruti Suzuki Ignis Price
The following table offers a look at the prices of all the manual and AMT variants of the Ignis:
MARUTI SUZUKI IGNIS PETROL PRICES

EX-SHOWROOM DELHI | SEP 2020

VARIANT

MANUAL

DIFFERENCE

AMT

SIGMA

₹4,89,320

--

--

DELTA

₹5,66,841

₹47,000

₹6,13,841

ZETA

₹5,97,820

₹47,000

₹6,44,820

ALPHA

₹6,72,898

₹47,000

₹7,19,898

It is worth noting that for the AMT unit, Maruti Suzuki is charging an additional Rs 47,000, and except the Sigma, the AMT option is available in the rest of the 3 variants. The Ignis Alpha AMT is priced at around Rs 7.2 lakh. The car's 5 year scheduled maintenance cost is Rs 16,725.
Maruti Suzuki Ignis Verdict
The Maruti Suzuki Ignis is an unconventional car. It primarily focuses on the driver or owner because its rear seat is not very spacious. There are 3 main reasons to buy the Ignis.
First and the foremost reason is its looks. Looks are subjective, and it might be one of the primary reasons to take or leave the Ignis. We personally rate the Ignis high in terms of design, as despite its quirkiness and its existence in the market for over 3 years, we don't feel its design is outdated - neither from the outside, nor from the inside.
The second reason to buy the Ignis is its engine. Whether it is the performance, fuel efficiency or refinement, this engine is just too good for a car of this size. Whether you should choose to go for the manual transmission or the AMT, depends on your usage and preference.
And the third to go for the Ignis is its ride. We think that the Ignis offers a very matured as well as comfortable ride quality, which is a big boon for a B1 segment car.
Maruti Suzuki Ignis Exterior Colours
The Ignis is available for sale in 6 exterior colour options, namely - Nexa Blue, Turquoise Blue, Orange, Silver, Grey and White. The base Sigma variant is available only in Silver, Grey and White colour options. The Zeta and Alpha variants offer 3 dual-tone exterior colour options as well, namely - Nexa Blue with Black roof, Nexa Blue with Silver roof and Orange with Black roof.