Used 2016 Tata Tiago XZ
Tata Tiago has been in the market since 2016. It received a mid-life update in 2020 that included a redesigned front-end and new features. The new model has a starting price of Rs 4.70 lakh (ex-showroom) in 2020. At launch in 2016, the Tiago started from Rs 2.75 lakh (ex-showroom). If you already own a Tiago or plan to buy a used one, this review is likely to help you understand the car better.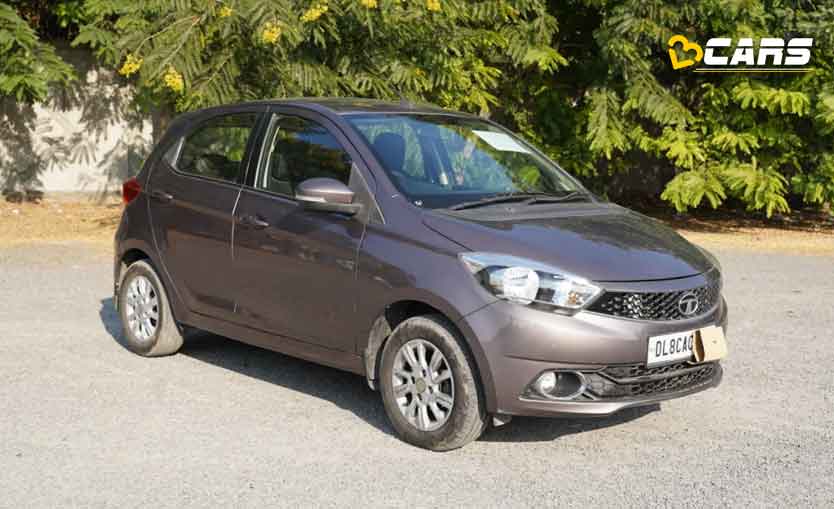 The Tiago used in this review was courtesy Spinny - a full-stack online used car platform that offers its customers safe and reliable car buying experience. The used car platform's WithExtraCare initiative focuses on buying and selling a pre-owned car in a contactless and safe manner with due attention to hygiene. At delivery, the car comes loaded on a flat-bed truck, leading to a more satisfying car buying experience. There are home test drives on offer as well, a rarity when it comes to buying a used car. Spinny promises quality, 5 day money back guarantee, 1 year warranty and Fixed price assurance on used cars.
EXTERIOR
The 2020 Tiago is a four year old car, but it still looks contemporary. It doesn't have the sharpness in its exterior design, like the 2020 Tiago, but use of glossy black and chrome finish on the front end makes it look fairly upmarket and modern. That said, the Tiago has always had a long roof-mounted antenna that looks dated now.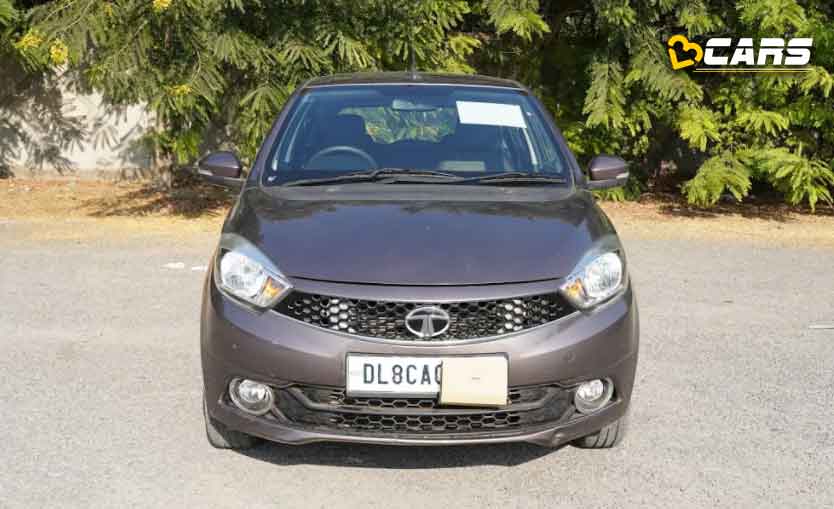 At launch in 2016, XZ was Tiago's top-spec variant, and it came equipped with halogen headlamps and fog lamps, resulting in a full yellow beam at night. During our review of the Tiago, we found the headlamps to be quite effective at night.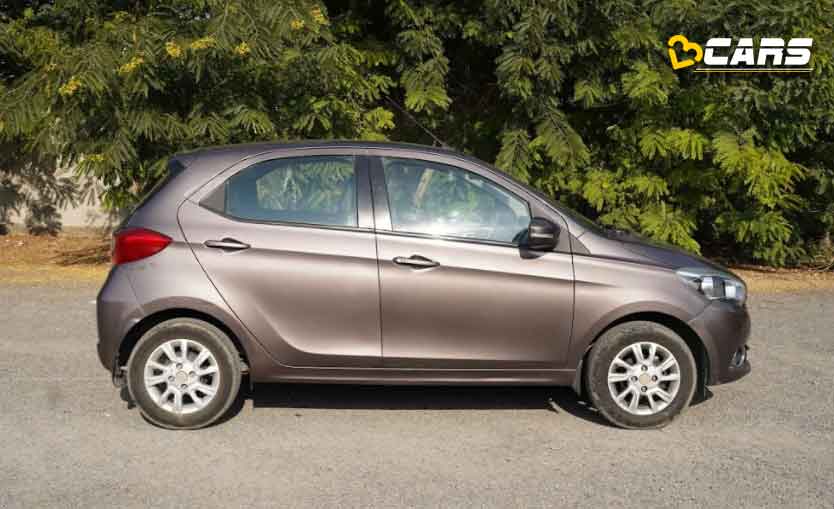 The Tiago has not changed much in profile so it's hard to distinguish between the old and the new model unless you have a keen eye. The alloy wheels have received an upgrade in size, but the 14-inch wheels on the older model don't leave you wanting for either an upgrade in size or design. In fact, the lower diameter results in an increased tyre wall, which cushions the ride more. The rear, like its front, looks contemporary.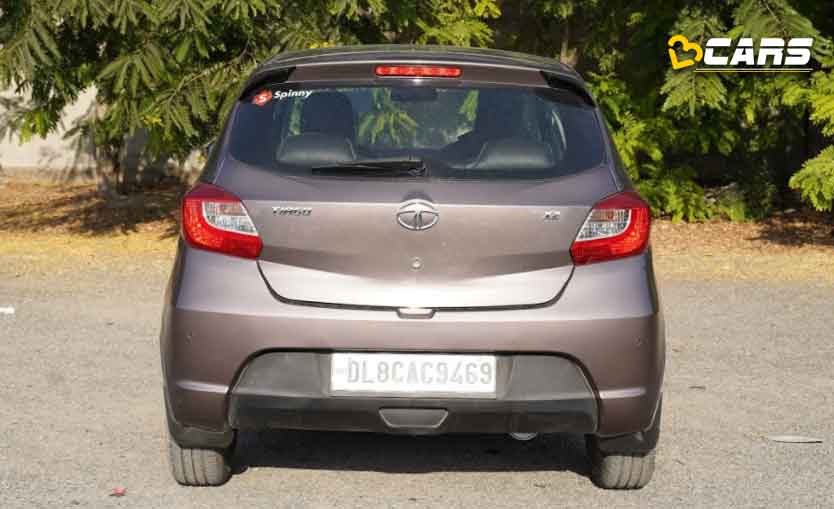 The Tiago has a 242-litre boot capacity that is capable of taking enough luggage for a weekend's outing of four adults. The car we reviewed had a broken lock for the parcel tray. Since only one out of the two locks was broken, we'd like to question the car's upkeep rather than its material quality.
While the new Tiago is bigger than the older model in terms of length and width, the 2016 Tiago is still bigger than the current Kwid and Alto.
TIAGO vs COMPETITION

DIMENSION COMPARISON

2016 Tiago

2020 Tiago

Ignis

Kwid

Alto

3746mm

3765mm

3700mm

3731mm

3445mm

Width

1647mm

1677mm

1690mm

1579mm

1515mm

Height

1535mm

1535mm

1595mm

1490mm

1475mm

Wheelbase

2400mm

2400mm

2435mm

2422mm

2360mm

Ground Clearance

170mm

(165mm w/ R13)

170mm

180mm

184mm

160mm

Boot space

242-lt

242-lt

260-lt

279-lt

177-lt

Fuel Tank

35-lt

35-lt

32-lt

28-lt

35-lt

Tyre Size (top)

175/65 R14

175/60 R15

175/65 R15

165/70 R14

145/80 R12

INTERIOR
While Tata improved the Tiago's exterior design in 2020, the interior did not change much, because it was already well appointed. The Tiago's dual-tone black and grey cabin has managed to hold up the colour and texture well with time, with next to no visible scratches or colour fading.
Glossy black finish, which is considered a fingerprint magnet, has remained flawless in the Tiago over a period of 4 years. The Tiago has uneven shut lines around the glovebox lid; however, we found no unnecessary rattles whatsoever while driving.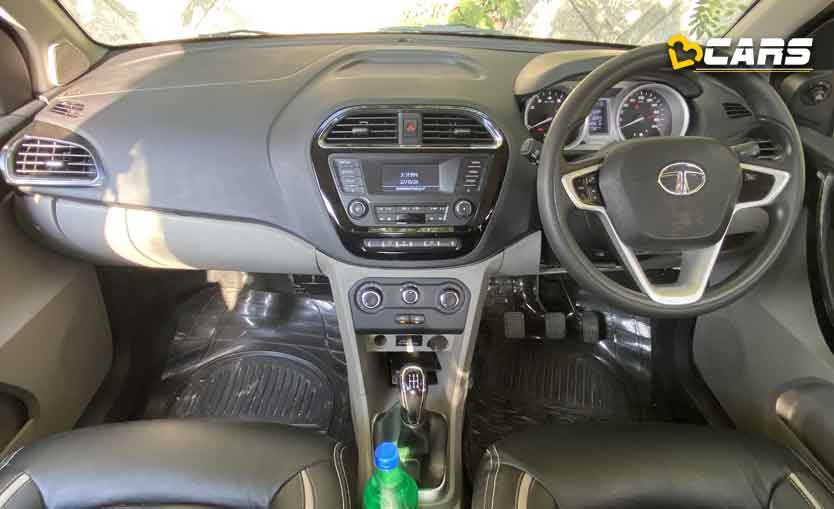 If there's a quality concern anywhere in the pre-owned Tiago's cabin, it has to be the loose fitment of the center tunnel, especially the part behind the parking brake. Thankfully, it's not a major concern because this is a common issue in cars in the Tiago's price range.
Tiago has multiple storage spaces in the center tunnel, including 2 cupholders for the front passengers, a cubbyhole to keep small stuff and a large bin ahead of the gear lever that can store modern-day large-screen smartphones. A power outlet and a USB socket near this storage space is a boon.
Talking about storage space, the Tiago's front doors can hold a pet bottle each and there's also a storage compartment to the right of the steering wheel where parking slips or wallet can be kept. Lastly, there's the spacious glovebox with a partition to hold the owners manual, and a smart tab or book. Since the glovebox is cooled, one can also keep pet bottles or medicines here. The glove box lid opens gradually by a switch, and it has proven to remain reliable with time.
Unlike modern-day cars that usually get a touchscreen infotainment system at least in their top-spec version, the 2016 Tiago had a conventional audio system with short-cut switches. The switches continue to function properly, and lack of a touchscreen infotainment system doesn't make the Tiago's cabin look dated. The audio system is available with Bluetooth, USB and auxiliary inputs and is easily amongst the better sounding systems in the price range to date.
The audio system can be operated using controls on the steering wheel, which is good to hold. Since the steering wheel is the most frequently used control in any car, you'll be happy to know that there was no sign of wear and tear on it after a usage of 4 years and 16,000km. The Tiago's cabin lights have also fared well with time, with no malfunctioning of any sort.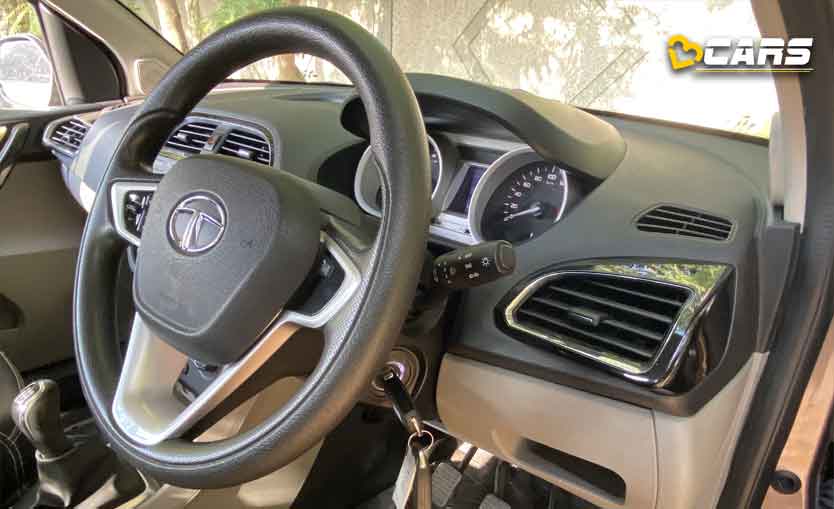 During our review, we realised that the pull-up type center locking lever near windows on the doors are now a passe, and these are inconvenient to use. It will be one of the things that will remind you that your new car is actually a yesteryear product.
Tiago, however, makes up for it by way of some convenience features like tilt adjustable steering and electrically adjustable ORVMs, and a commanding driving position that is adjustable for height.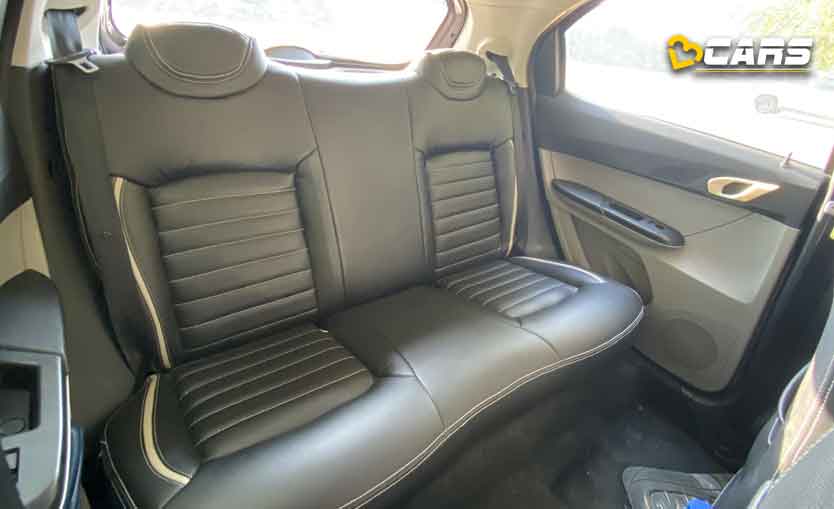 Ingress or egress in the rear cabin is not convenient because of lack of space. When inside, headroom is adequate and there's space under the front seats to slide the feet and find a comfortable position, however, taller passengers will feel the dearth of knee space. We found the Tiago's cabin to be suitable for 4 adults at max, preferably shorter ones in the rear.
Since the Tiago is not a rear seat focused car, it has only a basic set of features for those who'd travel in the rear, like illuminated power windows, a cupholder in the front center console, door pockets and armrest on the doors.
Overall, we found that the plastic quality, switchgear and steering wheel have not had a major impact on their fit and finish in time, however, the gear lever did show some signs of ageing.
PERFORMANCE
The Tiago's 1.2-litre 3-cylinder petrol engine did not get a balancer shaft in the initial years, and that led to noticeable engine vibrations. Over time, these vibrations have not worsened to a level where they're bothersome, but have intensified. Since it's early winters in Delhi, we experienced diesel engine-like vibrations on cold start with idle engine revs touching the 1500 mark.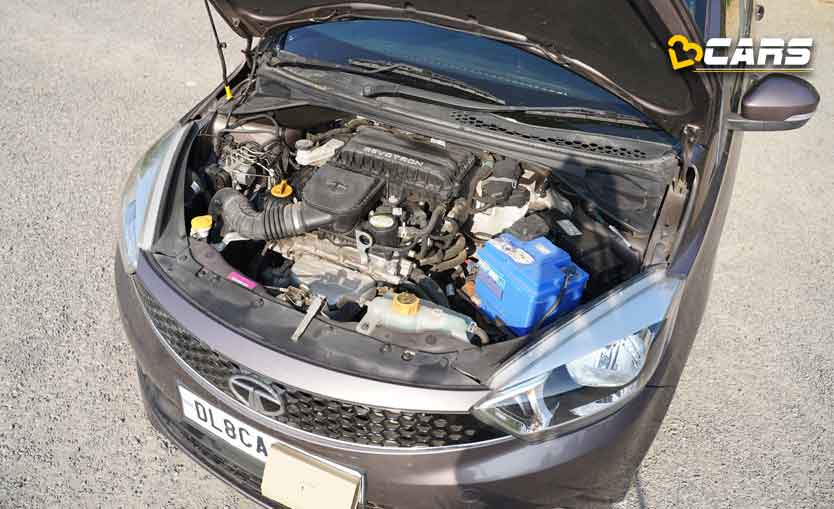 While engine revs settle over time, one can experience continuous minor vibrations in the gear lever and seats during idling even after driving for some time. The vibrations are coupled with engine noise as well -- a rattle that filters in the cabin at low revs.
The enjoyable part of the engine is its driveability, especially at the lower end. The Tiago feels lively in the city, and while you may not be putting it in the higher gear most of the times, it would amble gleefully in 3rd and 4th gear. On the highway, don't expect the torque to help you in overtaking without shifting a gear or two, but maintaining a 100kmph speed in the top gear will be a breeze at around 2800rpm, below the peak torque zone.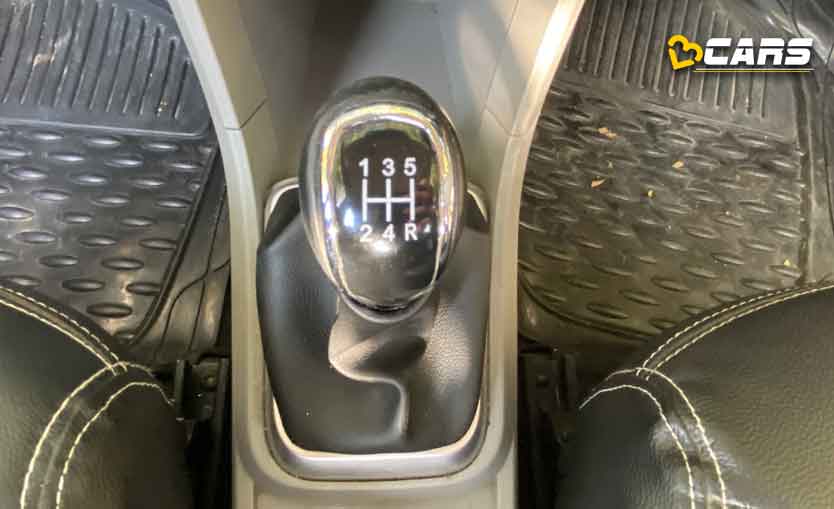 Tiago's gear shifts are smooth, but its brakes appear to be have a little less initial bite. Apply a little force, and the brakes will do the job sincerely, making Tiago feel confident under emergency braking.
The steering is light at city speeds, and has a tendency to come back to the center making it feel communicative. It gets stiffer with the increase in the speed and the car feels confident while changing lanes on the highway.
The ride quality is comfortable, neither too soft nor hard. Thankfully, there's no degradation of the ride quality with time.
The Tiago returned a mixed fuel efficiency of 16kmpl during our review. We drove it in the City mode all this while, which sips more fuel compared to when the car is driven in Eco mode. This mode, however, makes the car feel more lively.
We suspect Tiago's NVH levels to increase with time, and may get bothersome after 5-6 years of usage.
TIAGO vs COMPETITION

PETROL ENGINE SPECS

2016 Tiago

2020 Tiago

Swift

Grand i10 Nios

Ignis

Displacement

1.2L

1.2L

1.2L

1.2L

1.0L Turbo

1.2L

Cylinder

3

3

4

4

3

4

Capacity

1199cc

1199cc

1197cc

1197cc

998cc

1197cc

Maximum Power

85PS @ 6000rpm

86PS @ 6000rpm

83PS @ 6000rpm

83PS @ 6000rpm

100PS @ 6000rpm

83PS @ 6000rpm

Power:Weight

91.40PS/t

87.58PS/t

94.32PS/t

90.12PS/t

101.73PS/t

97.08PS/t

Peak Torque

114Nm @ 3500rpm

113Nm @ 3300rpm

113Nm @ 4200rpm

114Nm @ 4000 rpm

172Nm @ 1500 - 4000rpm

113Nm @ 4200rpm

Torque:Weight

122.58Nm/t

115.07Nm/t

128.41Nm/t

123.78Nm/t

174.97Nm/t

132.16Nm/t

0-100kmph

--

--

--

--

--

Manual Transmission

5MT

5MT

5MT

5MT

5MT

5MT

Manual FE

23.84kmpl

20.27kmpl

21.21kmpl

20.7kmpl

20.3kmpl

20.89kmpl

Tested FE

16kmpl

--

--

--

--

--

FEATURES
If you're planning to buy a pre-owned Tiago, especially one from the year 2016, we'd recommend you search for the XZ variant in good condition. Back then, Tata would offer ABS and dual front airbags as standard only in this variant, and no other. And these are must-have features in our opinion.
Besides these features, some key features of the Tiago XZ include: fog lamps, electrically adjustable ORVMs w/ turn indicators, 14-inch alloy wheels, rear defogger, rear wiper, integrated spoiler, Harman audio system with 4 speakers & 4 tweeters, steering mounted audio controls, tilt steering, day/night IRVM, Eco & City drive modes, cooled glovebox, height adjustable driver seat, front & rear power windows, all-door bottle holders and fixed rear headrests.
2016 TIAGO XZ | KEY FEATURES

Safety

Functional

Dual Front Airbags

Day/Night IRVM

Bottle Holders in Center Console & All Doors

Driver & Passenger Sunvisor w/ Vanity Mirror

ABS

Fog Lamps

2 Drive Modes: Eco & City

Auto-down Driver Power Window

Rear Parking Sensors w/ Display

Rear Defogger

Front Power Outlet & USB Charger

Electrically Adjustable ORVMs

Front Seatbelt Pretensioners w/ Load Limiter

Rear Wiper & Washer

Fixed Rear Headrests

Height Adjustable Driver Seat

Adjustable Front Headrests

Cooled Glovebox

Follow-me-home Headlamps

Front & Rear Power Windows

Boot Lamp

Tilt Steering
2016 TIAGO XZ | KEY FEATURES

Entertainment

Style

Audio System by Harman

Integrated Rear Spoiler

4 Speakers

Body-coloured Bumpers & Door Handles

4 Tweeters

Body-coloured ORVMs w/ Turn Indicators

Steering Mounted Controls

R14 Alloy Wheels

USB, Aux & Bluetooth

PRICE, RESALE VALUE & MAINTENANCE
TIAGO | PRICE & RESALE VALUE

2016 New Car Price (ex-showroom Delhi)

Rs 4.75 lakh

Resale Price in 2020

Rs 2.75 lakh (± Rs 25,000)

Pre-owned Car Purchase Price

Rs 3 lakh (± Rs 25,000)

At launch in 2016, the Tiago XZ was priced at Rs 4.75 lakh (ex-showroom). After 5 years, our tool suggests almost a 50% reduction in value. Therefore, someone selling a Tiago in 2020 or 2021 should expect a resale price of less than Rs 3 lakh. On the other hand, someone planning to buy a pre-owned Tiago should expect the price to be more than Rs 3 lakh. Used car prices are likely to vary for reasons like car condition, number of owners, mileage, demand in respective state and road tax on new car.
We recommend buying pre-owned cars from either carmaker authorised used car dealerships or third-party organised used car platforms like Spinny. Buying a car from these platforms gives better peace of mind as you get verified used cars with warranty and even money-back guarantee.
It is worth noting that you'll be able to buy a pre-owned Tiago XZ at a price lower than a new Kwid or Alto. The ex-showroom price for these cars starts from around Rs 3 lakh.
TIAGO vs RIVALS | PRICE RANGE COMPARISON

EX-SHOWROOM DELHI

Car

Price

Pre-owned 2016 Tata Tiago petrol

Rs 2.75 lakh - Rs 3.25 lakh

New Tata Tiago petrol

Rs 4.70 lakh - Rs 6.24 lakh

New Maruti Suzuki Alto

Rs 2.95 lakh - Rs 4.36 lakh

New Renault Kwid

Rs 3 lakh - Rs 5.13 lakh

VERDICT
If you're planning to buy a pre-owned Tiago, we recommend you to go for it if you plan to keep it for 2-4 years, and resell it afterwards. We reckon with time the engine vibrations will worsen and dampen your ownership experience.
At the same time, we think that ownership of a pre-owned Tiago will be more rewarding compared to buying a new entry-level car. However, we'd recommend you to buy Tiago's XZ variant only, because lower variants in 2016 were not equipped with ABS and airbags as standard -- features that are a must when buying a car.