Hyundai Aura Petrol Vs CNG Mileage Running Cost Which Is Better
If you're wondering whether you should buy the Hyundai Aura petrol or CNG then this article will help you come to a conclusion. Here, we'll take the latest ex-showroom prices of the Aura and look at the price difference. Based on the current petrol and CNG prices, we'll calculate the kilometres you need to drive the car to recover the higher upfront cost. This should help you decide which engine option of the Aura will work best for you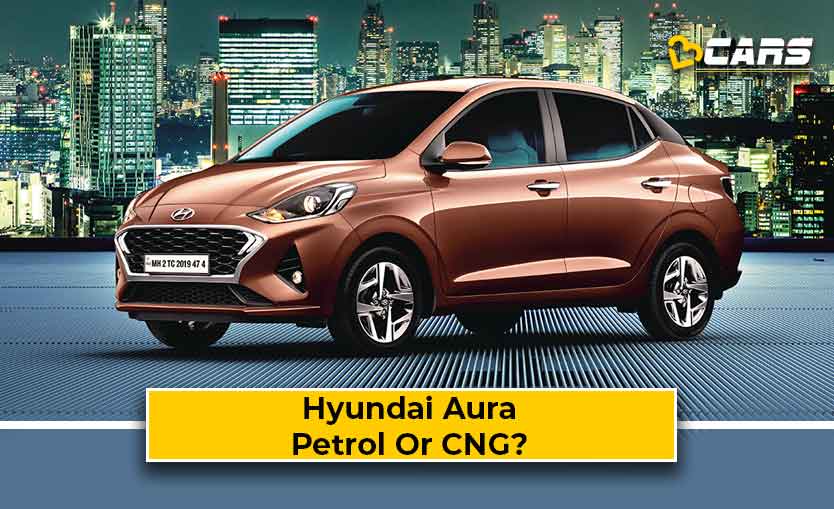 Hyundai Aura Petrol Vs CNG - Price Comparison
Let's look at the latest ex-showroom prices of the Hyundai Aura petrol and CNG to see what extra cost you're paying for the Aura CNG over the Aura petrol.
Hyundai Aura Petrol Vs CNG Prices - Ex-Showroom Delhi September 2021

Variants

Petrol Prices

Difference

CNG Prices

S Manual

Rs. 6,78,500

Rs. 88,500

Rs. 7,67,000
Also Read - 2021 Hyundai Aura Petrol Vs Diesel - Which is Better?
For the Aura CNG manual, you're paying Rs. 88,500 more than the Aura petrol.
Hyundai Aura Petrol  Vs CNG - Running Cost Calculation - September 2021
Now, let's compare the per kilometre fuel cost you'll incur with both the engine options. For this, we'll use the latest petrol and diesel prices in Delhi and the official mileage figures as a baseline.
Hyundai Aura Cost Per KM (September 2021)

 

Petrol

Difference

CNG

Fuel Price Delhi

Rs. 102

Rs. 12

Rs. 90

Manual Mileage

20.5kmpl

7.6kmpl

28.1kmpkg

Manual Cost Per km

Rs. 4.98/km

Rs. 1.77/km

Rs. 3.2/km
 Also Read - 2021 Honda Amaze Facelift Petrol Vs Diesel Which is Better?
At the current fuel prices, the Hyundai Aura petrol manual will cost you Rs. 1.77 more than the Hyundai Aura CNG manual for every kilometer you drive.
Kilometres To Breakeven With Hyundai Aura CNG
Hyundai Aura Petrol Vs CNG KM to Recover (September 2021)

Variants

KM to Recover

S Manual

49,922km
Should You Buy Hyundai Aura Petrol Or CNG?
With the Aura CNG, you'll sacrifice a little bit on the performance as the car will have lower performance when running on CNG. You'll also give up most of the boot space. Moreover, you might have to frequently visit the CNG station as the tank range is very less with the CNG cars. If your city doesn't have enough CNG stations, then the Aura CNG may not be feasible at all for you.
However, if you can live with these compromises, then you can recover the higher upfront cost of the CNG model in just 50,000km. In fact, if petrol prices keep going higher, then km to breakeven will drop further as CNG prices don't fluctuate as much as petrol.