Maruti Nexa Jimny Expected Price Calculation (Variant-wise) With Logic
In this article, we'll estimate the ex-showroom prices of 2023 Maruti Suzuki Jimny (Nexa) and explain the logic behind the calculations. We'll first look at what positioning Maruti Suzuki are planning for the Jimny to highlight the value of its strengths. Let's start with establishing the baseline price for the Nexa Jimny based on the potential product positioning.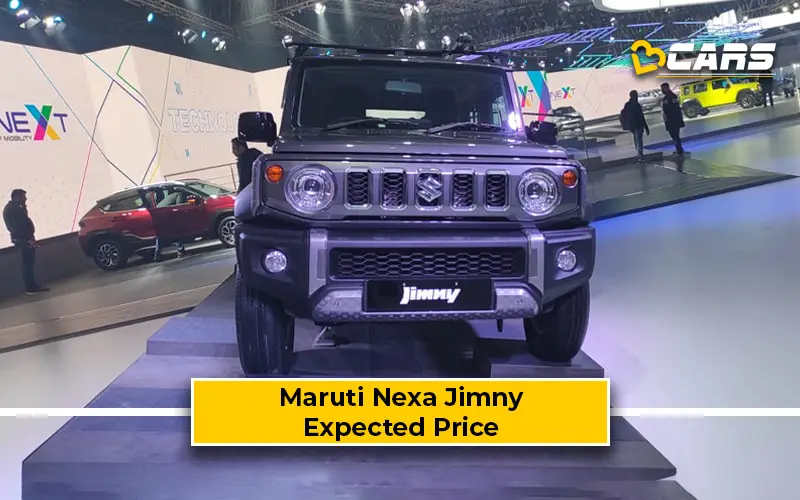 Update (June 7, 2023): Maruti Suzuki have announced the prices of the Jimny. The most affordable variant of the Jimny, Zeta petrol-manual, costs Rs. 12.74 lakh while the Alpha petrol-automatic costs Rs. 14.89 lakh. If you are considering buying the Jimny, then you can visit our Jimny Variants Explained article for updated buying recommendations based on our exclusive and objective value-based analysis algorithm:
Maruti Suzuki Jimny Petrol Variants Explained - Which One To Book?
Update (May 25, 2023): We published this article early in January 2023. Since then, Maruti Suzuki have hiked the prices of their vehicles multiple times. Considering these price hikes, we're revising our estimations and increasing them by about Rs. 30,000 across the entire range. While our logic behind the calculations remains the same, this update only factors in the price hikes and adjusts the Jimny price accordingly.
Maruti Jimny Expected Price Summary (Updated: May 25, 2023)
The Jimny could start at Rs. 12.0 lakh for the Zeta petrol-manual powertrain. At Rs. 13.30 lakh (ex-showroom), the buyers could have the option of choosing either the convenience of automatic transmission or the fancier features of the Alpha petrol-manual. The Jimny's top variant with the automatic transmission could cost Rs. 14.60 lakh.
Product Positioning
Since this is a completely new product entering a completely new segment with an already established rival, we can't use an existing Maruti car as a baseline for Jimny's starting price calculation. So, we will have to try and understand how Maruti Suzuki officials are planning to position the product.
Based on our analysis, we found that Maruti Suzuki officials are closely watching the Mahindra Thar and waiting for the upcoming Thar 5-door's pricing. On top of that, they are also planning to offer somewhat attractive pricing to kick start the chain reaction. The theory behind this is that what sells in big numbers continues to sell in big numbers and a car that doesn't sell has a tough time to get rolling. It's Newton's first law of motion. So, it's very important for Maruti Suzuki to get off to a flying start. Then even a couple of reasonable price hikes can't stop the chain reaction of sales.
So, we're expecting Maruti Suzuki to launch the Jimny at a price, which will at least make some Thar buyers reconsider if not revise their decision. But, they also don't want to dilute the Jimny brand and have it around as a halo product in the Nexa lineup. Let's see how Maruti Suzuki might handle this tough task.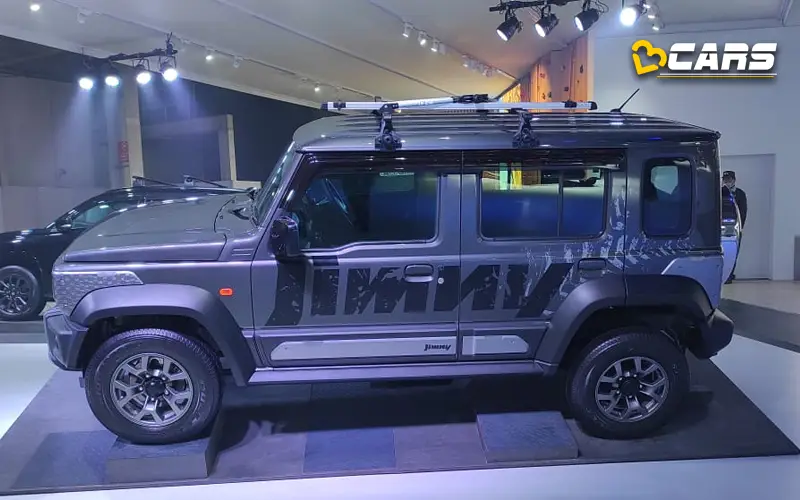 Also Read: Maruti Suzuki Jimny Expected Launch Date - With Logic
Maruti Suzuki Nexa Fronx SUV Expected Launch Date - With Logic
Maruti Suzuki Nexa Jimny's Strengths And Weaknesses
To get a detailed look at the strengths and weaknesses of the Jimny, you can refer the following link:
Maruti Suzuki Jimny Pros And Cons - Against Mahindra Thar
The Jimny is a unique offering, as in, one which offers:
Practicality of 5-door layout
Efficient petrol engines
Promise of better long-term reliability
Easy serviceability
And everyday drivability
At the same time, Maruti Suzuki are aware of its weaknesses like:
Poor road presence because of its smaller size
Skinnier tyres with smaller wheel sizes
Very low torque output
5-speed manual and 4-speed TC automatic (Thar gets 6-speed manual and 6-speed TC automatic)
New brand (the Thar is an established off-roader in India with authentic "Jeep" styling)
No tax benefits (Thar 1.5L 2WD enjoys the small car tax benefits and has an attractive price tag)
For people who want to own an off-roader as their primary or only vehicle have no choice except the Jimny — at least until the Thar 5-door launches. During our Thar road test, we found that it has a phenomenal ability to eat up bad roads like they don't even exist. But this soft suspension tuning comes at the cost of everyday practicality as it feels bouncy on road undulations, especially at 70kmph and higher speeds.
So, the Jimny comes across as a perfect car for buyers who want to daily drive their off-road car but want the ability to off-road should the need arise. And until that off-roading day comes, they don't have to compromise on everyday practicality.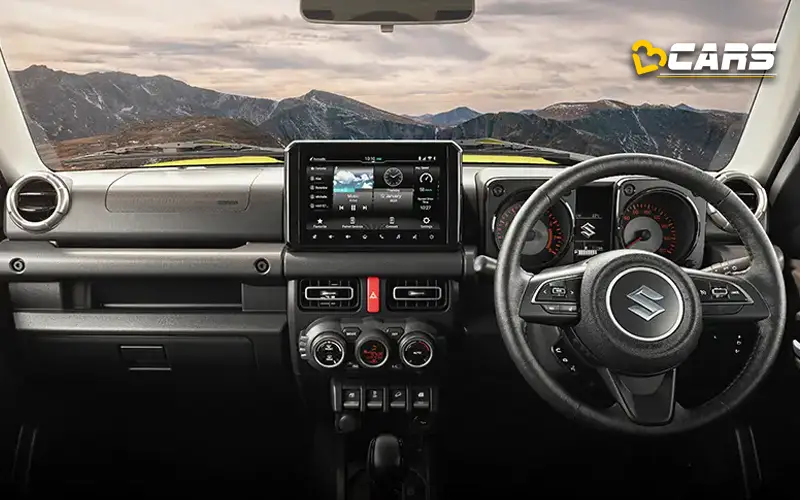 Maruti Suzuki Nexa Jimny Zeta Variant Expected Price - Rs. 12.0 Lakh (Updated)
It's worth noting that the Jimny starts with the fairly-loaded Zeta variant. So, in terms of ownership experience, even the base Jimny variant is comparable with the Thar's top model.
At a starting price of Rs. 12.0 lakh, the Jimny petrol-manual costs only Rs. 70,000 more than would cost on par with the Thar 1.5L diesel rear-wheel drive LX and offer comparable features. It also has 4WD to justify the off-roader tag, which is not available with the Thar 1.5L 2WD.
For the automatic transmission, we are expecting Maruti Suzuki to charge around Rs. 1.30 lakh. Maruti Suzuki normally charge Rs. 1.50 lakh for the torque converter automatic transmission but in the case of Jimny, it's the older 4-speed unit. So, a price gap of Rs. 1.30 lakh seems realistic if not justifiable. Therefore, the Jimny Zeta petrol-automatic could cost Rs. 13.30 lakh (ex-showroom).
Maruti Suzuki Nexa Jimny Alpha Variant Expected Price - Rs. 13.30 Lakh (Updated)
With the Jimny Alpha, you get features worth a perceived value of around Rs. 1.0 lakh. While most of the additional features are good-to-have, they are also desirable. So, Maruti Suzuki can afford to charge a little higher cost and price the Alpha petrol-manual at Rs. 13.30 lakh (ex-showroom).
At Rs. 14.60 lakh for the Alpha petrol-automatic, the Jimny's top model costs about the same as the 3-door Thar petrol-manual 4WD. At a similar price point, the Jimny offers the convenience of automatic transmission, practicality of rear doors and a much higher fuel efficiency for daily drivers. Therefore, it may not convince a die-hard Thar fan to switch their booking to the Jimny but it has a fighting chance to win over a buyer, who is open to other options.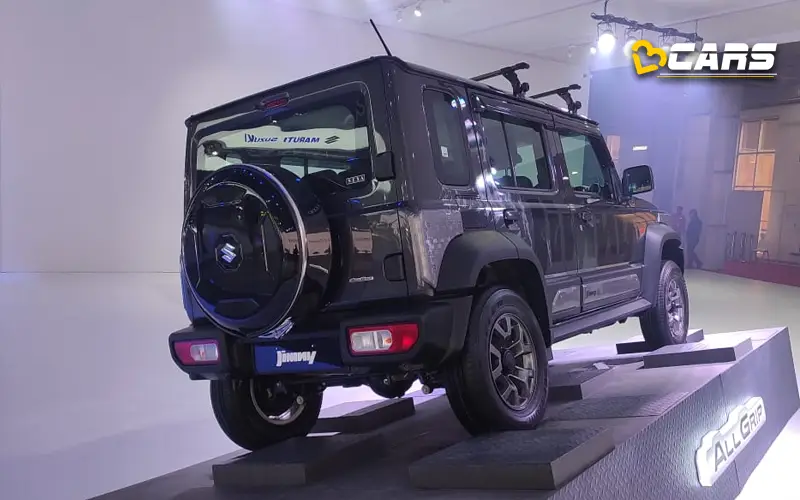 Track our complete 2023 Auto Expo coverage at: Auto Expo 2023 – Latest News in Auto Show India