2023 Maruti Suzuki Nexa Fronx SUV Expected Launch Timeline - With Logic | V3Cars
On day 2 of the Auto Expo 2023, Maruti Suzuki revealed the Nexa Fronx SUV and started accepting bookings for the car. In this article, we'll estimate the launch timeline of the latest SUV and Tata Punch rival from Maruti Suzuki and explain the logic behind the same.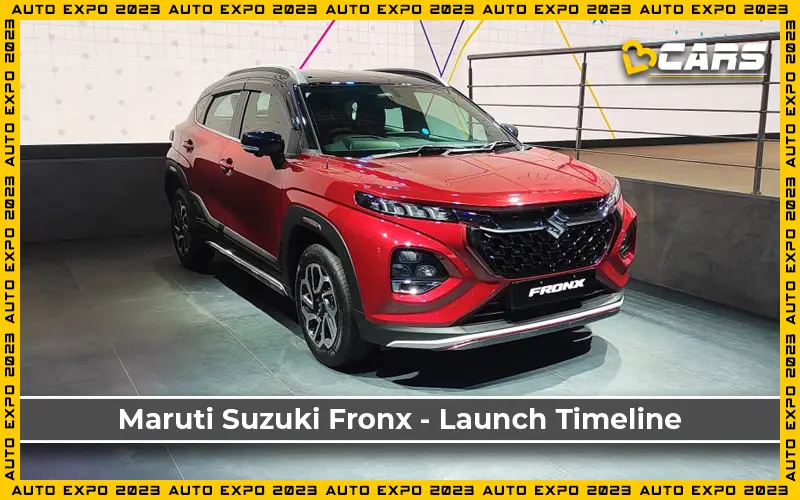 Note: In some previous stories, we had incorrectly mentioned that the Fronx (Baleno-based crossover/YTB) could launch in October 2023. We've revised our estimation based on the latest details we received at the Auto Expo 2023.
In the past, we've noticed that Maruti Suzuki open bookings for a car within a couple of months of the launch. The Grand Vitara was one of the rare exceptions to this rule because it was entering a new segment and because of its higher price range. Maruti Suzuki didn't have enough experience selling cars costing well above Rs. 20.0 lakh (on-road). So, they needed some time to:
Market and advertise the product
Gauge the initial and sustainable demand
Place orders with their suppliers for future production
Setup production line to meet the demand
Also Read: Maruti Suzuki Fronx Expected Price Calculation - With Logic
Track our compete 2023 Auto Expo coverage at: Auto Expo 2023 – Latest News in Auto Show India
This time around, with the Fronx, that's not the case. Maruti Suzuki have tremendous expertise in the sub Rs. 10.0 lakh price band. In fact, they rule it. Moreover, the Fronx shares the platform, powertrain and some of the interior and exterior panels with the Baleno. This drastically reduces the time required to bring the product to market.
It seems they are ready to hit the road and that's why they opened bookings for the Fronx. We believe that they will start the media test drives around the end of January 2023 to further get some final feedback from the media people and fine tune their pricing strategy.
Also Read: Features Maruti Suzuki Fronx Gets Over Baleno
Maruti Suzuki Fronx Bookings Open At Auto Expo 2023
Maruti Suzuki Nexa Fronx Launch Timeline
With another few weeks for the finishing touches and final planning, they should be ready to announce the prices in February and begin deliveries either in the same month or in March 2023. It's worth noting that Maruti Suzuki followed a similar pattern for the Nexa Baleno. The car became a huge success, which gives Maruti Suzuki an even better understanding of the needs and expectations of car buyers with a budget of Rs. 7.0 - 11.0 lakh (ex-showroom). Therefore, they will only need a few weeks from bookings to media drives to launch and deliveries.
You can check out the variant wise features and expected prices of the 2023 Nexa Fronx in our video below: