Maruti Suzuki Celerio Cons - Why You Should Not Buy
After a detailed analysis of the Maruti Suzuki Celerio, we found some pros and cons of the car, which are worth highlighting to a potential buyer. In this article, we will explain the shortcomings or problems of the Maruti Suzuki Celerio, which you might notice either during the pre-buying process or during the ownership of the car. We'll highlight all the small and big issues we found in the Maruti Suzuki Celerio. We hope this article educates you about the Celerio and helps you make an informed buying decision.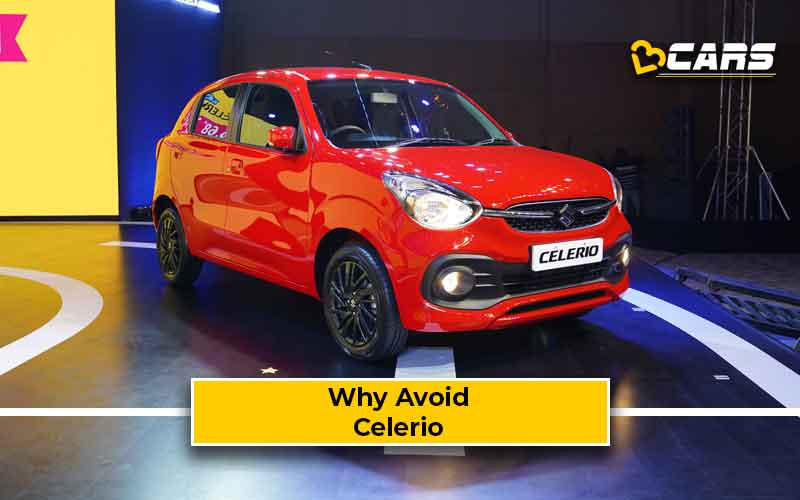 No CNG Option
Maruti Suzuki sell the highest factory-fitted CNG cars in the Indian market. However, the Celerio is not yet offered with a factory-fitted CNG option. The Celerio is the most fuel-efficient car in the Indian market but it still can not match the per-litre cost advantage of CNG fuel. We expect Maruti Suzuki to launch the Celerio CNG soon. It would be great if Maruti Suzuki also offer AMT option with the CNG variants.
Smaller And Less Powerful Than Tata Tiago
The Celerio has grown in size with increased width and wheelbase over its predecessor. While it boasts more height and wheelbase, the Tiago is wider and longer. In addition to that, the Celerio takes defeat when it comes to engine output. The Celerio's 1.0L engine offers an output of 67PS and 89Nm compared to Tiago's 86PS and 113Nm. What makes matters worse is the little to no price difference between the Celerio and the Tiago.
Scarcity of Essential Features
Maruti Suzuki have sensibly segregated the features with the Celerio. However, there are some essential features that are missing from the package. Features like reverse parking camera, adjustable headrests and front centre armrest are missed. Its rivals offer these features at similar prices. Maruti Suzuki should not have stripped down on these essential features.
Maruti Suzuki Celerio Advantages
Those were some shortcomings of the Maruti Suzuki Celerio and you may find that some of them are non-issues for you. However, the Maruti Suzuki Celerio also has its upsides, which may outweigh the drawbacks. The Celerio also offers some benefits, which impressed us. For example, frugal and refined petrol engine, larger dimensions and more. You can refer to the article below to learn more about the pros or advantages of the Maruti Suzuki Celerio.
Also read: Maruti Suzuki Celerio Pros - Why Should You Buy