Maruti Suzuki Celerio Pros - Why Should You Buy
After a detailed analysis of the Maruti Suzuki Celerio, we found some pros and cons about the car, which are worth highlighting for a potential buyer. In this article, we will explain the highlights and benefits of the Maruti Suzuki Celerio, which you would appreciate while deciding the car. We'll highlight all the advantages of the Maruti Suzuki Celerio. We hope this article educates you about the Celerio and helps you make an informed buying decision.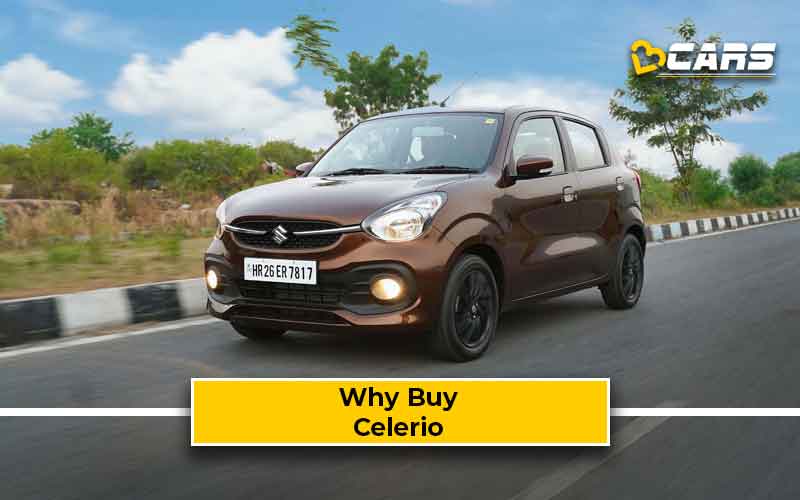 Most Fuel-efficient Car In India
The new Celerio comes with a heavily-reworked 1.0L K10C petrol engine. The new engine is down on power and torque when compared to the earlier iteration. But it excels over every other car in India when it comes to fuel efficiency. With a claimed fuel efficiency of up to 26.68kmpl, you can go on long trips with fewer fuel stops. It is worth noting that the Celerio's fuel efficiency varies with respect to the variants. For example, the ZXi+ AMT returns a fuel economy of 26kmpl and the ZXi+ AMT offers 24.97kmpl.
Large Dimensions With Good Ground Clearance
The new Celerio measures 3,695mm in length, 1,655mm in width and 1,555mm in height. It also offers a wheelbase of 2,435mm that comes courtesy of the new Heartect platform. If we compare, the Celerio's wheelbase is 35mm longer than that of the Tiago. It also offers 170mm of ground clearance. The increased dimensions over the predecessor have helped the Celerio to offer more space with a compact footprint.
Good Segregation Of Variants and Prices
Maruti Suzuki offer the Celerio in four variants - LXi, VXi, ZXi and ZXi+. The 5-speed manual gearbox is standard across the range whereas the AMT is offered with the top three variants only. The sensible segregation of features across the variants help the buyer to pick the perfect car. Features like dual airbags, ABS with EBD, reverse parking sensors etc are on offer across all variants as standard.
Maruti's Omnipresent Service Network
Maruti Suzuki boast the largest service network in the Indian market. Even unskilled mechanics know how to work on the petrol engines from Maruti Suzuki's stable. While other carmakers are shifting from normal petrol engines to turbocharging and direct injection, Maruti Suzuki offer simple naturally-aspirated petrol engines which are more reliable and fuel-efficient in the longer run.
Maruti Suzuki Celerio Drawbacks
Those were some of the advantages of the Maruti Suzuki Celerio. However, the Celerio does have its shortcomings, which could be a deal-breaker for some buyers. Some drawbacks of the Celerio are: less powerful petrol engine and no CNG option as of now. You can refer to the article listed below to gain a better understanding of the pros and cons of the Celerio.
Also Read - Maruti Suzuki Celerio Cons - Why You Should Not Buy