Maruti Suzuki Ignis Pros - Why Should You Buy
After a detailed analysis of the Maruti Suzuki Ignis, we found some pros and cons about the car, which are worth highlighting for a potential buyer. In this article, we will explain the highlights and benefits of the Maruti Suzuki Ignis, which you would appreciate while deciding the car. We'll highlight all the advantages of the Maruti Suzuki Ignis. We hope this article educates you about the Ignis and helps you make an informed buying decision.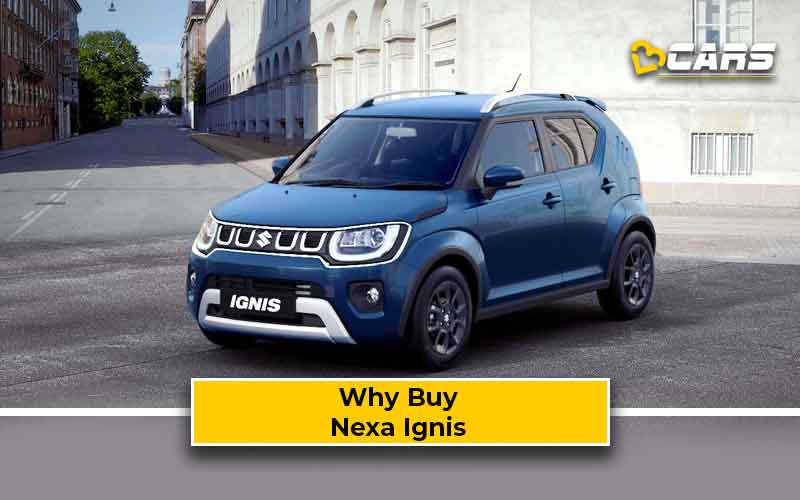 180mm Ground Clearance And Standard 15-inch Wheels
Maruti Suzuki Ignis is a compact crossover and comes with a good 180mm of ground clearance. Mini SUVs like the Tata Punch offer 187mm that is not too far from the Ignis'. Along with that, the Ignis also gets 15-inch wheels as standard across the range.
Peppy And Frugal 1.2L Petrol Engine
The Ignis comes with a 1.2L K12 petrol engine. It produces 83PS and 113Nm of torque. You can have the Ignis with either a 5-speed manual or 5-speed AMT. The torque-to-weight ratio of the Ignis is good, despite not having a turbo petrol engine. Thanks to its light weight, the Ignis feels easy to drive and peppy under city limits.
Quirky And Youthful Design
Maruti Suzuki designed the Ignis keeping the preferences of millennials in mind. It boasts a quirky design with some design elements taken from the earlier Suzuki models. The semi-circular LED DRLs look great at night and so do the LED taillights. On the inside, cylindrical door handles, toggle-type AC controls and colourful accents uplift the persona of the cabin.
Well-priced AMT Variants
Maruti Suzuki offer the Ignis AMT in three variants - Delta, Zeta and Alpha. The AMT variants cost Rs. 50,000 more than the corresponding manual variants. The fuel economy of 20.89kmpl is the same for both the manual and AMT variants. The AMT gearbox of the Ignis offers smooth and respectably quick shifts with minimal head nod.
Maruti's Omnipresent Service Network
Maruti Suzuki boast the largest service network in the Indian market. Even unskilled mechanics know how to work on the petrol engines from Maruti Suzuki's stable. While other carmakers are shifting from normal petrol engines to turbocharging and direct injection, Maruti Suzuki offer simple naturally-aspirated petrol engines which are more reliable and fuel-efficient in the longer run.
Maruti Suzuki Ignis disadvantages
Those were some of the advantages of the Maruti Suzuki Ignis. However, the Ignis does have its shortcomings which could be a deal-breaker for some. Some drawbacks of the Ignis are: quirky rear end, no option of diesel or turbo petrol and more. You can refer to the article listed below to have a better understanding of the pros and cons of the Maruti Suzuki Ignis.
Also Read - Maruti Suzuki Ignis Cons - Why Should You Not Buy