Maruti Suzuki Baleno Cons - Why You Should NOT Buy
After a detailed analysis of the Maruti Suzuki Baleno, we found some pros and cons of the car, which are worth highlighting to a potential buyer. In this article, we will explain the shortcomings or problems of the Maruti Suzuki Baleno, which you might notice either during the pre-buying process or during the ownership of the car. We'll highlight all the small and big issues we found in the Maruti Suzuki Baleno. We hope this article educates you about the Baleno and helps you make an informed buying decision.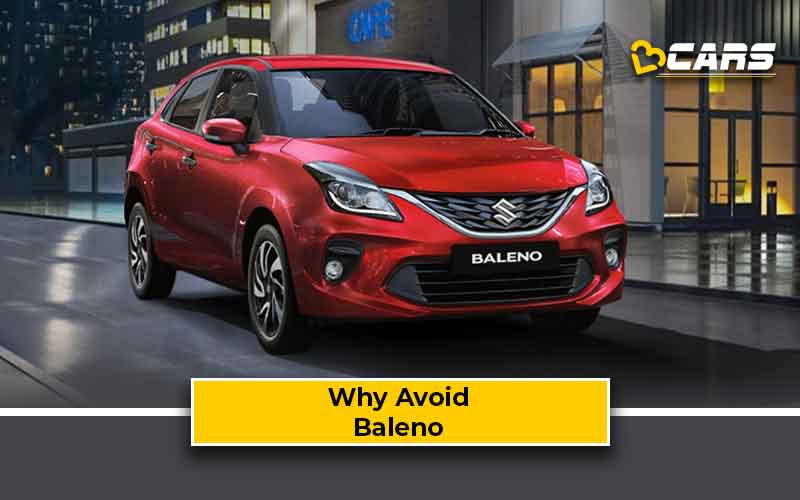 Expensive Automatic Variants
The Baleno comes with a CVT gearbox, which is not available with any other Maruti car in the Indian market. While it has exclusivity, Maruti Suzuki demand a fat premium for convenience. They charge Rs.1.20 lakh more than the corresponding manual variants of the Baleno. The Baleno automatic comes with a claim of 19.56kmpl, which is lower compared to the 21.01kmpl figure of the manual variants.
Absurdly Overpriced Mild-Hybrid Petrol Engine
Maruti Suzuki offer the Baleno with two engine options - normal petrol and a mild hybrid petrol engine. The latter engine comes with two injectors per cylinder while the normal petrol engine gets one per cylinder; 4 in total. The mild-hybrid system comes with a Li-ion battery that also provides torque-assist at city speeds. If you compare the specs, the hybrid model offers 90PS, which is 7PS more compared to the 83PS normal petrol engine. However, the incremental cost of Rs. 89,000 is too high for an increase of 2.86kmpl in fuel efficiency.
Acceptable But Unimpressive Part's Quality
The Baleno is a stylish hatchback but doesn't justify its premium quotient tag. The interior quality is average at best, with subpar plastics used. The sheet metal of the panels is flimsy and showcases a considerable amount of flexing as well. Maruti Suzuki should offer better plastic quality and use better materials for outside panels.
Lack Of Features
Maruti Suzuki have specced the Baleno very wisely. But the Baleno misses out on some equipment that the competition is now offering. Features like wireless charging, rear armrest with cupholders, rear AC vents, branded audio, cruise control and many such features are missing in the package. We expect things to go uphill with the upcoming facelift of the Baleno that is slated for next year.
Maruti Suzuki Baleno Advantages
Those were some shortcomings of the Maruti Suzuki Baleno and you may find that some of them are non-issues for you. However, the Maruti Suzuki Baleno also has its upsides, which may outweigh the drawbacks. The Baleno also offers some benefits, which impressed us. For example, its reasonable price, well-equipped mid variants, wide service network, best-in-class fuel efficiency and more. You can refer to the article below to learn more about the pros or advantages of the Maruti Suzuki Baleno.