Maruti Suzuki Ignis Cons - Why Should You Not Buy
After a detailed analysis of the Maruti Suzuki Ignis, we found some pros and cons of the car, which are worth highlighting to a potential buyer. In this article, we will explain the shortcomings or problems of the Maruti Suzuki Ignis, which you might notice either during the pre-buying process or during the ownership of the car. We'll highlight all the small and big issues we found in the Maruti Suzuki Ignis. We hope this article educates you about the Ignis and helps you make an informed buying decision.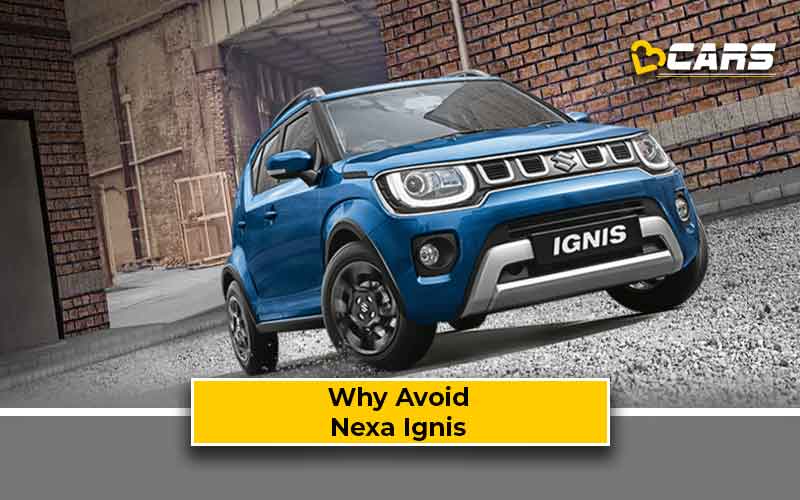 Underwhelming Base Variants
The Ignis is a quirky little crossover but the styling of its base variants seems underwhelming. The highlight elements of the Ignis are its LED headlights and taillights, auto AC and touchscreen infotainment. With the lower variants, you do not get any of those features and are left with a contraption. If you can stretch your budget, we would recommend you to go with the higher variants of the Ignis.
No Turbo Petrol Or Diesel Option
Maruti Suzuki used to offer the Ignis with the 1.3L DDIS diesel engine. But due to less demand, Maruti Suzuki pulled the plug on the Ignis diesel even before the BS6 norms kicked in. Maruti Suzuki also didn't see a future with turbo petrol engines. The Baleno RS did not sell in good numbers and was eventually discontinued. Rivals of the Ignis offer turbo petrol engines that offer superior performance.
Top Variant Priced Very Close To Baleno
The Ignis comes with most of the bells and whistles in the top Alpha variant. However, it is priced closer to the Baleno Zeta that also offers almost the same set of features. Not only that, but the Baleno offers more space, better comfort and pleasing looks over the Ignis. Hence, if you want better space, comfort and practicality, switching to the Baleno makes more sense.
Maruti Suzuki Ignis Advantages
Those were some shortcomings of the Maruti Suzuki Ignis and you may find that some of them are non-issues for you. However, the Maruti Suzuki Ignis also has its upsides, which may outweigh the drawbacks. The Ignis also offers some benefits, which impressed us. For example, frugal and refined petrol engine, larger dimensions and more. You can refer to the article below to learn more about the pros or advantages of the Maruti Suzuki Ignis.