Maruti Suzuki Fronx Petrol First Drive Review - Design, Mileage, Performance
In this Maruti Nexa Fronx petrol review, we'll examine the exterior, interior, drive performance and mileage of the latest B2-segment crossover. We hope this information helps you make an informed decision about buying Maruti Suzuki's latest SUV/crossover. Let's start with the exterior details of the Maruti Suzuki Fronx Fronx turbo petrol.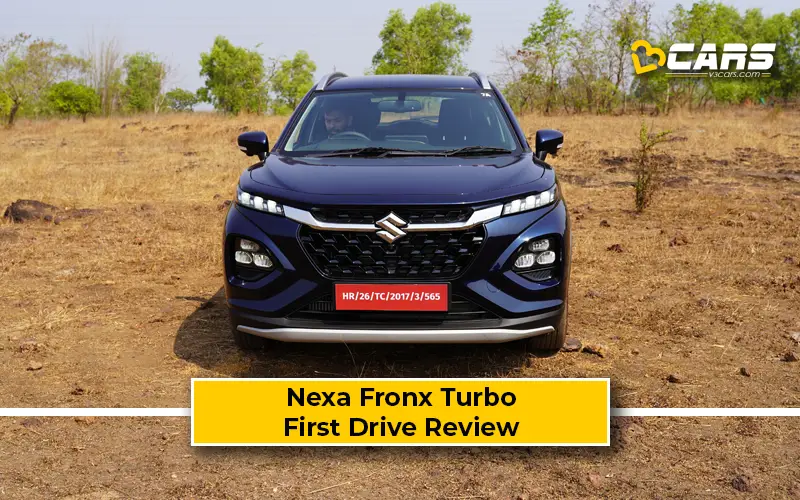 Note: If you prefer watching the review in Hindi instead of reading it in English, then you can play the following video:
Maruti Suzuki Nexa Fronx 1.0L Turbo Petrol - Exterior Review
The highlight of Fronx's frontal design is its upright face, which looks bulky because of the bumper design. It also integrates a faux skid plate, headlamps and sleek 3-element LED DRLs. In isolation, its front design looks like that of a mini SUV and has a strong resemblance with Maruti Suzuki's Grand Vitara.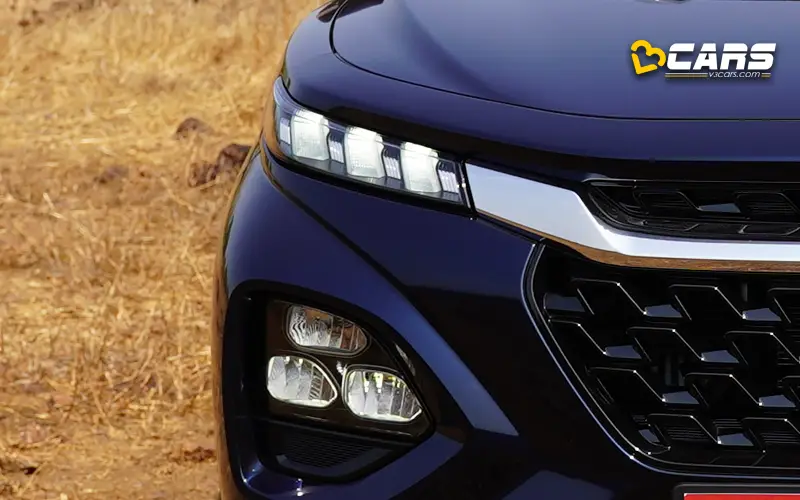 Its LED DRLs are dual-function type and its LED headlamps are of the reflector type, with lower units for low-beam and a top single unit for high beam. Fronx's front grille has a front parking camera and there are also cameras under its ORVMs that form part of the 360-degree parking camera setup.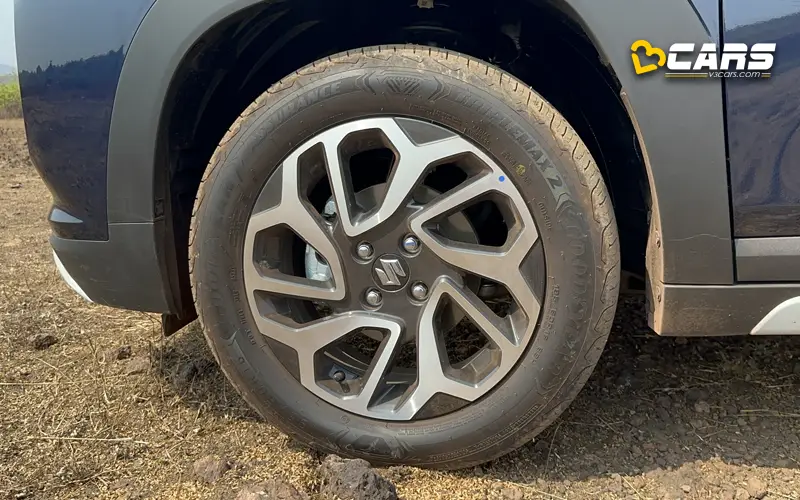 In terms of side design, it has side cladding, roof rails and a high-set front section with SUV-like design elements, but the design towards the rear is coupe-like. It has 16-inch alloy wheels with a rugged appeal.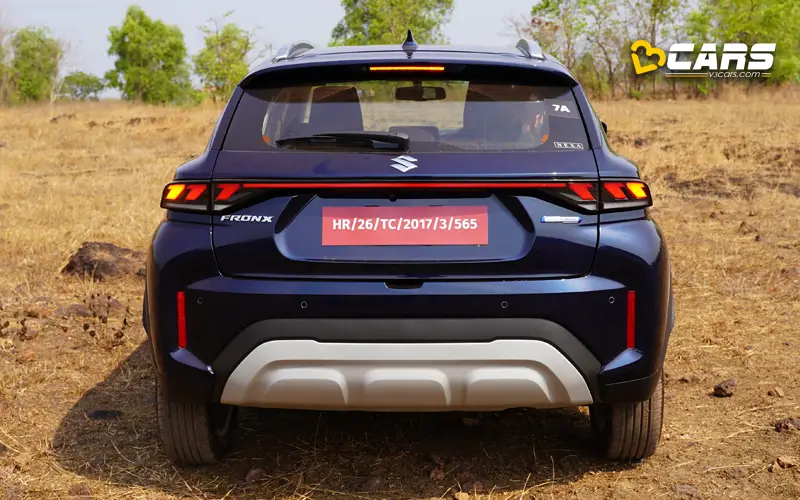 Personally, I like the design of its rear-end the most. I like the LED tail lamps with LED turn indicators. These tail lights are connected and the connecting light glows when the parking lights or marker lights are turned on. Like the front, Fronx also looks upright from the rear, thanks to the thick bumper with heavy cladding. Here too, it looks a lot like the Grand Vitara with the 3-element tail lamp clusters. Rear parking camera, rear wiper and defogger are notable features here.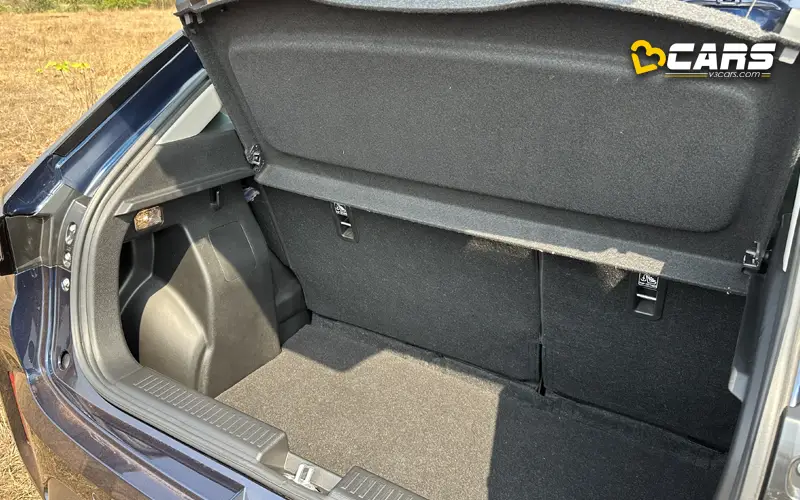 Opening the boot reveals 308 litres of storage, which is sufficient for 4 adults' weekend luggage. Its boot is quite deep; so taking out heavy bags from here is a task.
Its rear seat is a 60-40 split-folding rear seatback, which makes it fairly easy to accommodate unusually-long luggage. Other notable features in the boot area include a parcel tray, boot lamp and shopping hook. A full-size 16-inch spare tyre sits under the boot floor.
Overall, Fronx looks attractive from the front and rear and the design looks modern and very much like an SUV. Its design has a crossover vibe from the side, but its 190mm ground clearance is higher than cars with a relatively traditional SUV design such as the Punch and Citroen C3, so there is no compromise in terms of that practical SUV attributes. We will look at the impact of its crossover design on rear cabin headroom in the next section.
Maruti Nexa Fronx Turbo Petrol - Interior Front Review
Sitting in the Fronx - the first thing you will realise is that its interior is exactly like Baleno's, if we talk about the dashboard design, that is. It has a black and brown dual-tone colour scheme with a wireless smartphone charger in the centre console - these are the two main changes compared to Baleno's front cabin.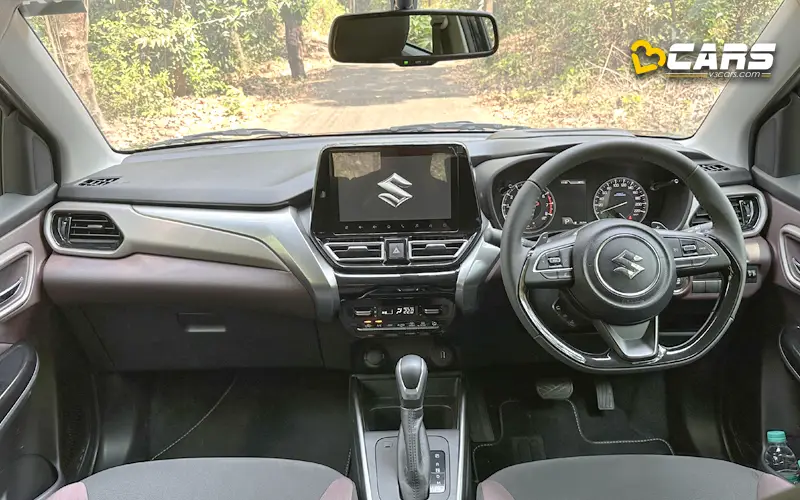 So in terms of design, it has a busy dashboard with grey and glossy black trim in various places, and a lot of equipment around the driver, such as:
9-inch touchscreen
Auto AC controls
Head-up display
Steering-mounted controls
Traction control
360-degree parking camera
Engine start/stop button
Controls on the door for ORVM (Outside Rear View Mirror) adjustment
Power windows
The good thing about this interior is that it is ergonomically sound, which means that you will quickly feel comfortable and used to it as soon as you sit. But there's one thing to keep in mind - its driving position is not upright or SUV-like. Instead, you sit with your legs stretched out, similar to a hatchback or sedan. We also feel that its front windshield is quite raked, which makes it feel like the windscreen is small, although the visibility is good from the front.
To get into a good seating position, the driver's seat has height adjustment and the steering wheel has tilt and telescopic adjustment.
Maruti Fronx Turbo Petrol - Interior Rear Review
The high ground clearance of the Fronx makes it very easy to step-in the rear of the car. Since it is not a very tall car, ingress and egress is not like what you get from a Once seated, with the driver seat set to a comfortable position for a 5-feet 8-inch driver, I have more than adequate knee room and leg space and there is also space to slide my feet under the front seats.
Like the front seat, the rear seat of the Fronx is also comfortable, with soft cushioning and a comfortable back rest angle. Although it does not come with a rear armrest, the rear seat is raised from the middle, making it best for two adults. For the middle passenger, there is an adjustable headrest and a three-point seatbelt, both of which are safety features.
Now let's talk about the important part - headroom. Despite the sloping roofline, I have enough headroom here. I believe passengers below 6 feet in height won't have any complaints.
For rear passengers, notable features in the Fronx include AC vents with two USB chargers and phone storage, power windows and door pockets.
Overall, the cabin of the Fronx is spacious and its seats are comfortable. Maruti Suzuki have given it a different colour theme than the Baleno, but I personally would have liked a bit more distinction here. Now, let's see how it drives.
Maruti Suzuki Fronx Turbo Petrol-Automatic - Engine Performance And Drive Review
The 1.0L turbo-petrol engine of Fronx produces a maximum power of 100PS and a peak torque of 148Nm. It's a 3-cylinder engine and there is no vibration and harshness in it, but around 2000rpm, the engine is audible inside the cabin. The good thing is that you won't mind it because this engine gives the car the peppiness that is not there in Maruti Suzuki's 1.2L normal petrol engine. It has the kind of peppiness that we all want, where the car accelerates without downshifting or gives an immediate response when you press the accelerator. It has all that, and this engine is enjoyable to drive.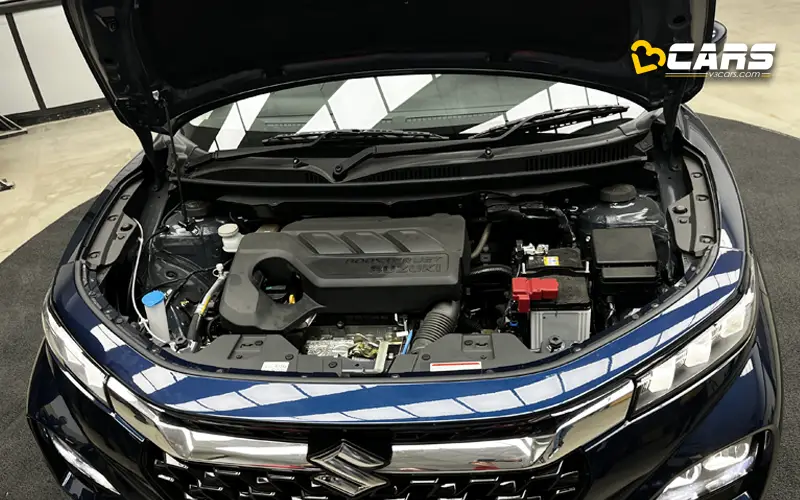 We are driving it with an automatic transmission. To give you some perspective on its performance, we did a 0-100kmph test. It did the sprint in under 10.5 seconds; so it is fairly quick. Its automatic transmission quickly upshifts, so there is no torque loss between gear shifts at slow city speeds. But if you cruise at low rpm, you will have to downshift it and bring it into the peak rpm zone immediately to accelerate.
For more control over gear shifts, it has paddle shifters, which you can also use in M mode. We downshifted with paddles only in a few circumstances, such as when quickly overtaking during hill climbs. Otherwise, in most situations, its transmission reacts suitably to the accelerator input and the performance outcome is predictable.
Now talking about fuel efficiency, we did a brief tank-to-tank fuel efficiency test for Fronx, in which we drove it for 105km in under 2 hours and our average speed was around 55kmph. In this test, it gave us a real-world fuel efficiency of 15.7kmpl.
Like the Baleno, Fronx's ride is also comfortable and its suspension tuning is on the softer side. Soft ride did not have a major impact on its handling or stability even at highway speeds, we felt confident while driving it. For the performance, its braking also felt adequate. It has some initial bite and it is progressive, so the harder you press the brake pedal, the sooner you will stop.
Overall, the introduction of the 1.0L turbo-petrol engine in Fronx is a welcome move. According to us, the output of this engine complements the car and it feels peppy to drive, although it is not as efficient as the 1.2L petrol engine. We hope Maruti Suzuki do not charge a very high premium for this engine, like they do for this 6-speed torque converter automatic transmission.
Maruti Suzuki Fronx Turbo Petrol-Automatic - Verdict And Buying Recommendation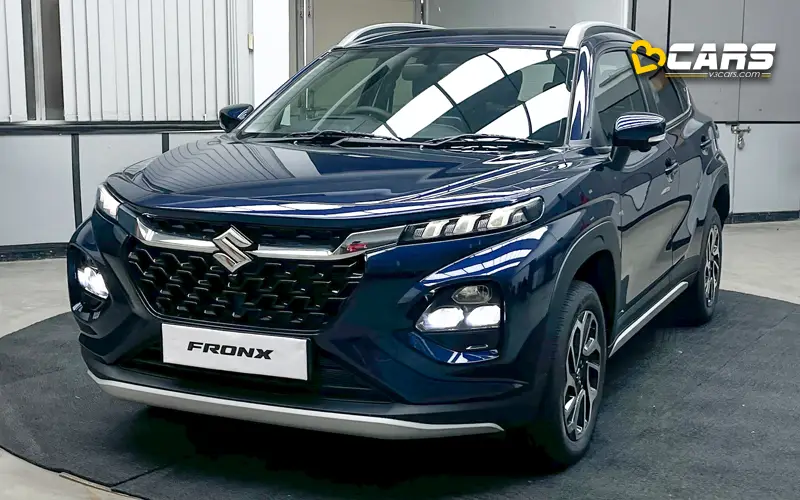 After driving the Fronx, we realised that its 1.0L turbo petrol engine is peppy and feels refined with the torque converter type automatic transmission. We expect Maruti Suzuki to price it sensibly so that it becomes the go-to car for those who seek high ground clearance in their budget without compromising on drivability, fuel efficiency and performance. If you want to understand which variant of Fronx you should book, you can visit our variants explained article below:
Maruti Suzuki Fronx Petrol Variants Explained - Which One To Book?
Here's a look at the ex-showroom prices we are expecting for the 2023 Nexa Fronx:
To learn how we arrived at these numbers, you can visit our expected price article, which explains the logic behind these calculations: