Hyundai Verna Turbo Petrol First Drive Review - Interior, Exterior, Performance
In this Hyundai Verna 1.5L turbo petrol review, we'll examine the exterior and interior changes the Verna turbo adds over the normal petrol variants. We'll also look at the driving performance of the latest C2-segment sedan. We hope this information helps you make an informed decision about buying Hyundai's latest sedan. Let's start with the design details and changes of the Hyundai Verna turbo petrol.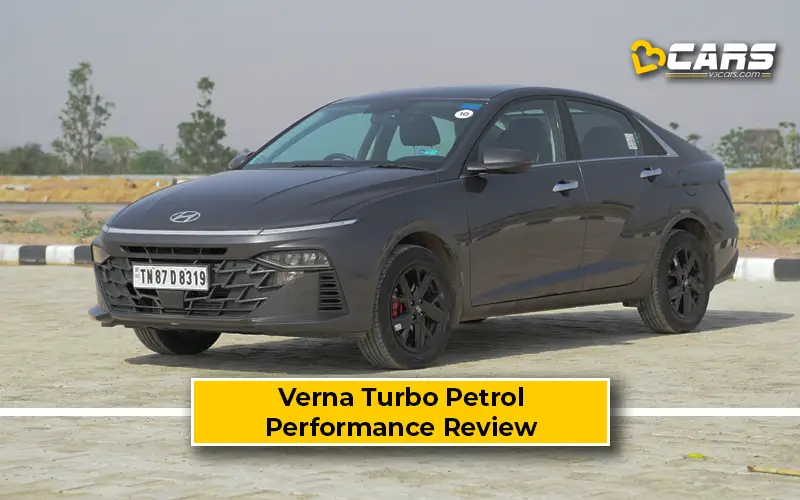 Note: If you prefer watching the Verna turbo petrol review in Hindi instead of reading it in English, then you can play the following video:
Hyundai Verna Turbo Petrol Review - Design Changes
The exterior design of the regular Verna normal petrol and the Verna Turbo is mostly the same. The Verna turbo has some cosmetic distinctions, such as black alloy wheels, red front brake callipers, the option of a dual-tone exterior and '1.5 Turbo' badging. The top variant of the Verna Turbo automatic also comes with rear disc brakes, which make it visually distinct from all other variants.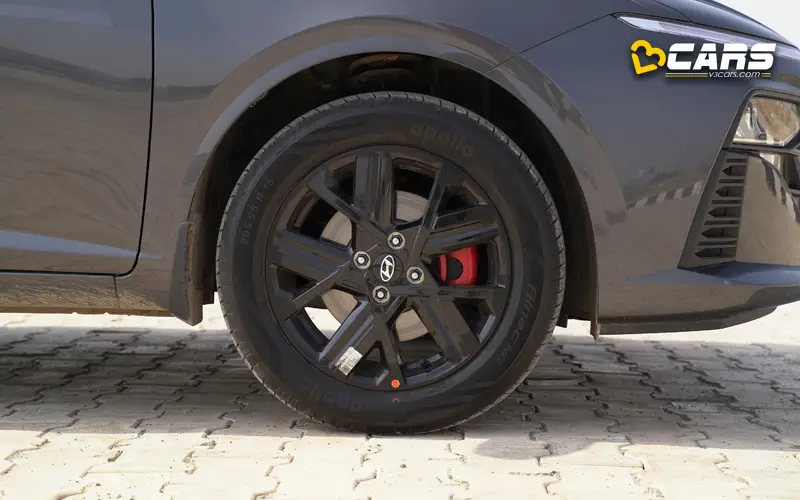 Considering the Verna turbo's performance output and Hyundai's plans to introduce more N Line cars, we believe that features such as black skirting, black ORVMs, black lip spoiler, and a better sounding exhaust could eventually become part of the Verna turbo. These features could give it the visual and aural appeal to go with the class-leading performance.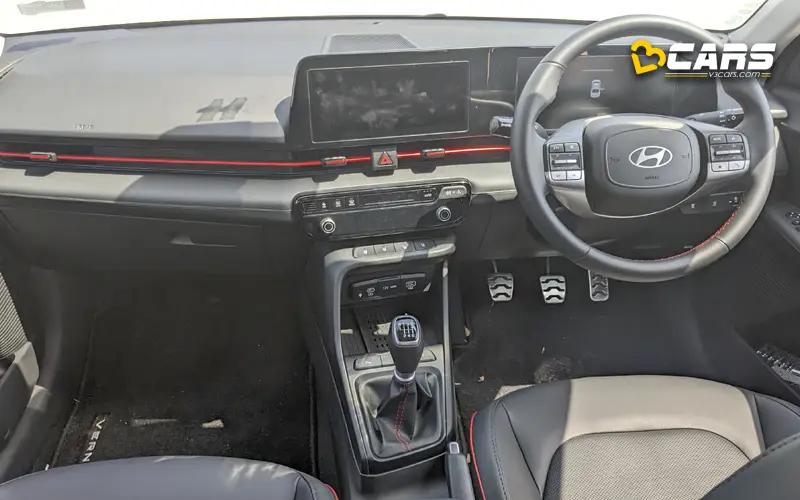 The interior of the Verna turbo is all-black and looks significantly different from its regular version. The red detailing around the air-con vents, steering wheel and upholstery break the black interior's monotony. The metallic pedals further give the cabin a sportier look. The top-spec Verna turbo automatic also comes with an electronic parking brake along with rear disc brakes.
To accommodate the electronic parking brake, the centre tunnel's design is different from the manual Verna, although there are no other notable functionality changes. The manual Verna's cupholders are still present in the turbo and there is storage space under the front armrest.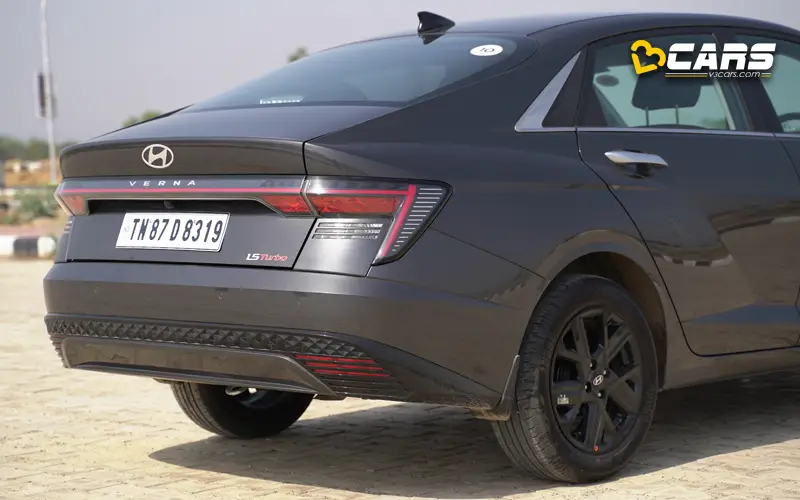 From the outside, the Verna turbo is easy to distinguish because of the black alloy wheels and the same experience carries over to the cabin. Now, let's find out if the feeling of 'special' stays while driving or not.
Hyundai Verna 1.5L Turbo Petrol - Performance Review
The Verna 1.5L turbo petrol engine produces a maximum power of 160PS and a peak torque of 253Nm. This engine is available with two transmissions — a 6-speed manual and a 7-speed dual-clutch automatic. We first drove the turbo manual version.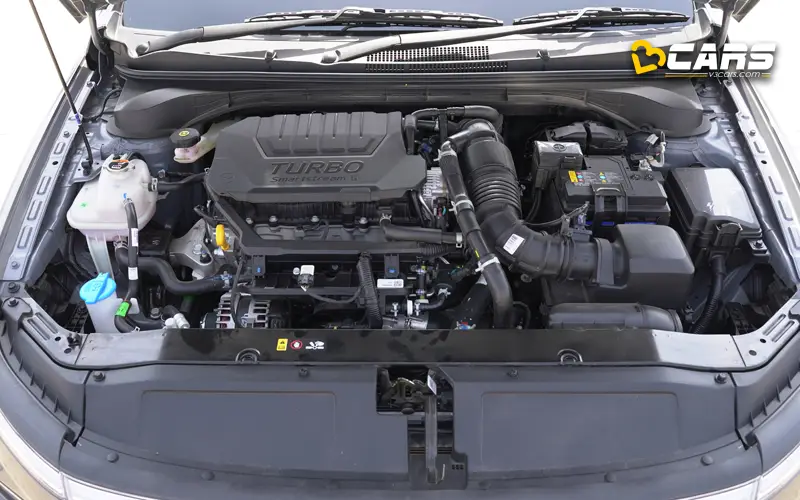 The gearbox's shifts are smooth and sure, although from a pure enthusiast point of view, we would have loved it if its throws were a little shorter. The clutch is light, and in general, it feels easy to drive. Talking about outright performance, Hyundai claim that this engine can do 0-100kmph sprint in 8.1 seconds. On our brief test, it managed to do it easily in under 9 seconds, making it a quick car by mass-market standards.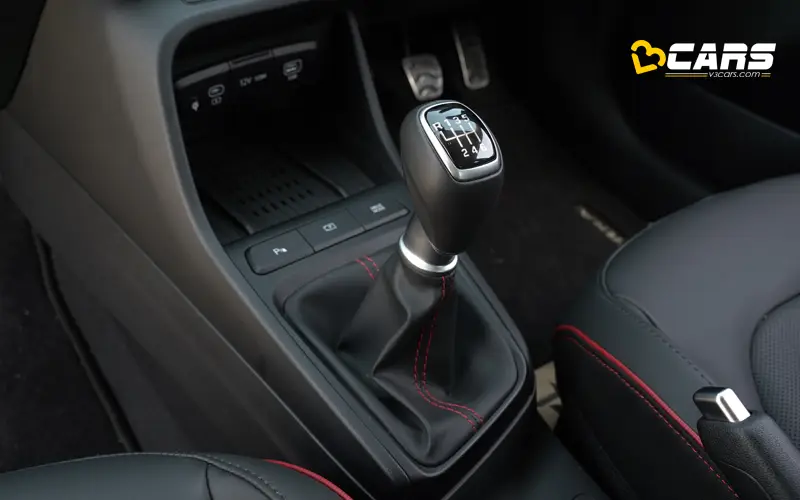 We mainly drove it on the highway, where it settles at 2100rpm while cruising at 100kmph in 6th gear. Here, it stays in the torque band. So, overtaking is easy without a downshift. However, we would have loved it if it offered a little more punch at this RPM. To quickly pick up speed for an overtake on single-lane highways, you'll need to downshift. If you're ready to work the gear lever, then it gives an engaging performance and driving experience.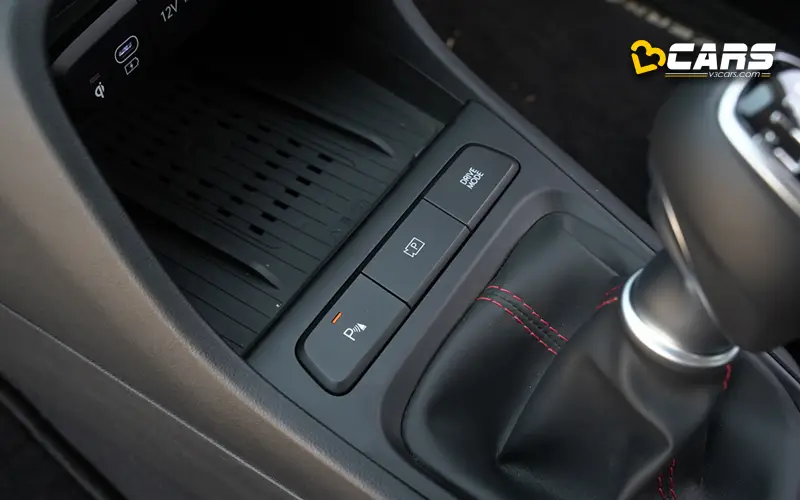 The Verna turbo also comes with three driving modes – Eco, Normal, and Sport. In Sport mode, it has a slightly peppy feel, and the steering wheel feels comparatively firm, although the difference is marginal compared to Normal mode. The instrument cluster's display takes a red theme in this mode to give a sporty vibe full of aggression.
As far as handling is concerned, we found the Verna stable on straight highways while changing lanes, and it felt easy to maintain a straight line. Braking was confidence inspiring with the front discs and rear drum brakes in our car. Hyundai claim that the rear disc version has slightly shorter braking distance.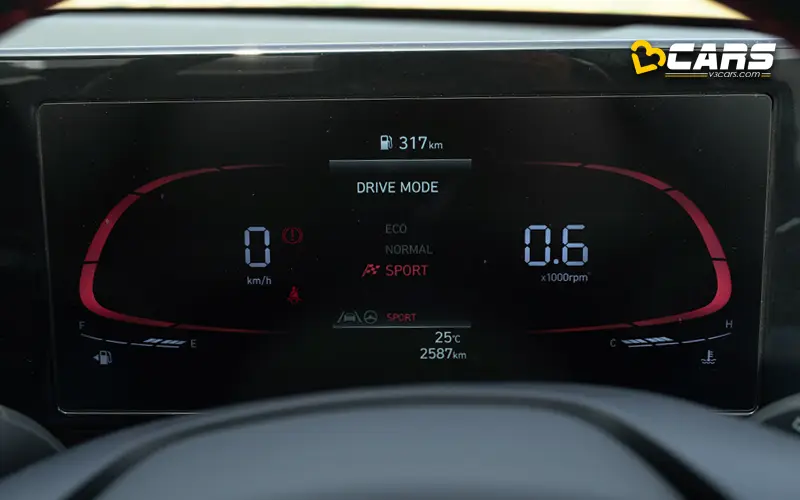 In Sport mode, we found the drive of the Verna turbo to be comfortable, and we believe you will enjoy driving this car in your daily commute regardless of the mode you prefer. We drove it in normal mode at city speeds and crawling speeds to test its turbo lag. At crawling speeds, the turbo provides an extra push, but we found the overall output of the Verna turbo to be quite satisfying.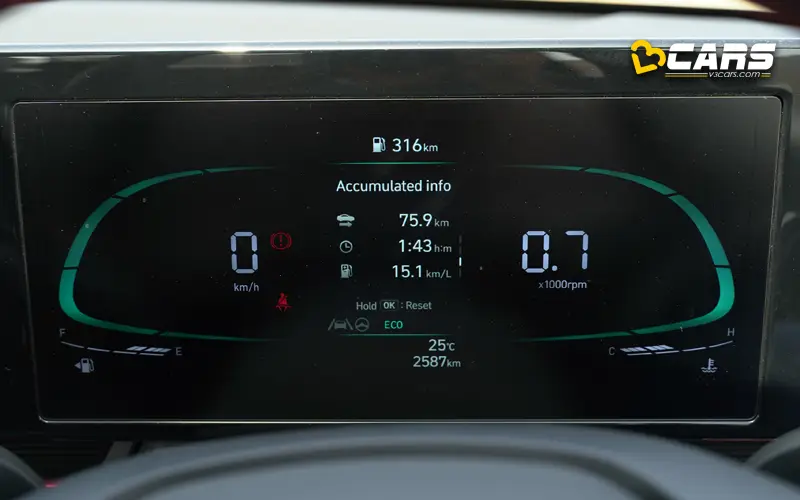 The thing that stands out to us is that despite the class-leading power and torque output, the Verna turbo petrol has good fuel efficiency figures too. Of course, you shouldn't expect it to deliver the ARAI mileage figures if you drive it with a heavy foot. But, the fact that in ARAI tests, it managed to achieve 20kmpl+ figure is a crazy achievement. With a reasonably sedate driver, you can expect 14 - 16kmpl of actual mileage from this engine in mixed driving conditions.
Hyundai Verna Turbo Petrol Review - Price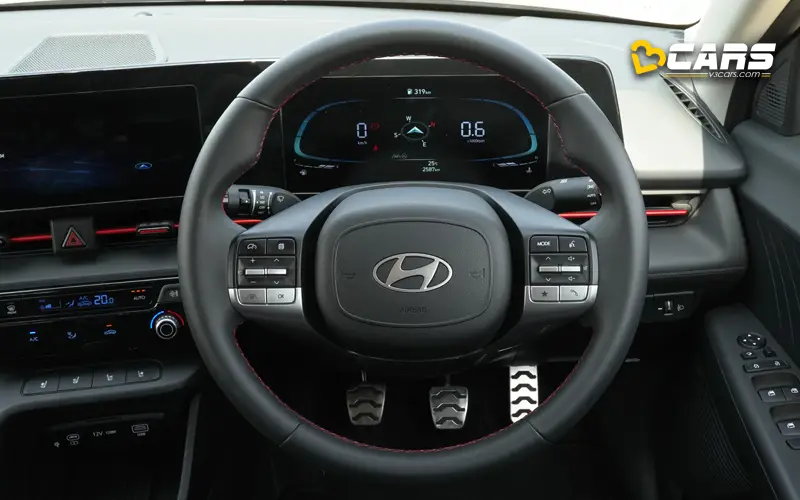 The Verna turbo is available in two variants - SX and SX Optional. The SX variant starts at Rs 14.84 lakh, while the top-spec SX Optional automatic variant costs Rs 17.38 lakh. The top automatic variant comes with ADAS-related features as well as entertainment, functional, style, and safety-related features, including ventilated and heated front seats, a powered driver seat, leather upholstery, and a Bose audio system. With manual transmission, features such as forward collision warning and avoidance, blind spot monitoring, lane keep assist, and rear cross traffic warning are included, while the automatic variant comes with adaptive cruise control with stop-go and rear disc brakes with an electronic parking brake.
Considering the added features of the SX Optional variant and its incremental cost, we believe that the Verna turbo's SX Optional variant offers incredible value. Therefore, if you are purchasing the Verna turbo, we recommend considering the SX Optional variant.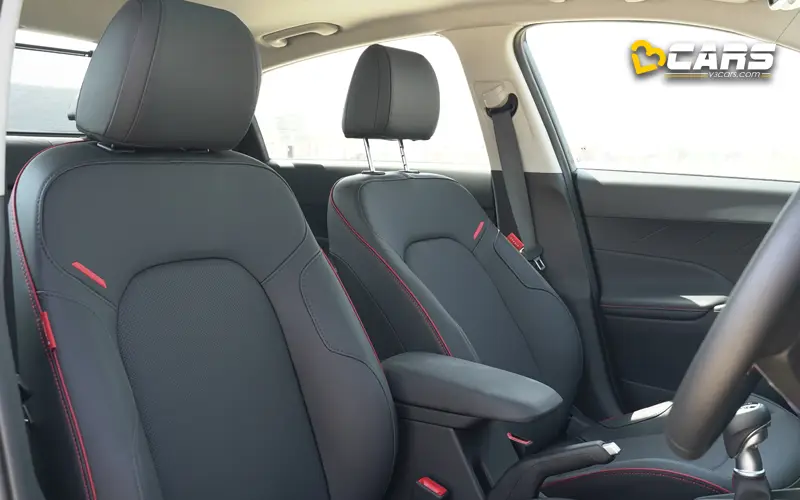 To find out which variant of the Verna turbo petrol you should buy, visit the following variants explained article:
Hyundai Verna Petrol Variants Explained - Which One To Buy?
Hyundai Verna Turbo Petrol Review - Verdict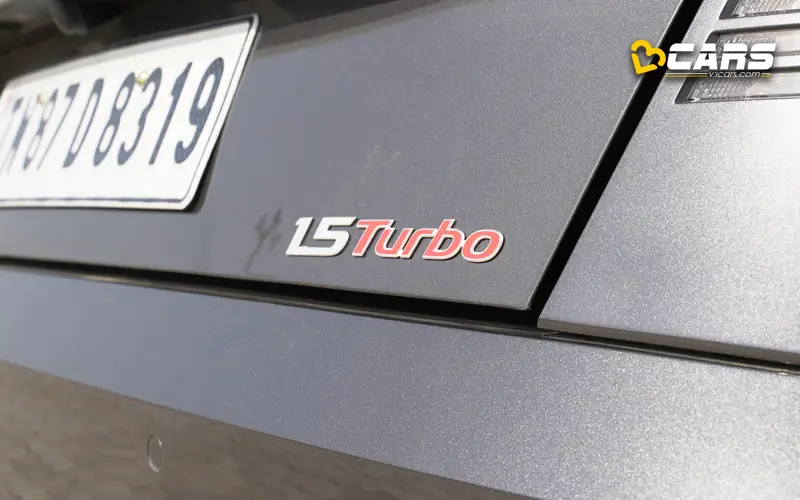 So, is the Verna turbo, with its 160PS engine, the performance car to buy on a budget? While this car is exciting to drive, has an appealing interior, and makes you feel like you're sitting in a fast car, we do not think of it as a car that will give you an adrenaline rush. If you are upgrading from a naturally aspirated smaller car, its performance will be exciting, and we believe you will enjoy driving it in the city and on the highway.