2020 Ford Endeavour Variants Explained - Which One To Buy?
V3Cars reviews all the variants of the 2020 Ford Endeavour to give you a better idea about which variant offers the best value for money. The Endeavour is available with a 2.0-litre diesel engine paired with a 10-speed automatic transmission with a choice of 2WD and 4WD options.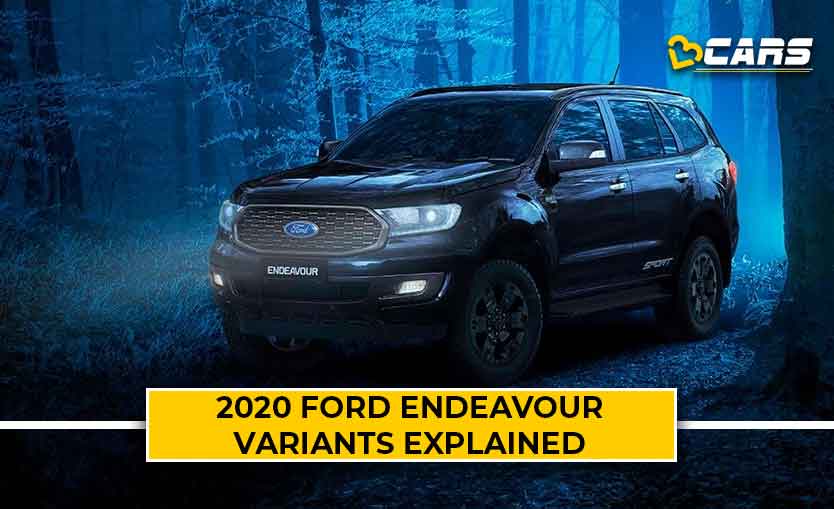 What Is The Price Of The 2020 Ford Endeavour?
Ford Endeavour's prices start at Rs 29.99 lakh. Currently, it is available in 3 variants -- Titanium, Titanium+ and Sport. The entry-level Titanium variant comes only with the 4x2 drivetrain, but the Titanium+ variant is available with both the 4x2 and 4x4 drivetrain. The Sport variant, on the other hand, is a cosmetic upgrade based on Titanium+, and is available only with the 4x4 setup. All these variants come with only automatic transmission, and there is no manual option.
The top Titanium+ 4x4 variant is priced at Rs 34.45 lakh and the Sport variant is tagged at Rs 35.10 lakh.
FORD ENDEAVOUR | PRICES

Variant

Price

Titanium 4x2 AT

Rs 29.99 Lakh

Titanium+ 4x2 AT

Rs 32.75 Lakh

Titanium+ 4x4 AT

Rs 34.45 Lakh

Sport 4x4 AT

Rs 35.10 Lakh
What Are The Engine Specifications Of The 2020 Ford Endeavour?
The Ford Endeavour comes packed with a 2.0-litre diesel engine that is capable of generating 170PS of maximum power and 420Nm of peak torque. The SUV's power:weight and torque:weight ratio is comparable to the MG Gloster's less powerful version, but it is about the least amongst in its segment.
ENDEAVOUR vs KEY RIVALS

DIESEL ENGINE SPECS

Endeavour

Gloster

Fortuner

Displacement

2.0-litre Turbo

2.0-litre Turbo

2.0-litre, Twin Turbo

2.8-litre Turbo

2.8-litre Turbo

Cylinders

4

4

4

4

4

Capacity

1996cc

1996cc

1996cc

2755cc

2755cc

Maximum Power

170PS @ 3500rpm

163PS @ 4000rpm

218PS @ 4000rpm

177PS @ 3400rpm

177PS @ 3400rpm

Power:Weight

70.54PS/t

70.87PS/t*

88.44PS/t

81.19PS/t

81.19PS/t

Peak Torque

420Nm @ 2000 - 2500rpm

375Nm @ 1500 - 2400rpm

480Nm @ 1500 - 2400rpm

420Nm @ 1400 - 2600rpm

450Nm @ 1600 - 2400rpm

Torque:Weight

174.27Nm/t

163.04Nm/t*

194.73Nm/t

192.66Nm/t

206.42Nm/t

Drivetrain

2WD & 4WD

2WD

4WD

2WD & 4WD

2WD & 4WD

Manual Transmission

--

--

--

6MT

--

Claimed FE

--

--

--

14.2kmpl

--

Automatic Transmission

10AT

8AT

8AT

--

6AT

Claimed FE

13.9kmpl (4x2)
12.4kmpl (4x4)

NA

NA

--

14.6kmpl (4x2)
14.2kmpl (4x4)

You should choose the 4x2 drivetrain option of the Endeavour only if you are certain of using it on normal roads only, and don't have off-roading plans at all. However, it is definitely more capable than normal front-wheel drive cars or soft roaders, as it is a rear-wheel drive SUV with good ground clearance.
Nevertheless, as the Endeavour is a big premium SUV, we would definitely recommend going for the 4x4 drivetrain option, if it's price suits your budget. Speaking straightforwardly -- if you don't get proper off-road capability with the Endeavour, then why go for this premium SUV anyway?
When fuel efficiency is concerned, the Endeavour's claimed fuel efficiency is lesser than its rival Toyota Fortuner.
What Are The Dimensions Of The 2020 Ford Endeavour?
The Endeavour is a D2 segment SUV, and its length is around 5m. It is longer, wider and taller than its arch rival Fortuner, but is smaller than the Gloster. The Endeavour also has a longer wheelbase compared to the Fortuner, but shorter than the Gloster's. Its ground clearance of 225mm is comparable with the Fortuner's and better than the Gloster's. The Endeavour offers 18-inch wheels with all its variants.
ENDEAVOUR vs KEY RIVALS

DIMENSION COMPARISON

Endeavour

Fortuner

Gloster

Length

4903mm

4795mm

4985mm

Width

1869mm

1855mm

1926mm

Height

1837mm

1835mm

1867mm

Wheelbase

2850mm

2745mm

2950mm

Boot Space

450-litres

296-litres*

NA

Ground Clearance

225mm

225mm

210mm*

Fuel Tank

80-litres

80-litres

75-litres

Tyre Size (Base)

265/60 R18

265/65 R17

255/55 R19

Tyre Size (Top)

265/60 R18

265/60 R18

255/55 R19

Ford Endeavour Variant-wise Comparison
Titanium Variant
The Ford Endeavour Titanium is priced at Rs 29.99 lakh. It has received the highest 5-star safety rating from ASEAN NCAP. Alongside the basic safety features, this variant also offers a number of important features such as front, side and curtain airbags, electronic stability control, traction control, hill start assist and tyre pressure monitoring system. It also has other features on offer including LED headlamps, fog lamps, manual day/night IRVM, rear wiper and rear defogger.
When entertainment features are concerned, the Titanium variant gets an 8-inch touchscreen infotainment system with Apple CarPlay, Android Auto and steering-mounted audio controls, along with 10-speakers.
FORD ENDEAVOUR TITANIUM | FEATURES

Safety

Entertainment

Std. Safety Features

Rear Defogger

8-inch Touchscreen (SYNC 3)

Front, Side & Curtain Airbags

Rear Wiper

USB, CD & Bluetooth Connectivity

Electronic Stability Control

Tyre Pressure Monitoring System

Android Auto & Apple CarPlay

Traction Control

Day/Night IRVM

Navigation

Hill Start Assist

Bi-LED Headlamps

10-Speaker System w/ Subwoofer Amp

Rear Parking Camera

Seatbelt Pretensioners

Steering-mounted Controls

Fog Lamps

5-Star (ASEAN NCAP)

The Titanium variant also offers a long list of functional features, which include auto headlamps, rain sensing wipers, keyless entry w/ push-button start/stop, puddle lamps, powered driver seat w/ lumbar support, dual-zone auto AC with vents in all rows, tilt steering, electrically adjustable & foldable ORVMs, front & rear armrest and powered tailgate.
This variant's style related features include 18-inch alloy wheels, LED DRLs, chrome door handles and chrome ORVMs on the exterior. On the inside, it gets leather upholstery with leather-wrapped steering.
FORD ENDEAVOUR TITANIUM | FEATURES

Functional

Style

All Power Windows

Powered Driver Seat w/ Lumbar Support

R18 Alloy Wheels

Auto Headlamps

Dual-zone Auto AC w/ 2nd & 3rd Row Vents

Leather Upholstery

Rain Sensing Wipers

Tilt Steering

Leather-wrapped Steering Wheel

Keyless Entry w/ Push-button Start/Stop

Electrically Adjustable & Foldable ORVMs

Chrome Interior Door Handles

Connected-car Tech (Ford Pass)

Front & Rear Armrest

Front Door Scuff Plates

Noise Cancellation

Side Step

LED DRLs & Tail Lamps

2nd & 3rd Row Lamps

60:40 Split 2nd Row

Chrome ORVMs w/ Turn Indicators

Puddle Lamps

50:50 Split 3rd Row

Chrome Front Grille & Door Handles

Mud Flaps

Powered Tail Gate

Front & Rear Skid Plates

Ford MyKey

Adjustable Headrests in All Rows

Roof Rails

Rear Spoiler

Going by the feature list, it is very evident that even the entry-level variant of the Endeavour is pretty heavily loaded with features. However, considering the fact that its on-road price is over Rs 30 lakh, we think it should have also included features like auto-dimming IRVM, telescopic steering, auto-folding ORVMs and cooled glovebox.
Titanium+ Variant
The Endeavour Titanium+ 4x2 is Rs 2.76 lakh more expensive than the Titanium 4x2 variant. For this additional premium, this variant offers some added safety, functional and style related features.
FORD ENDEAVOUR | PRICE COMPARISON

Titanium

Difference

Titanium+

4x2 AT

Rs 29.99 Lakh

Rs 2.76 Lakh

Rs 32.75 Lakh

Difference

--

--

Rs 1.70 Lakh

4x4 AT

--

--

Rs 34.45 Lakh

The added safety features of this variant include driver knee airbag, front parking sensors and auto-dimming IRVM. There are also features like - powered passenger seat and electrically foldable third row. There's also park assist which is a sort of hands-free parking that is able to detect a parking space and also automatically control the steering wheel. Added style features include soft-touch materials on the dashboard and a panoramic sunroof.
ENDEAVOUR TITANIUM+ | FEATURES OVER TITANIUM

Safety

Functional

Style

Driver Knee Airbag

Powered Front Passenger Seat w/ Lumbar Support

Soft-touch Dashboard

Front Parking Sensors

Power Folding 3rd Row

Ambient Lighting

Auto-dimming IRVM

Park Assist

Panoramic Sunroof

All Windows w/ One-Touch Up/Down

According to our internal data, the panoramic sunroof and parallel park assist are both expensive features, but not extremely useful. If you are considering buying the 4x2 version of the Endeavour, then we suggest that you go for the base Titanium variant, despite the fact that the Titanium+ does justify its price increment with its value added features.
The Endeavour Titanium+ 4x4 comes for an additional premium of Rs 1.70 lakh over the 4x2 setup. The 4x4 drivetrain offers terrain modes like - Rock, Snow and Sand. It also comes with a lower ratio and rear differential lock to offer off-roading capability.
The 4x4 Endeavour also offers the safety of hill descent control, which automatically maintains the car's speed while going downhill, and you will not have to press the brake.
According to our internal data, the added premium of Rs 1.7 lakh for the off-roading capability of the Endeavour is completely justified. Thus, we think even if you are value conscious, choosing the 4x4 Titanium+ variant over the 4x2 Titanium is sensible.
Sport Variant
The Ford Endeavour Sport variant adds Rs 65,000 to the price tag over the Titanium+ variant. The Sport variant adds only some style related features on the outside of the SUV.
FORD ENDEAVOUR | PRICE COMPARISON

Titanium+

Difference

Sport

Rs 34.45 Lakh

Rs 65,000

Rs 35.10 Lakh

Its added style features include various blacked-out elements, like headlamp internals, grille, skid plates, ORVMs, alloy wheels, side step inserts, roof rails and rear garnish.
ENDEAVOUR SPORT | FEATURES OVER TITANIUM+

Smoked Headlamps

Black Skid Plates

Black Rear Garnish

Black ORVMs

Black Roof Rails

Black Inserts on Side Step

Black Grille

Black Alloy Wheels

Sport Decals

Although the badging of 'Sport' deserves some performance upgrades, which the Endeavour Sport does not offer, just as a cosmetically updated variant also, it should have included an all-black interior for a sportier and more exclusive visual appeal.
As the Sport variant offers only visual updates, it fully depends on you whether or not you wish to buy this variant over the others in the Endeavour range. According to us, these updates are slightly on the expensive side.
Which Variant Of The Ford Endeavour Should You Buy?
If for any reason, you are still considering the 4x2 drivetrain of the Endeavour, then we would recommend that you go for the entry-level Titanium variant and save some money.
However, we would always suggest you choose the 4x4 drivetrain instead, as it offers the full capability of this SUV -- that's essentially why people go for an SUV of this size.
Thankfully, the additional amount that Ford is charging for the Titanium+ with the 4x4 drivetrain and extra features, is reasonable. Thus, the Endeavour Titanium+ 4x4 offers good value for money and is our top recommended variant.
The following table lists our recommendations in the Ford Endeavour range:
FORD ENDEAVOUR | RECOMMENDATION

Variant

VFM Rank

Price

Recommendation

Titanium 4x2

Rank 3

Rs 29.99 Lakh

The variant to buy if you don't want 4x4

Titanium+ 4x2

Rank 2

Rs 32.75 Lakh

Not recommended

Titanium+ 4x4

Rank 1

Rs 34.45 Lakh

Top recommended

Sport

--

Rs 35.10 Lakh

Up to buyers
What Are The Colour Options Of The 2020 Ford Endeavour?
The Ford Endeavour is available for sale in 3 exterior colour options, namely - Black, White and Beige (which Ford calls diffused silver). The Sport variant is also available in these 3 colour options. We think that the Endeavour looks its best in the black exterior colour. Let us know which is your favourite colour option in the Endeavour range in the comment section.