Tilt And Telescopic Steering Wheel - Feature Explained
In this Feature Explained article, we'll present the most detailed analysis of tilt and telescopic adjustable steering wheels. We'll list out the pros and cons, explain how it works, and provide the typical cost of getting tilt and telescopic steering wheels from the aftermarket, as well as their repair/replacement costs. Based on this analysis, we'll suggest if you should add this feature to your car or skip it.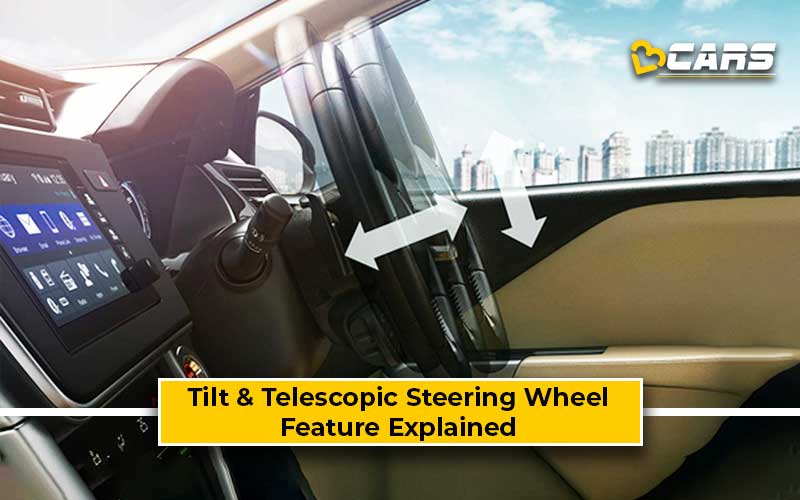 What Are The Pros And Cons Of Tilt And Telescopic Adjustable Steering Wheels?
The pros or advantages of a tilt-adjustable steering wheel are:
Helps you find a comfortable position in the driver's seat
Enhances driver comfort on long drives
Makes driver ingress and egress easy when steering is set high and deep in the column
Can be set forwards or backwards for easy reachability
Reduces strain on the back and neck during long drives
A tilt and telescopic steering has the following shortcomings or problems:
Expensive to get as budget cars either only tilt steering or no adjustment at all
High complexity to add this feature in a car makes it not worth the hassle and the cost
Since most buyers don't miss this feature until they have used in, it's not easily available in the aftermarket for lower variants
If you often share your car with someone else, adjusting the steering back to your preferred comfortable position can feel annoying.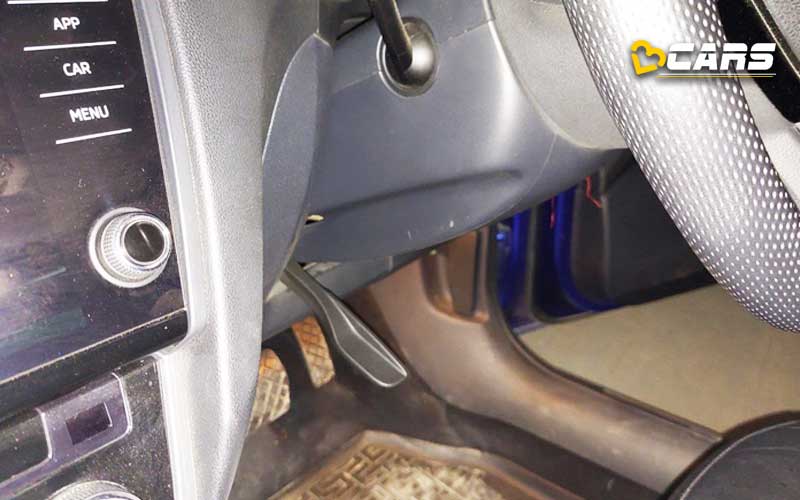 Steering Adjustment Lock/Unlock Lever
How Does A Tilt And Telescopic Adjustable Steering Wheel Work?
A tilt-adjustable steering wheel allows the driver to adjust the steering wheel's height (up or down) along an arc using a ratchet lever or electronic buttons on the side of the steering column. Electronic steering adjustment is only available in very expensive cars and most cars in India offer a mechanical latch/lever to manually adjust the steering. Most cars sold in India have an adjustable steering column; very often, of the tilting variety.
A telescopic steering wheel is very similar to a tilt steering wheel, as in, it provides varying degrees of adjustability. However, they offer a wider range of heights and can move forwards or backwards for easy reachability. Essentially, all telescopic steering wheels have tilt adjustability. However, the same cannot be said the other way around.
To move the steering wheel up or down, and forwards or backwards, you need to release a ratchet lever located directly below the column. Then, you can adjust the steering wheel's reach and height to find a comfortable spot. Once you find a suitable position, you can push the lever back to lock the steering in its place.
For shorter drivers, adjusting the steering wheel to the lowest position provides a comfortable spot with better forward visibility. For taller drivers, adjusting the steering wheel to the highest positions could make getting in and out of the car easier as your knees would not be brushing against the wheel.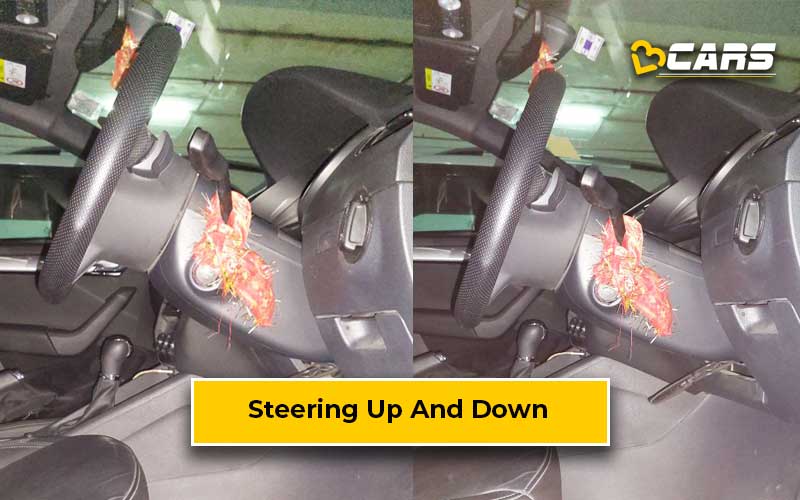 How Expensive Is It To Repair Or Replace A Tilt And Telescopic Adjustable Steering Wheel?
Replacing a steering column or retrofitting a tilt and telescopic steering wheel can be an expensive affair. Typically, replacing a steering column could cost you anywhere between Rs. 40,000 to Rs. 1.0 lakh or more depending on the car's make and model. If it is an electronically adjustable unit, you can expect to pay more, given the current shortage of semiconductors and chips.
There are several reasons why one may have to replace their steering column. If your steering wheel loses its self-centering capability, you will have to replace your steering column. Bad internal components within the steering column could produce sounds like clicking, squeaking or clunking through the steering wheel.
What Is The Cost Of An Aftermarket Tilt And Telescopic Steering Wheel?
There are barely any aftermarket brands that build and sell tilt and telescopic steering wheels in India. If your car does not have a tilt or telescopic system, then you should not bother adding an aftermarket adjustment unit as it may affect the car's reliability.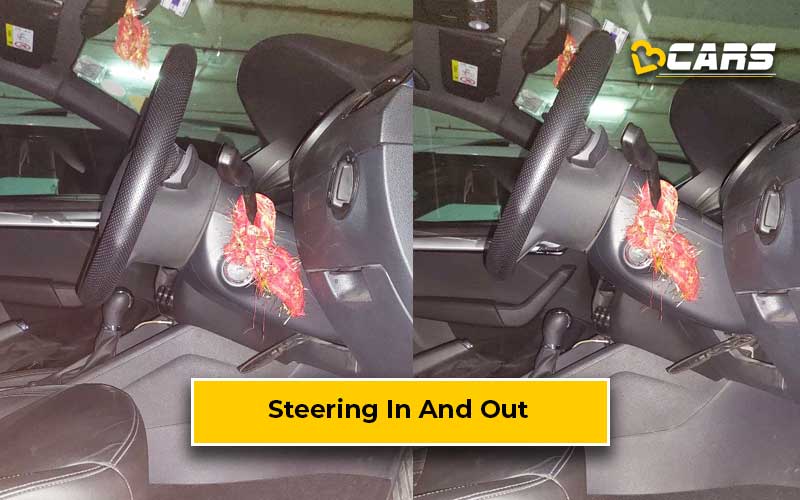 How Easy Or Complex Is It To Install A Tilt And Telescopic Adjustable Steering Wheel?
Installing a tilt or telescopic steering wheel is a complex process that's better left to the factories making our cars. It's a very complex process and you should only think of replacing it in the event of an accident.
What Cars Get A Tilt Steering From The Factory?
Rather than list out cars that get tilt steering from the factory, it would be easier to list out cars that do not get this feature. Most popular budget hatchbacks, such as the Maruti Arena Alto, Hyundai Santro, Renault Kwid, Maruti Suzuki Celerio and the Maruti WagonR do not get tilt-adjustable steering wheels.
As for telescopic steering wheels, most cars above the Rs 10.0 lakh range offer this feature in their higher variants. Cars and SUVs with telescopic steering wheels include the Skoda Slavia, Honda City, Tata Harrier and Mahindra XUV700, among others.
Verdict - Should I Get An Aftermarket Tilt And Telescopic Steering?
A car with a tilt and telescopic adjustable steering wheel is undoubtedly a more comfortable one car when compared to one without either feature. If you are in the market for a budget hatchback, chances are you will not find one with a tilt-adjustable steering wheel. You will have to splurge a little more and get a Maruti Nexa Ignis or a Maruti Arena for a tilt-adjustable steering wheel. Finding a car with telescopic steering would require you to spend more than Rs. 10.0 lakh ex-showroom.
As for how crucial this feature is, it depends on your preferences. Some buyers find even a non-adjustable steering at just the right height and a height-adjustable driver seat somewhat makes up for the lack of tilt steering. However, if you are a shorter driver, then you should try out a car with this feature to see if you should stretch your budget to accommodate this feature. That said, not having a tilt and telescopic steering wheel does not mean it's the end of the world. It's not a must-have feature for budget-conscious buyers.
Note: Check your Car EMI with our - Car Loan EMI Calculator
You can use our Fuel Cost Calculator to see how much any petrol, diesel or CNG car will cost to run based on the latest fuel price in your city.