Maruti Suzuki Partner With Indian Bank For Financing Solutions — (Press Release) | V3Cars
Unlike the usual carmaker-bank partnership announcements, which are aimed at customers, this latest tie up is primarily for helping dealerships. The MoU signed will help the 4000+ dealerships of Maruti Suzuki Arena and Nexa with financing their inventory. As you already know, the cars they have sitting in the inventory are as much a drain on a dealership's balance sheets but also their biggest asset — if managed right.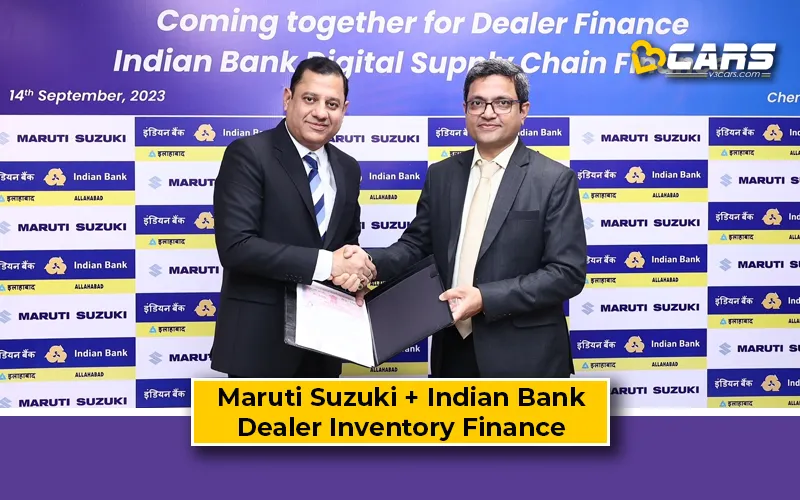 Often, customers prefer a dealership that can deliver a car immediately. Anticipating the demand in advance and placing orders for the right model-engine-transmission-variant-colour combinations and in the right numbers is often the difference between a successful and an unsuccessful dealership, which takes a long time between bookings and deliveries. This tie up will also enable Maruti dealerships to appropriately stock up cars ahead of the festive season so that they can steal customers from other brands, who want immediate delivery or they want possession on specific dates.
Also Read: Maruti Suzuki Wagon-R Achieves 30 Lakh Sales Milestone
Note: Instantly Sell Your Old Car With V3Cars Sell Used Car Platform
Here's what Maruti Suzuki have to say about the latest development:
Maruti Suzuki India Limited (MSIL) today announced the signing of inventory funding Memorandum of Understanding (MoU) with Indian Bank. This new alliance will empower 4000+ Maruti Suzuki dealerships across the country with comprehensive inventory funding options for their working capital requirements.
The MoU was signed in the presence of Mr. Bhuvan Dheer, Executive Vice President — Sales & Network and Mr. Vishal Sharma, General Manager — Allied Business from Maruti Suzuki; and Mr. Ashutosh Choudhary, Executive Director and Mr. Saurabh Dalmia, CMS Vertical Head of Indian Bank along with other senior members from both the organisations.
Speaking on the partnership, Mr. Shashank Srivastava, Senior Executive Officer, Marketing & Sales, Maruti Suzuki India Limited, said, "We take pride in our vast network of dealer partners who are the backbone of our business and are committed to supporting them in every possible way. We are elated to join hands with Indian Bank for financing solutions of inventory funding. This alliance with Indian Bank will strengthen relationships with dealer partners and ensure a seamless car buying experience for the customers. The goal all along has been to work closely with Indian Bank in developing personalised offers and end-to-end working capital solutions for our dealer partners across the country."
Commenting on the partnership, Mr. Ashutosh Choudhury, Executive Director, Indian Bank, said, "We are delighted to partner with MSIL, a household name and a market leader in the automotive sector. Indian Bank with its 5808 branches and trusted by over 10 crore customers is well-positioned to provide solutions to MSIL in its rapid growth journey. Indian Bank Supply-Chain finance will provide easy access to working capital finance to the dealers of MSIL, at favourable terms for driving their business growth."
Also Read: Maruti Car Sales Analysis - YoY, MoM, 6-Month Trend | July 2023
Note: Now Find Out The Fuel Price In India Using V3Cars