5 Missing Features In Mahindra XUV700 Over Scorpio N | V3Cars
The Mahindra Scorpio N is the talk of the town and thanks to its pricing, it goes directly against its sibling — the Mahindra XUV700. The XUV700 comes loaded to the gills and there are a lot of features that are exclusive to it in the brand's portfolio.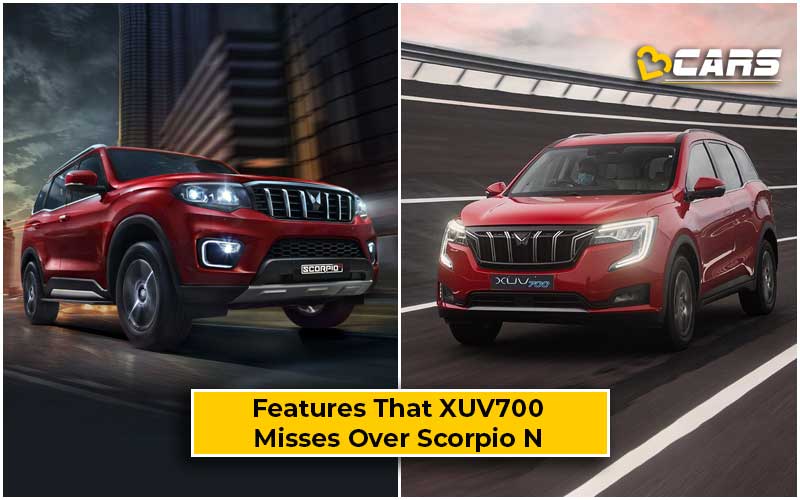 Here, we tell you about the features that are missing in the XUV700 but present in the Scorpio N.
1. Body-On-Frame Construction
Mahindra kept traditions intact with the Scorpio N. While its arch rival, the Tata Safari, moved to monocoque construction, the Scorpio N comes with a body-on-frame chassis. On the other hand, the XUV700 is based on a monocoque chassis, just like the XUV500.
Note: Check your Car EMI with our - Car Loan EMI Calculator
2. Low Range Gearbox
The Mahindra Scorpio N comes with a more hardcore 4-wheel-drive system. It gets both 4-wheel-drive high and 4-wheel-drive low modes along with various terrain modes for ruts, mud, slush and rocks. On the other hand, the XUV700 gets a road-biased 4-wheel-drive system without a low range gearbox.
3. Locking Differentials For Both Axles
The Mahindra Scorpio N comes with brake-locking differential (BLD) for the front and a mechanical-locking differential (MLD) at the rear. The XUV700 doesn't get any lockable differentials. Hence, the Scorpio N will be far more capable off the road than the XUV700.
4. Side-opening Tailgate
The tailgate in the Mahindra Scorpio N opens sideways, like in every other hardcore 4-wheel-drive SUV. The XUV700 comes with a conventional hatch-type tailgate. Additionally, the tailgate of the XUV700 uses composite plastic materials in its construction whereas the Scorpio N comes with a metal unit.
Note: Check your car's fuel cost with Fuel Cost Calculator in India
5. Captain Seats
Mahindra offer the Scorpio N with captain seats for the middle-row. However, only the top-spec Z8L gets the option of captain seats. Meanwhile the XUV700 doesn't get the option of captain seats for the second row at all.
Also Read: 5 Features Missing In The Scorpio N That The XUV700 Offers