Pre-Owned Exotic Car Retailer - Boys And Machines - Celebrates 1-Year Anniversary
Boys and Machines entered the pre-owned exotic and luxury car business in the heat of the pandemic. The team has successfully completed 1 year and inaugurated 4 showrooms and 1 service centre. Thanks to a rapid economic recovery in the last 1 year or so, the Boys and Machines (BnM) brand is also on a phenomenal growth spurt. They're planning to open 3 more showrooms in another 1 year.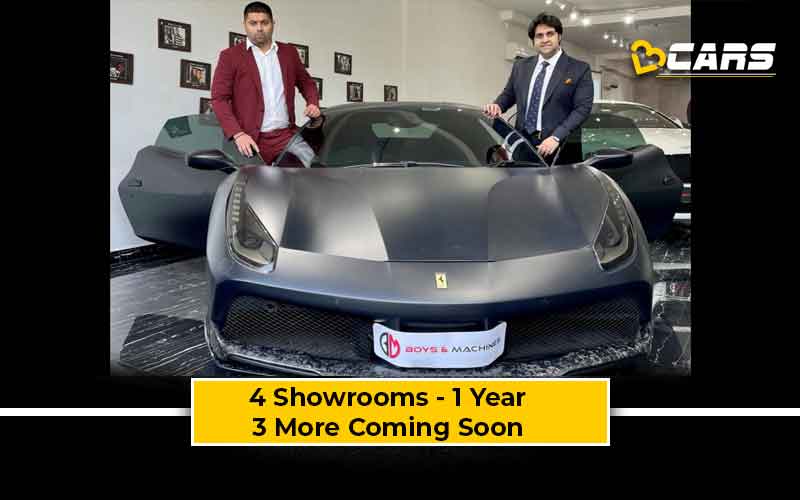 You can visit their showrooms in Kolkata, Mumbai and Hyderabad while the Gurgaon showroom remains their flagship store and their headquarters. The company also has a service centre in Gurgaon with a skilled workforce and all the necessary tools to service or repair any car that leaves their showroom. They're soon opening sales outlets in Ahmedabad, Indore and Chandigarh to grow their presence to 7 sales outlets. For reference, their rival, Big Boy Toyz, currently has 3 showrooms - one each in Mumbai, Gurgaon and Hyderabad. 
The company founders want to cater to customers with a budget of Rs. 25 lakh and above with a few exceptions here and there For example, their current collection has a couple of Ducatis and one Mini Cooper, which are going for less than their lower threshold of Rs. 25 lakh.
BnM also has a buy-back programme, which allows customers to experience a new car every year with a 25% depreciation on the purchase price. BnM claim to have only the cars that meet their stringent criteria including 2 non-negotiable conditions:
Non-accidental

Litigation-free
The current collection of cars BnM are currently selling includes:
Mercedes G63 AMG

Rolls Royce Ghost

Bentley GT Coupe V8

Bentley GT Coupe W12

Lamborghini Gallardo

Maybach S500

Audi R8

Mercedes SLC43 AMG

Mercedes S-Class 350d

Audi A8 L

Volvo S60 Polestar
and many more.
So far, they've sold iconic exotics and supercars like:
Hummer H3

Jaguar XKR

Lamborghini Huracan Aveo

Porsche 911 Carrera

Mercedes G63 AMG

Rolls Royce Ghost
BnM manages the registration and ownership transfer process even for out-of-state registrations. One great thing I found about BnM is that they rotate their cars that are on sale across their sales outlets. So, even if you are in Hyderabad and want to see the Lambo in person, which is, say, in the Mumbai showroom, you just have to ask for it. Once the car arrives in Hyderabad, you can check it out in person and even take a test drive.