Mahindra Alturas G4 vs Skoda Kodiaq vs Honda CR-V; Spec comparo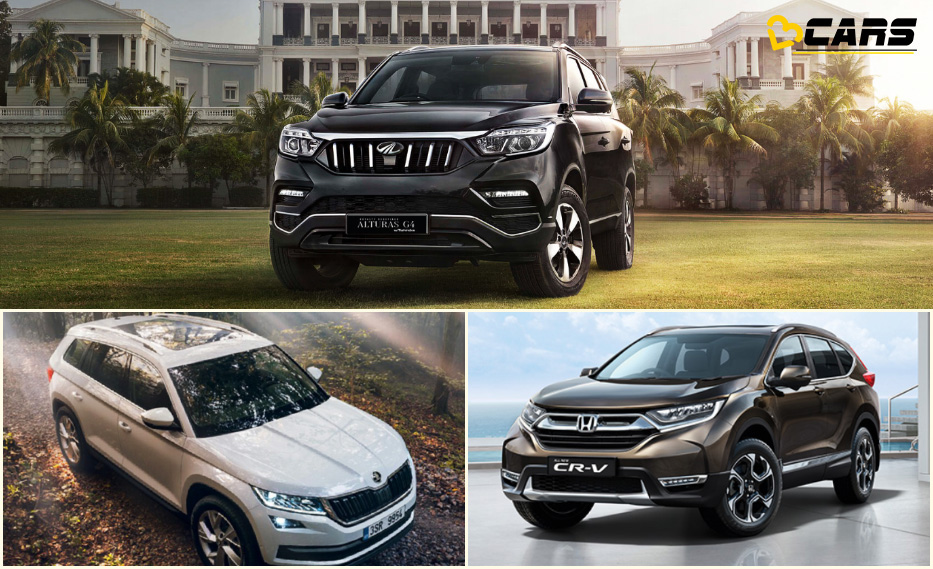 The recently launched Mahindra Alturas G4 belongs to the body-on-frame premium SUV segment in India. This means the new Mahindra SUV is a direct competitor of the Toyota Fortuner, Ford Endeavour and the likes. However, if the Mahindra Alturas G4 gets really successful in the home market, it can also eat into some of the demands of the other premium SUVs, for instance, the Skoda Kodiaq and the Honda CR-V which belong to a bit more premium SUV segment and comes with monocoque or unibody chassis.
So, here we compare the new Mahindra Alturas G4 with two of its indirect rivals in the Indian car market, the Skoda Kodiaq and the Honda CR-V. Take a look:
Dimensions
Dimensions do matter when it comes to 7-seater SUVs, as buyers look for better space to accommodate 7 occupants. When it comes to dimensions, the Alturas G4 is 4850 mm long, the Kodiaq is 4697 mm long and the CR-V is 4592 mm long.
The Alturas G4 has a width of 1960 mm, the Kodiaq is 1882 mm wide, while the CR-V is 1855 mm wide.
The Alturas has a height of 1845 mm, the Kokiaq is 1676 mm tall and the CR-V is 1689 mm high.
The Alturas rides on a wheelbase of 2865mm, the Kodiaq's wheelbase measures 2791 mm, while the CR-V sits on a 2660 mm wheelbase.
Thus, it is apparent that the all-new Mahindra Alturas G4 is the largest vehicle among the three compared SUVs here in all proportions. The Honda CR-V is the smallest model in this comparison, but is higher than the Kodiaq, which is coming second in all other dimensions.