Tata Nexon Diesel Or Nexon EV? Mileage & Running Cost Comparison
If you're wondering whether you should buy the Tata Nexon diesel or Nexon EV then this article will help you come to a conclusion. Here, we'll take the latest ex-showroom prices of the Nexon and look at the price difference. Based on the current diesel and electricity prices, we'll calculate the kilometres you need to drive the car to recover the higher upfront cost. This should help you decide which engine option of the Nexon will work best for you and save you money in the long run. Let's start with the difference in their ex-showroom prices.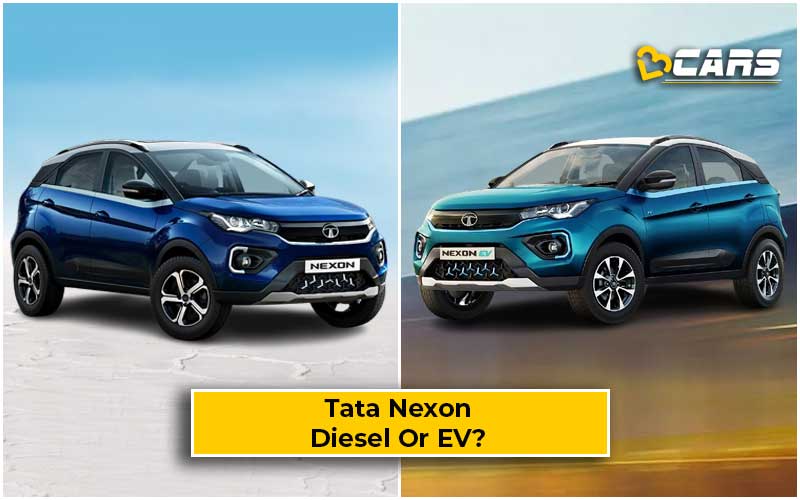 Tata Nexon Diesel Vs Nexon EV - Price Comparison
Let's look at the latest ex-showroom prices of the Tata Nexon diesel and Nexon EV to see what extra cost you're paying for the Nexon electric over the Nexon diesel.
With the automatic transmission, the ex-showroom price of the Nexon EV is Rs. 4.01 lakh
Tata Nexon Diesel Vs Nexon EV - Running Cost Calculation - June 2022
Now, let's compare the per kilometre fuel cost you'll incur with both the engine options. For this, we'll use the latest diesel prices in Delhi and the official mileage figures as a baseline.
With the automatic, the Tata Nexon EV will save you Rs. 3.19 compared to the diesel automatic.
Kilometres To Breakeven With Tata Nexon Electric
With the automatic, you'll have to drive at least 1.26 lakh kilometres to justify buying the Nexon EV over the diesel automatic.
Should You Buy Tata Nexon Diesel Or Electric?
The Nexon EV costs Rs. 4 lakh more than equivalent variants of the Nexon diesel. That's a massive price difference one cannot ignore. However, the Nexon EV Max promises to save you a substantial Rs 3.2 for every kilometre you drive. Since EVs have fewer wear and tear parts, you stand to save even more with lower maintenance costs.
The kilometre-to-breakeven figure of 1.25 lakh kilometres doesn't seem reasonable. However, the EV has decent range that could make it your primary car for short city drives. If you are considering buying the Nexon electric, then we highly recommend getting the EV Max instad of the normal Nexon EV. The EV Max gets a bigger battery along with a few extra features over the Nexon EV. The advantages more than justify the price gap between the Nexon EV and Nexon EV Max.
Note: Check your Car EMI with our - Car Loan EMI Calculator
You can use our Fuel Cost Calculator to see how much any petrol, diesel or CNG car will cost to run based on the latest fuel price in your city.