Tata Tiago Petrol Or CNG? Mileage & Running Cost Comparison
If you're wondering whether you should buy the Tata Tiago petrol or CNG then this article will help you come to a conclusion. Here, we'll take the latest ex-showroom prices of the Tiago and look at the price difference. Based on the current petrol and CNG prices, we'll calculate the kilometres you need to drive the car to recover the higher upfront cost. This should help you decide which engine option of the Tiago will work best for you and save you money in the long run. Let's start with the difference in their ex-showroom prices.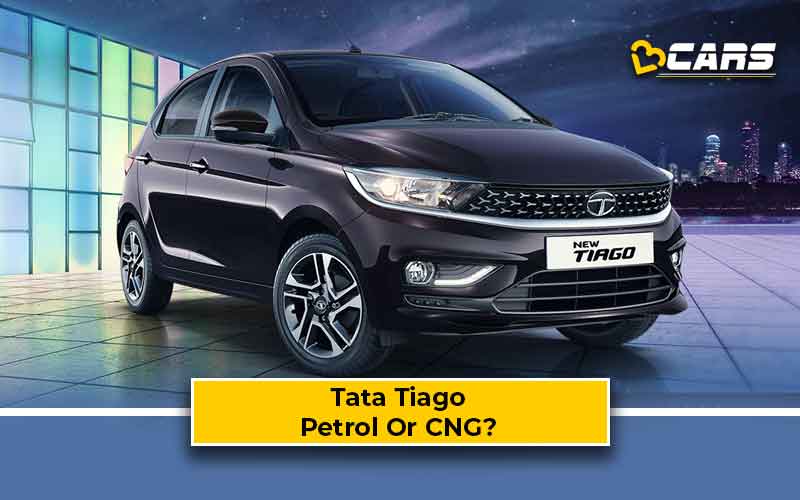 Tata Tiago Petrol Vs CNG - Price Comparison
Let's look at the latest ex-showroom prices of the Tata Tiago petrol and CNG to see what extra cost you're paying for the Tiago CNG over the Tiago petrol.
For the Tiago CNG manual, you're paying Rs. 90,000 more than the Tiago petrol.
Tata Tiago Petrol Vs CNG - Running Cost Calculation - August 2022
Now, let's compare the per kilometre fuel cost you'll incur with both the engine options. For this, we'll use the latest petrol and diesel prices in Delhi and the official mileage figures as a baseline.
At the current fuel prices, the Tata Tiago petrol manual will cost you Rs. 2.75 more than the Tata Tiago CNG manual for every kilometre you drive.
Kilometres To Breakeven With Tata Tiago CNG
You'll have to cover 45,871 km with the Tata Nexon CNG manual to recover the extra price you pay upfront over the Nexon petrol.
Should You Buy Tata Tiago Petrol Or CNG?
The Tata Tiago CNG is Rs. 90,000 more expensive than the Tiago petrol. But, the Tiago CNG can pay back the higher premium in less than 50,000km. So, even for customers who might drive the Tiago CNG for about 50,000km, the Tata Tiago CNG makes good financial sense.
You can use our Fuel Cost Calculator to see how any petrol, diesel or CNG car will cost to run based on the latest fuel price in your city.