Toyota Vellfire Specifications - Engine, Power, Transmission & Fuel Efficiency
Toyota Vellfire belongs to the D2-segment MPV segment. It's a 7 seater car that rivals the Mercedes Benz V Class and Kia Carnival. This article will give you a perspective of its engine specs and fuel efficiency.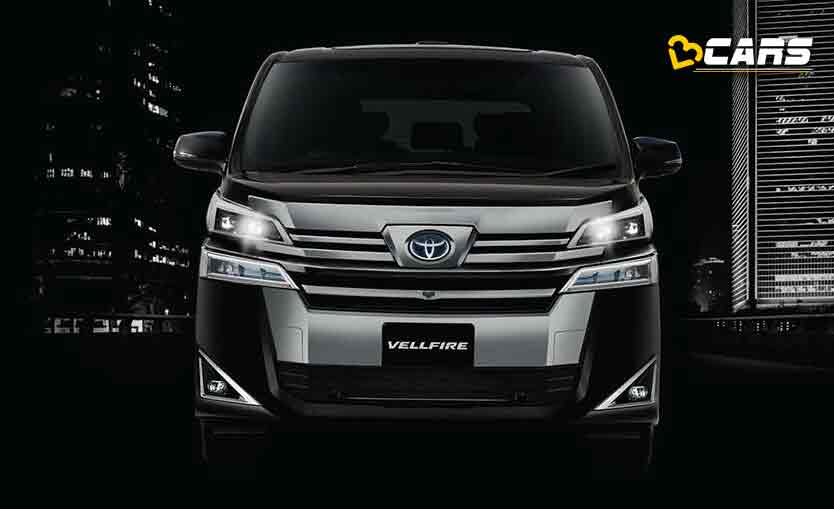 What is the Power & Torque of Toyota Vellfire 2020?
Toyota Vellfire Engine Specifications

Engine Type

Petrol

Displacement

2.5L

Cylinder

4

Max Power (Engine)

117PS @ 4700rpm

Torque (Engine)

198Nm @ 2800-4000rpm

Front Electric Motor

140PS @ 4500 rpm

Rear Electric Motor

53PS @ 4608 rpm

Transmission

CVT
The Toyota Vellfire is available with a 2.5L hybrid petrol engine paired with a CVT Automatic transmission. The power and torque output of this engine are 117PS and 198Nm. It gets a self-charging hybrid system which comprises 2 electric motors, a generator, and a 2.5-litre petrol engine. The electric motor on the rear axle only comes into play when there is a lack of traction, and the vehicle needs to go into all-wheel-drive mode. Vellfire has Nickel Metal Hydride (NiMH) batteries (not Lithium Ion) which are cheaper than lithium-ion batteries and have lower energy density but are known for lasting longer.
How many cylinders does the Toyota Vellfire Petrol have?
Toyota Vellfire gets a 4-cylinder, hybrid 2.5L petrol engine.
What is the mileage of Toyota Vellfire Petrol?
Toyota Vellfire Fuel Efficiency

Transmission

CVT Automatic

Fuel Type

Petrol

Claimed FE

16.4kmpl

The Toyota Vellfire 2.5L petrol engine with the CVT automatic transmission has a fuel efficiency of 16.4kmpl.
Is Toyota Vellfire Petrol Good for Long Drives?
Yes, Toyota Vellfire 2.5L petrol-automatic is amazing for long drives as well as city drives. This hybrid engine and its luxurious cabin are best-suited for highway drives.
Is Toyota Vellfire 4x4/4WD (4-Wheel-Drive) or AWD (All-Wheel-Drive)?
Yes, the Toyota Vellfire has all-wheel drive (AWD) with an electric motor at the rear axle. The front wheels are driven by the engine and another electric motor. AWD is only activated when loss of traction is detected.