Kia Likely To Showcase EV9 SUV At Auto Expo 2023
Kia India are likely to showcase the EV9 SUV at the Auto Expo 2023. Let's discuss the details like expected dimensions and engine specs, expected launch timeline, rivals and expected price of the Kia EV9.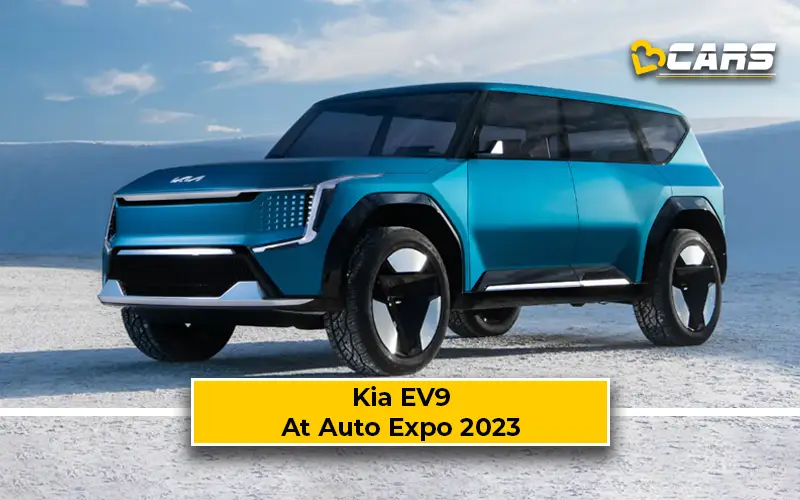 Most Notable Features Of Kia EV9
Although still in the early concept stages, the EV9 is styled like a large SUV, comparable in size to the Toyota Fortuner but with an electric powertrain. The EV9 is big enough to feature a 3rd row and gets lounge-like interiors with the following features:
27-inch touchscreen infotainment system
Retractable steering wheel with autonomous and manual driving modes
Panoramic sunroof
Backward-opening rear doors
In contrast to the luxurious interiors, the exterior has a rugged and upright stance, similar to that of the Kia Telluride.
Note: Know more about the upcoming Cars In January 2023
Kia EV9 Expected Specs
The Kia EV9 is an early concept and Kia have not yet revealed the specifications of the car. The EV9 is likely to go on sale sometime in 2024.
Kia EV9 Rivals
The Kia EV9 is a D2-segment electric SUV based on the Electric Global Modular Platform (E-GMP). Although the car is still in a concept stage, when launched, will compete with large electric cars like Q8 E-tron, Mercedes-Benz EQS SUV, EQE SUV and its sibling from Hyundai, the Ioniq 7.
Kia EV9 Launch Timeline
We expect Kia to showcase the EV9 at the 2023 Auto Expo, but don't see any prospect of a launch in the near future. If featured in the expo, it is sure to turn eyeballs and add to the brand's image. The EV9 is likely to go on sale in the international markets by the end of 2024.
Note: Here's a list of all upcoming Kia Cars
Kia EV9 Expected Price
With a distant launch timeline, there are a lot of factors to consider while estimating the price such as inflation, supply and demand, battery prices, subsidies and other economic factors. So, we can't put a price tag right now. Moreover, its likelihood of coming to India are also very low as of right now.
Also Read: Kia Cars At Auto Expo 2023