Hyundai Creta Facelift, Verna 2023 - Auto Expo Update
Hyundai today launched the Ioniq 5 EV and showcased the Ioniq 6 electric sedan. The carmaker also showcased the Nexo fuel-cell vehicle once again, conveying their commitment to green mobility and alternative propulsion technologies. However, the 2 high-value cars for the Indian market, which we expected to see at the Auto Expo, were not present at all.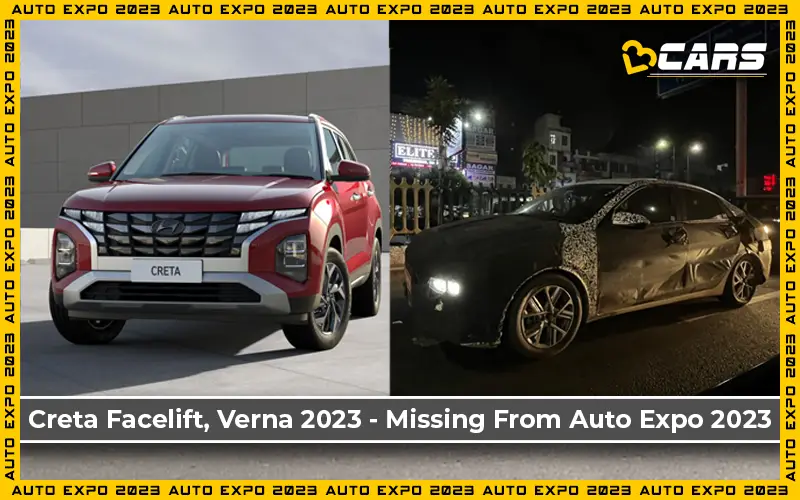 The carmaker filled up their pavilion with 5 copies of the Ioniq 5, an Alcazar to showcase their Bluelink connected car tech and a Nexo. But the Creta facelift and the new-generation Verna 2023, both of which are ready for an update, were nowhere to be seen at the fair.
Track our complete 2023 Auto Expo coverage at: Auto Expo 2023 – Latest News in Auto Show India
Why Is The Creta Facelift And Verna 2023 Missing From The Auto Expo?
Since the launch of the Grand Vitara and Toyota Hyryder last year, we have had them in series production for a few months. Even in their honeymoon period, the 2 cars aren't pulling enough numbers to pose any serious threat to the Creta's near-monopolistic position in the C-segment SUV space.
Also Read: C-Segment SUV Nov 2022 Cars Sales Analysis – MoM, YoY Change
In the monthly sales figures, the Creta still maintains its monthly sales figure around the 12,000 units to 13,000 units. Meanwhile, Toyota's and Maruti Suzuki's C-segment SUVs - the Hyryder and Grand Vitara - post an average monthly sales figure of around 8,000 units combined.
Since the Creta has nothing to fear right now, Hyundai probably see no reason to give it the mid-life update just yet.
As for the Verna, it has managed to match or beat newer and larger rivals like the Volkswagen Virtus and Skoda Slavia. The other old rival, Maruti Nexa Ciaz, is also waiting for its generation update, which is not even on the horizon yet. The Honda City is out of the Verna's league. So, Hyundai probably don't even see it as a rival.
Here too, the Verna is not seeing its sales decline. So, Hyundai don't see any urgency to update the Verna and they can stretch the current generation model a little longer.
On a side note, it was equally surprising that the recently-updated Nios facelift and Aura facelift also skipped the Auto Expo 2023 edition. Hyundai recently revealed the designs of both of these cars and opened bookings too.
Also Read: Hyundai Aura Facelift Unveiled; Bookings Open