Maruti Suzuki Not Launching Grand Vitara Matte Edition Anytime Soon
At the 2023 Auto Expo, Maruti Suzuki showcased a slew of cars, including the global premier of the Jimny 5-Door and Fronx as well as a few special editions. Maruti Suzuki also showcased the Grand Vitara Matte Edition at their pavilion and it grabbed a lot of attention. However, we can now confirm that Maruti Suzuki will not launch the Grand Vitara Matte Edition anytime soon.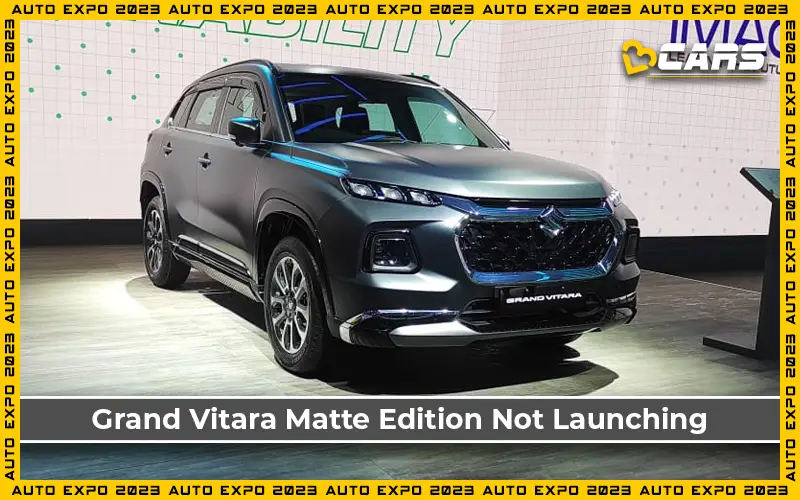 Grand Vitara Matte Edition Not Launching Anytime Soon
Note: Check out the list of Electric Cars in India
The matte colour is a very sought after colour for a lot of car enthusiasts. Sadly, only a few carmakers offer a matte finish right off from the factory and one of them is Kia. They offer the Sonet X Line and Seltos X Line exclusively with the grey matte paint. We thought that Maruti Suzuki would soon hop on to the growing trend of matte editions with the Grand Vitara and Brezza but the carmaker officially confirmed they will not bring the said editions anytime soon.
Maruti Suzuki recently launched the Nexa Black Edition range of cars to celebrate their 40th anniversary in the Indian market. The Black Edition is available with the Ignis, Baleno, Ciaz, Grand Vitara and XL6. The Ignis Black Edition is available in Zeta and Alpha variants while all variants of the Ciaz get the Black Edition option. In the case of the XL6, it is available with Alpha and Alpha Plus variants. The Grand Vitara offers the Black Edition with the Zeta, Alpha and Alpha Plus variants.
Note: Check your car's fuel cost with Fuel Cost Calculator India
The upkeep of matte colour is rather hard as it requires careful maintenance. For instance, you can not apply regular wax or polish directly on the paint as it becomes glossy and attracts dirt very easily. It is also more prone to scratches and they are visible more clearly.
Also Read: New Maruti Nexa Grand Vitara Matte Showcased At Auto Expo