Hyundai Aura vs Honda Amaze - Diesel Engine Specifications Comparison
The Hyundai Aura subcompact sedan is all braced up to compete with the many available models in the market. One of the many competitors of the upcoming Aura is the well-established Honda Amaze.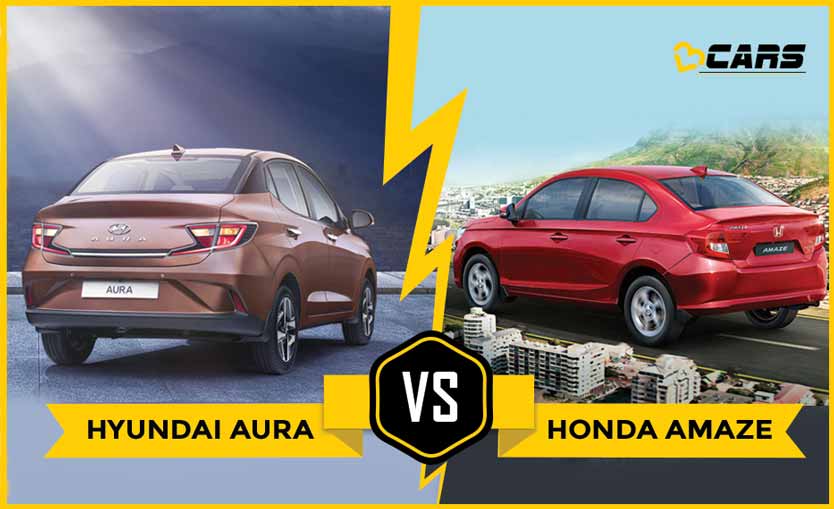 So, let us compare the specs of the 2020 Hyundai Aura diesel with the Honda Amaze diesel, to figure out how they compare.
Below are the diesel engine specs details of the Hyundai Aura and the Honda Amaze sedan:
2020 Hyundai Aura vs Honda Amaze

DIESEL ENGINE SPEC COMPARISON

 

Hyundai Aura

Honda Amaze MT

Honda Amaze AT

Displacement

1.2-litre

1.5-litre

1.5-litre

Power

75PS @ 4000rpm (est.)

100PS @ 3600rpm

80PS @ 3600rpm

Torque

190Nm @ 1750-2250rpm (est.)

200Nm @ 1750rpm

160Nm @ 1750rpm

Manual Transmission

5-speed

5-speed

-

Automatic Transmission

5-speed AMT

-

CVT

Emission Standard

BS6

BS4

BS4
The Hyundai Aura diesel comes with a smaller engine than the Honda Amaze.
The Honda Amaze's 1.5-litre diesel engine offers more power and torque outputs than the Aura when it is paired with the 5-speed manual transmission. However, when equipped with the smooth CVT automatic transmission, the power output falls from 100PS to 80PS, while the torque figure drops from 200Nm to 160Nm.
On the other hand, the Hyundai Aura offers the same power and torque figures with both its 5-speed manual and AMT automatic options. Thus, the Aura's diesel AMT automatic variant will offer more torque than the Amaze diesel CVT. The Aura's AMT is not as smooth as a CVT, but it's certainly more affordable.
The Hyundai Aura gets BS6 engine, while the Honda Amaze will be updated with the BS6 engine early in 2020 ahead of the April deadline.
asdasdsa 2020 Hyundai Aura Diesel vs Honda Amaze Diesel – Engine Specifications - Conclusion
The Honda Amaze's diesel MT is definitely more powerful and you should go for it if you wish to have a more powerful diesel compact sedan with a manual transmission.
However, if you want to go for the automatic version, then the Hyundai Aura diesel AMT should suffice your requirements with a cheaper price tag as well. It also has more power and torque than the Amaze diesel CVT.
The refinement of the CVT is obviously desirable, but it costs more money and also power on the Amaze diesel.
In a nutshell, the 2020 Hyundai Aura diesel appears to be a better choice as it does most things well enough to meet most buyers' needs.