Hyundai Aura vs Maruti Suzuki Brezza – Dimensions Comparison
Hyundai Aura vs Maruti Brezza - Know which car is bigger as we compare the dimensions of these two cars. Let's see which car is longer, wider, taller, has more boot space, ground clearance and a longer wheelbase.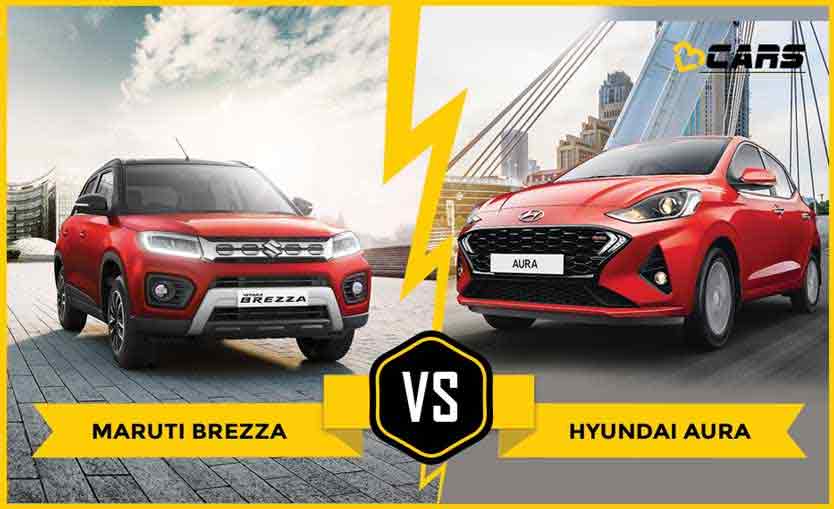 The Hyundai Aura is 3995mm long, 1680mm wide, 1520mm tall and rides on a wheelbase measuring 2450mm. The Carnival has a boot space of 420 litres and a ground clearance of 170mm. The Maruti Suzuki Brezza 3995mm long, 1790mm wide, 1640mm tall and has a wheelbase of 2500mm. It has a boot space of 328 litres and a ground clearance of 198mm.
Aura vs Brezza Dimensions Comparison

Dimensions

Hyundai Aura

Maruti Brezza

Length (mm)

3995

3995

Width (mm)

1680

1790

Height (mm)

1520

1640

Wheelbase (mm)

2450

2500

Boot space (Litres)

402

328

Ground clearance (mm)

170

198
Maruti Suzuki Brezza is 110mm wider and 60mm higher than Hyundai Aura with same length 3995mm. A wider body normally results in better shoulder room inside the car while a higher roof makes it easier to get in and out of the car. The Hyundai Aura's ground clearance is 18mm less than that of the Maruti Brezza. A higher ground clearance makes it easier to go over tall speed breakers or drive on broken roads.
The Brezza's wheelbase is 50mm longer than the Aura's and boot space of Hyundai Aura is 74 litres more than Maruti Suzuki Brezza. The wheelbase is the distance between the centre of the front and rear wheels. A longer wheelbase means better legroom for tall occupants. A larger boot allows you to carry more luggage for pick up or drop trips to airport/railway stations.