Home
-
Car Comparison
-
Maruti S-Presso vs Alto K10 vs WagonR vs Celerio Comparison: Mileage & Specs
Maruti S-Presso vs Alto K10 vs WagonR vs Celerio Comparison: Mileage & Specs
Maruti Suzuki is set to launch the S-Presso in India on 30 September 2019. Ahead of the new small car's launch, its specifications have leaked online. The S-Presso will be sold from Maruti Suzuki's Arena dealerships and it will be powered by a 1.0-litre petrol engine. There will be an option of AMT along with the manual transmission.
---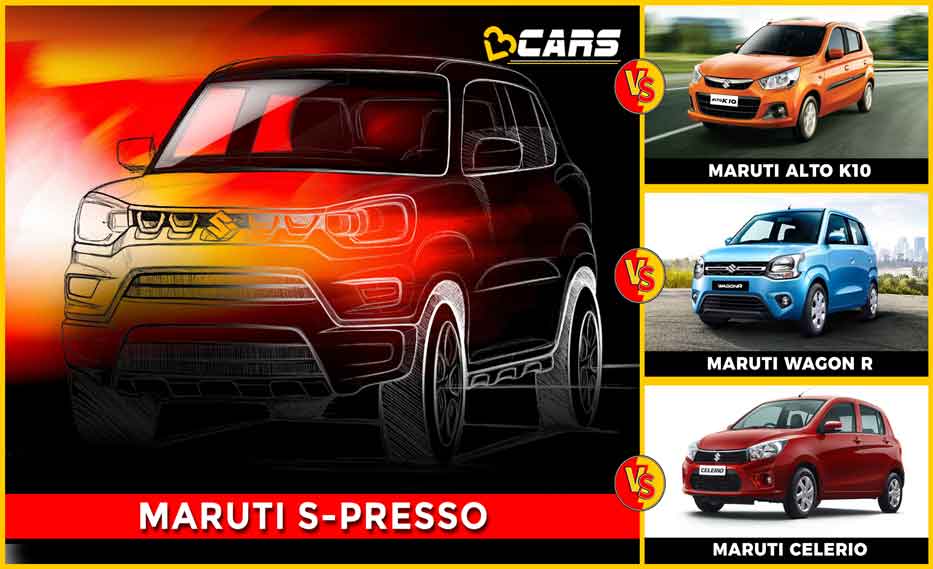 Let's first compare the S-Presso's dimensions against its siblings to find out just how big is it:
Dimension Comparison - SPresso vs Celerio vs Alto K10 vs WagnoR
| | | | | |
| --- | --- | --- | --- | --- |
|   | SPresso | Alto K10 | Celerio | WagonR |
| Length | 3565mm | 3545mm | 3695mm | 3655mm |
| Width | 1520mm | 1490mm | 1600mm | 1620mm |
| Height | 1564mm | 1475mm | 1560mm | 1675mm |
| Wheelbase | 2380mm | 2360mm | 2425mm | 2435mm |
| Ground Clearance | 180mm | 160mm | 165mm | 165mm |
| Boot Space | 240 litre | 177 litre | 235 litre | 341 litre |
Read Also - Maruti S-Presso Variants Explained: STD, LXI, VXI, VXI+ - Which Variant To Buy?

The S-Presso is larger than the Alto K10 in all aspects -- length, width, height and wheelbase. However, compare it with the WagonR, and it falls short on three counts -- width, height and wheelbase. The S-Presso's overall length is also only 10mm longer than the WagonR's. However, since the WagonR's wheelbase is longer than that of the S-Presso, we expect it to be the more spacious car of the two. Against the Celerio, the S-Presso falls short on almost all counts barring height. The S-Presso is only marginally taller than the Celerio.
ENGINE SPECIFICATIONS: Does S-Presso have the same engine as the Alto K10?
Yes, the S-Presso shares its 1.0-litre engine with the Alto K10 and WagonR 1.0. The 998cc engine that powers the S-Presso makes 68PS of maximum power, and this engine is in the same state of tune in the other cars as well.
Like in the WagonR, Alto K10 and Celerio, Maruti Suzuki will offer the upcoming S-Presso with both manual transmission and AMT. We expect the S-Presso to have a 23+kmpl claimed fuel efficiency, more than the WagonR 1.0. All other cars in this comparison apart from the WagonR are rated to deliver over 23kmpl fuel efficiency.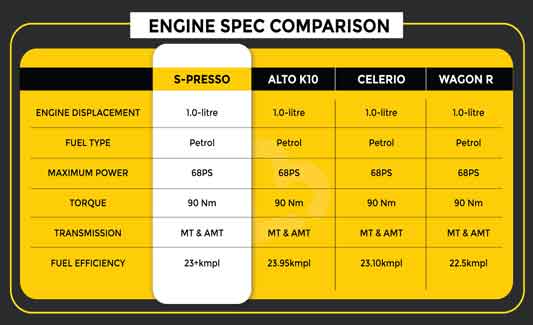 A comparison of the technical specifications of the S-Presso against its siblings like the Alto K10, WagonR and Celerio shows that the S-Presso will be positioned above the Alto K10, but below the Maruti Suzuki WagonR in the carmaker's lineup. We expect the S-Presso to be priced in the range of Rs 3.49 lakh to Rs 4.97 lakh.
Video Comparison Maruti SPresso vs Celerio vs Wagnor vs Alto K10
;
Previous
Next

---
---
Related Car Comparison