Renault Kwid RXT Vs Maruti SPresso VXI - Which Car Should You Buy?
The new 2019 Renault Kwid facelift arrived on the heels of fresh competition from Maruti in the form of Maruti Espresso. It went on sale just as the auspicious season of car buying started. Let's see why these two cars are the most important for their makers.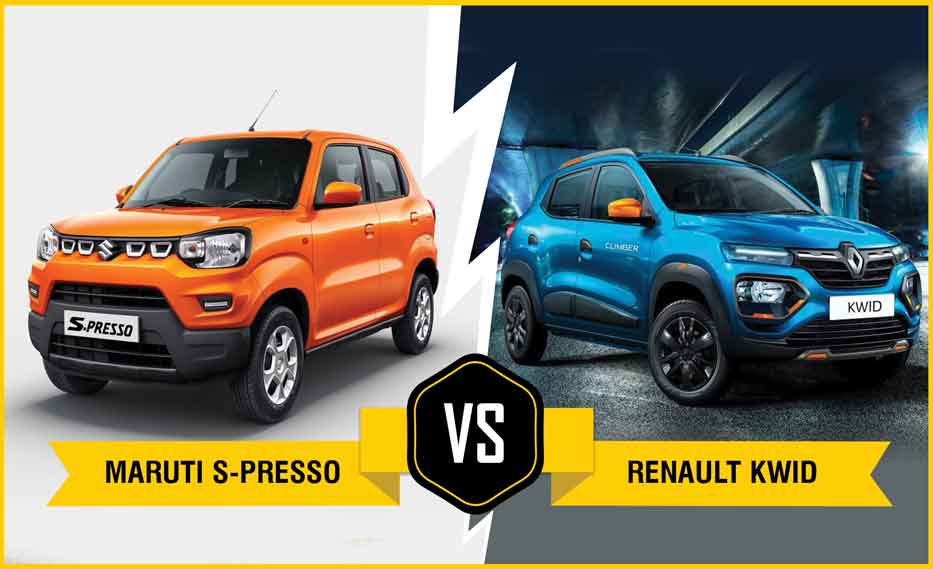 The French created the segment of compact SUV with the Renault Duster, which the Americans perfected with the Ford EcoSport, and Maruti dominated with the Vitara Brezza.
While Renault lost ground to competition in the sub-10 lakh SUV market, they're not in the mood to let history repeat itself with their most popular offering. The Renault Kwid also created a sub-segment in the entry-level hatchback. It offers a spacious cabin, upmarket features and a butch styling that punches well above its price tag has any right to.
Now that Maruti Suzuki SPresso is here to make the Kwid uncomfortable, Renault had to reinvent the Kwid and it seems they've done it successfully. The Kwid's visual appeal, features and a mouth-watering price tag were its biggest draws - exterior design, more so than the rest. So, it's no wonder Renault took this 'facelift' attempt very seriously. With more competition, we have more choices in the segment and at attractive prices too.
If you would like to take a deeper look into either of the two cars, check out the following stories:
Renault Kwid vs Maruti SPresso Price Comparison
First, let's start with the price tags. Since the Maruti SPresso is only available with a 1.0-litre petrol engine, it'd be unfair to compare it with the Kwid's 800cc variants. So, we're looking at only the 1.0-litre variants of the Renault Kwid.
PRICE COMPARISON

EX-SHOWROOM DELHI

MARUTI SUZUKI S-PRESSO

1.0 L PETROL MT

 

2019 RENAULT KWID

1.0 L PETROL MT

VARIANTS

PRICE

DIFFERENCE (?)

VARIANTS

PRICE

STD

₹3,69,000

 
 
 

STD(O)

₹3,75,000

 
 
 

LXI

₹4,05,000

 
 
 

LXI(O)

₹4,11,000

 
 
 

VXI

₹4,24,500

₹8,790

RXT

₹4,33,290

VXI(O)

₹4,30,500

₹10,490

RXT(O)

₹4,40,990

VXI+

₹4,48,000

₹6,490

Climber

₹4,54,490

 
 
 

Climber(O)

₹4,62,190
So, if you're more interested in a powerful engine and less in the features, then the Maruti SPresso will provide more power at less price. But if you want some features as well, then the Maruti SPresso's VXI variant compares quite well with Renault Kwid RXT as there's only Rs. 8,790 of difference between the two cars.
Renault Kwid vs Maruti SPresso Dimension Comparison
| | | | |
| --- | --- | --- | --- |
|   | S-Presso | Difference | 2019 Kwid |
| Length | 3565mm | 166mm | 3731mm |
| Width | 1520mm | 59mm | 1579mm |
| Height | 1564mm | 74mm | 1490mm |
| Wheelbase | 2380mm | 42mm | 2422mm |
| Ground Clearance | 180mm | 4mm | 184mm |
| Boot Space | 240 litre | 39 litre | 279 litre |
| Fuel Tank | 27 litre | 1 litre | 28 litre |
If you think bigger is better, then the new Renault Kwid facelift will not disappoint. Except for the height, it easily beats Maruti S-Presso in every department. The Kwid also has longer wheelbase, which helps in liberating extra knee room. It also has slightly better ground clearance, a criterion you might associate with SUVs. It can also hold more luggage as it has a bigger, 279-litre boot space.
In this area, the new Renault Kwid is the clear winner.
Renault Kwid vs Maruti SPresso Engine Comparison
| | | |
| --- | --- | --- |
|   | Maruti Suzuki S-Presso | 2019 Renault Kwid |
| Engine displacement | 1.0-litre | 1.0-litre |
| Fuel type | Petrol | Petrol |
| Max Power | 68PS @ 5500RPM | 68PS @ 5500RPM |
| Max Torque | 90Nm @ 3500RPM | 91Nm @ 4250RPM |
| Transmission | 5-Speed MT/ 5-Speed AMT | 5-Speed MT/ 5-Speed AMT |
| Fuel Efficiency | 21.4kmpl (STD, LXI) / 21.7kmpl (VXI, VXI+) | 21.7kmpl (MT) / 22.5kmpl (AMT) |
| Emission standard | BS6 | BS4 |
With respect to the engines, both seem to make about the same power at the same 5500RPM. But they differ in the way they make this power. The Maruti's K10 engine has good bottom-end torque and the numbers don't lie. 90Nm at 3500RPM will make it easier to drive in the traffic without revving the engine. The Renault's engine has a good mid-range as its peak torque comes at 4250RPM. So, it's not lacking, it just doesn't have the torquey bottom end like the S-Presso.
The fuel efficiency trophy goes to the Renault Kwid as its BS4 engine delivers the same fuel efficiency as the SPresso with the manual transmission and gains a 0.8kmpl edge with its automatic.
It's Maruti SPresso that emerges victorious in this battle as its 1.0-litre engine is a proven workhorse that has been around in India for a decade. We can, therefore, expect it to be more refined and reliable than Kwid's fairly new engine.
Renault Kwid vs Maruti S-Presso Feature Comparison
First, lets get the common features out of the way.
Driver Airbag
ABS with EBD
Reverse Parking Sensors
Seatbelt Reminder (Driver + Passenger)
Speed Alert System
Remote Center Locking
Body-coloured Bumpers
14-Inch Wheels
Roof Antenna
Bluetooth Connectivity
Front Power Windows
Air Conditioner with Heater
Power Steering
Front Power Outlet with USB Charger
Gear Shift Indicator
Non-Adjustable Headrest
When we look at the unique features of each of the two cars, then it's apparent that the Kwid gets more stuff.
UNIQUE FEATURES

Maruti Suzuki S-Presso VXIi

Renault Kwid RXT

Speed Sensing Auto Door Lock

Reversing Camera

2-DIN Music System with Aux, FM, and Bluetooth

LED Daytime Running Lights (DRL)

 

2-Tone Outside Mirrors

 

Tachometer

 

8-inch Touchscreen Infotainment System

 

Android Auto & Apple CarPlay

 

Rear Power Outlet

 

Rear Parcel Tray

 

Leather Wrapped Steering Wheel

 

Integrated Rear Spoiler

 

Wheel Arch Cladding
2019 Renault Kwid Facelift in RXT trim is, once again, the better-equipped car compared to the Maruti S-Presso VXI and the winner of features comparison.
Renault Kwid vs Maruti S-Presso Other Options Comparison
If you add another Rs 6,000, you can get the VXI (O) variant. It'll add a passenger-side airbag and front seatbelt pre-tensioners and force limiters for added safety.
SPend another Rs, 7,000 on top of the Renault Kwid RXT (O) and you'll get a passenger-side airbag and rear power windows. A unique mix of safety and functional features but a little more than Maruti SPresso.
Maruti S-Presso VXI (O) Price

EX-SHOWROOM, DELHI

MARUTI SUZUKI S-PRESSO VXI

DIFFERENCE

MARUTI SUZUKI S-PRESSO VXI (O)

? 4.24 lakh

₹6000

? 4.30 lakh
Renault Kwid RXT (O) Price

EX-SHOWROOM, DELHI

RENAULT KWID RXT 1.0

DIFFERENCE

2019 RENAULT KWID RXT (O)

? 4.33 lakh

₹7000

? 4.40 lakh
Once you add the 5-speed AMT automatic to the wishlist, the price tags flip in favour of Renault Kwid. The Maruti S-Presso VXI AMT is Rs. 43,000 more expensive than the VXI with a 5-speed manual transmission. The Renault Kwid automatic is only Rs. 30,000 more expensive than manual transmission with the RXT variant. So, the Kwid ends up becoming Rs. 4,000 cheaper. Once again, making it easier for us to safely say that this is the better value option if you want an automatic transmission.
SPresso VXI Automatic vs Kwid RXT Automatic Price

EX-SHOWROOM, DELHI

MARUTI SUZUKI S-PRESSO VXI AMT

DIFFERENCE

RENAULT KWID RXT AMT

? 4.67 lakh

₹4,000

? 4.63 lakh
Renault Kwid vs Maruti SPresso Comparison - Overall Winner: Renault Kwid
Renault made this comparison very easy for us. If you value a proven, refined and more driveable car, then the Spresso should be your pick. Also, if you don't have a Renault dealership and service center nearby, then buying, and later, servicing, could be a hassle. Maruti's wide sale and service network makes it easy to get parts and service pretty much anywhere in the country.
But, like us, if you give importance to features and want the car that offers better value, then the Renault Kwid is an easy choice.