Skoda Vision IN vs Skoda Kamiq (Euro) - Skoda Compact SUV Design Comparison
Skoda has finally revealed the sketches of the Skoda Vision IN - Skoda's compact SUV to compete with the Kia Seltos and Hyundai Creta. We've also seen a camouflaged Euro-spec Skoda Kamiq testing on Indian roads. It begs the question, which one is better equipped to challenge the Hyundai Creta and Kia Seltos' reign.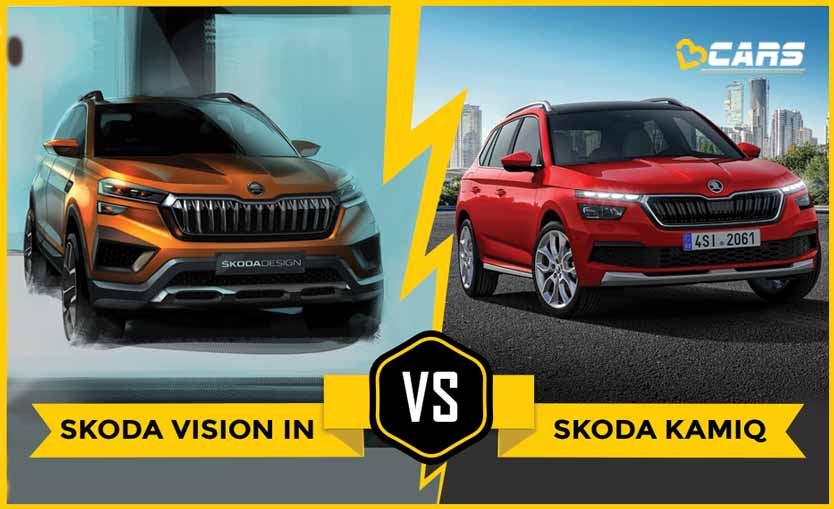 The front of the 2020 Vision IN has its headlights in a sleek enclosures at the top of the bumper next to the grille. This design trend is catching on fast lately as we have multiple cars following some or the other variation of this squinty-eye design element. Right from the Renault Kwid facelift to the Hyundai Venue to the Tata Harrier and MG Hector. But unlike these cars, the Skoda Vision IN uses this to house the main headlight rather than DRLs or indicators. So, unlike these other cars, the Vision IN doesn't have its main headlamp cluster in the bumper. Fog lamps continue to stay where they belong - down low and closer to the ground. Only the indicators step outside of this slim enclosure. Inside, it appears to have 2 projector LED units.
The Skoda Kamiq, on the other hand, follows the new trend religiosly as its headlights are placed below the LED DRLs.
On the flip side, the Vision IN seems to have too many cuts and creases to satisfy the Indian taste buds. The Kamiq maintains a clean front with fewer lines criss crossing each other and exudes an air of understated elegance. Both the cars also seem to features some form of skid plate. The one on hte Vision IN just looks a bit louder than the one on the Kamiq.