Boot Light - Feature Explained
In this Feature Explained article, we'll talk about the utility of an illuminated boot in your car. We'll list out the pros and cons, explain how it works, provide the typical cost of getting a boot light from the aftermarket and repair and replacement costs of a boot light. Based on this analysis, we'll suggest if you should add this feature to your car or skip it.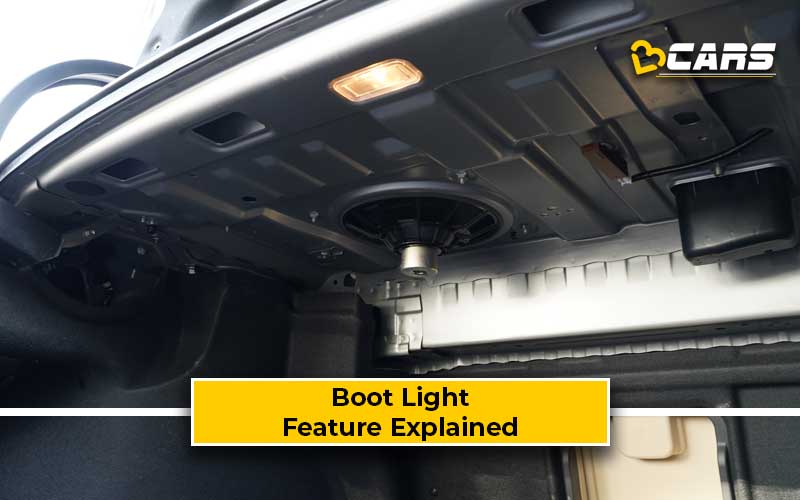 What Are The Pros And Cons Of A Boot Light?
The pros, or advantages, of a boot light are:
An illuminated boot helps you view the contents inside the boot in the dark
The boot light, or illuminated booth, has the following shortcomings or problems:
The presence of a boot light slightly increases the price of the car.
The light stays on and consumes battery power if you keep the boot lid open for a long duration while loading or unloading.
Side-facing boot light points a bit towards our faces, which makes the boot area appear slightly darker as our eyes compensate. A top mounted light, which is not visible during normal operation illuminates the boot better.
What Is A Boot Light?
A boot light helps illuminate the boot or trunk of your car. In most cars turn on automatically as you open the boot or tailgate. An illuminated boot makes it easy to view the contents of the boot even in the dark. Hence, it helps you access the things you need quickly even if there's no ambient light or any other light source around the car. An illuminated boot is especially useful if you park your car in the basement of an apartment or a dimly lit garage.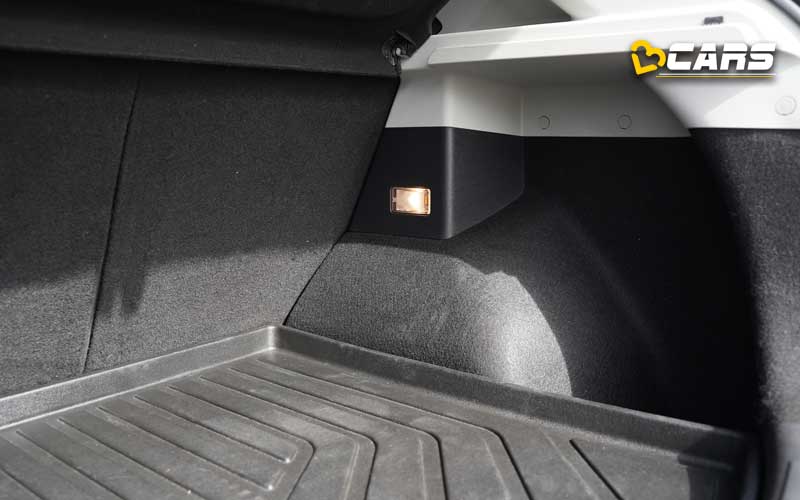 How Does An Illuminated Boot Work?
When you open the boot, the tailgate releases pressure from a switch somewhere along the edge of the boot lid. This activates the boot light and turns it off automatically when we open or close the boot. You can also spot such pressure-activated switches along all 4 door edges in your car.
How Expensive Is It To Repair Or Replace A Boot Light?
The boot light is one of the most affordable components in your car. There are primarily 2 points of failure for a boot light to stop working — the activation switch and the bulb itself. The bulb will cost about Rs. 100 if it's halogen type. For LEDs, a spare part can cost about Rs. 200 - 300. The activation switch costs about Rs. 500. Both of these things are fairly straightforward to fix and take neither a lot of time nor skills to replace.
Since this is an electrical component we suggest you choose the authorised service centre for fixing a broken boot light if your car is under warranty. A manufacturer may void your warranty if they are able to prove that you got an aftermarket electrical equipment fixed from an independent garage. That risk-reward trade-off is not worth it. After the warranty, you can choose a competent mechanic or workshop outside of your manufacturer's authorised network.
What Is The Cost Of An Aftermarket Boot Light?
It can cost between Rs. 1,500 and 2,000 including labour charges but it'll mean sawing panels in the boot of your car.
How Easy Or Complex Is It To Install A Boot Light?
Installing a boot light is best left to professional hands as it involves tinkering with the car's electrical system. Wiring a boot light incorrectly can cause a blown fuse or worse. An improperly connected boot light could also lead to unnecessary battery drain.
What Cars Get An Illuminated Boot From The Factory?
In India, most cars from the B1 segment (Ignis, Grand i10 Nios) and above get an illuminated boot or a boot light at least in their higher variants. If you're in the market to buy a reasonably loaded car, then chances are you'll get a boot light from the factory.
Verdict - Should I Get An Aftermarket Boot Light?
Installing a boot light in a car that doesn't have it in the first place is not recommended as it means sawing your car's panels in the boot. It's not a critical feature either as we can also use our phones to temporarily light up the boot space when we need to use it in the dark.
If you are installing one though, then we'll suggest installing it in the downward facing manner in such a way that it doesn't cause any glare when lit.
Note: Check your Car EMI with our - Car Loan EMI Calculator
You can use our Fuel Cost Calculator to see how much any petrol, diesel or CNG car will cost to run based on the latest fuel price in your city.