Captain Seats - Detailed Feature Explained | V3Cars
In this Feature Explained article, we'll present the most detailed analysis of the captain seats in your car. We'll list out the pros and cons, explain how it works, provide the typical cost of getting captain chairs from the aftermarket, and repair and replacement costs of a captain seat. Based on this analysis, we'll suggest if you should add this feature to your car or skip it.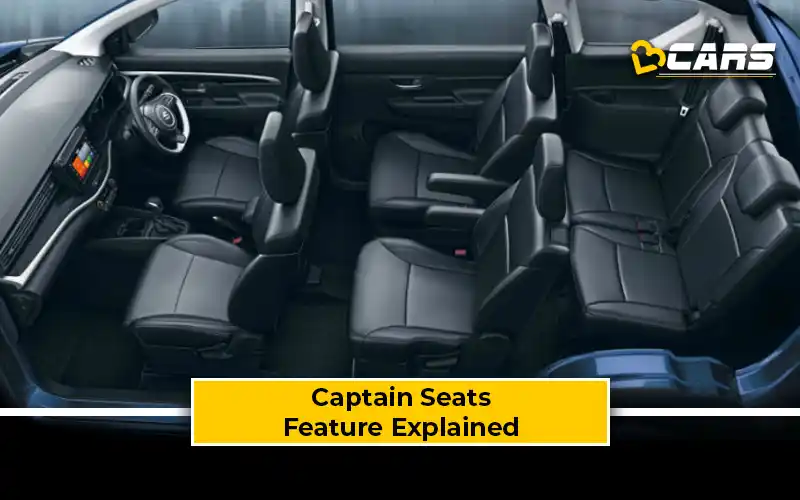 What Are Captain Seats Or Captain Chairs?
Captain seats or captain chairs are individual seats that you may find in the 2nd row of a 3-row MPV or SUV, such as the Innova Hycross, MG Hector Plus, Mahindra Scorpio Classic, and Kia Carens. A captain's seat is very similar to the bucket seats in the front row. However, captain's seats typically come with adjustable armrests, which can swing out of the way. A captain seat accommodates just one person and typically has a higher backrest than that of a bench seat. Let's take a look at the pros and cons of a captain seat:

What Are The Pros Of A Captain Seat?
The pros, or advantages, of a captain seat are:
Captain chairs offer much better comfort and bolstering for the 2nd row occupants compared to a bench seat
Captain seats let passengers individually adjust and/or recline the seat for additional comfort while moving only the attached armrest with the seat
Captain's seats appear more expensive than bench seats therefore, improving the overall ambience inside the car's cabin
Since there is always a free middle lane when captain seats are present, 3rd-row passengers may also stretch their legs during a long ride
What Are The Cons Of A Captain Seat?
Cars with captain seats can only accommodate 2 people in the 2nd row
Some captain seats don't slide forward far enough and could make getting in and out of the 3rd row difficult
Because captain seats cost more than bench seats, manufacturers usually reserve them for the higher variants and this keeps them out of reach for most buyers who only want basic features in their cars
Captain seats limit the cargo carrying capacity as you can't fold the 2nd-row seats down flat
How Easy Or Complex Is It To Install An Aftermarket Captain Seats?
Finding an aftermarket brand that makes captain chairs or captain seats is quite impossible. Especially if you own a car, which doesn't have captain seats in any of the variants.
It's also a safety concern. The seats attach to the welded points on the frame of the car. So, it may be possible to remove the bench seats and install captain seats in the 2nd row. However, in the event of a crash, you can't expect the weld and attachments to hold up as reliably as a factory-fit option.

What Cars Get Captain Seats From The Factory?
In India, you can get a good number of cars with the captain seats in the 2nd row. The most affordable one is the Maruti Nexa XL6. People carriers such as the Innova Crysta, Mahindra Marazzo, Kia Carens, Kia Carnival and the Toyota Velfire also offer captain seats in a few variants.
If you are looking for an SUV with captain seats, then your options include the Mahindra Scorpio N, Scorpio Classic, MG Hector Plus, Tata Safari and the MG Gloster. It's worth noting that the Safari is the only car under Rs. 50.0 lakh, which not only gets captain seats, but also offers seat ventilation for 2nd seat occupants.
Verdict - Should I Buy A Car With Captain Seats?
If you frequently use the 2nd row seats and spend long hours in the car, then we strongly recommend getting a car with a captain chair. If you intend to install it later, then we strongly advise against it because of serious safety concerns.
Note: Check your Car EMI with our - Car Loan EMI Calculator
You can use our Fuel Cost Calculator to see how much any petrol, diesel or CNG car will cost to run based on the latest fuel price in your city.
Also Read: First Look Review - 2022 Mahindra Scorpio Classic