LED DRLs or Daytime Running Lights - Feature Explained
In this Feature Explained article, we'll present the most detailed analysis of your car's LED daytime running lights, or DRL, feature. We'll list out the pros and cons of LED DRLs, explain how they work, and provide the typical cost of getting LED DRLs from the aftermarket, and its repair and replacement costs. Based on this analysis, we'll suggest if you should add this feature to your car or skip it.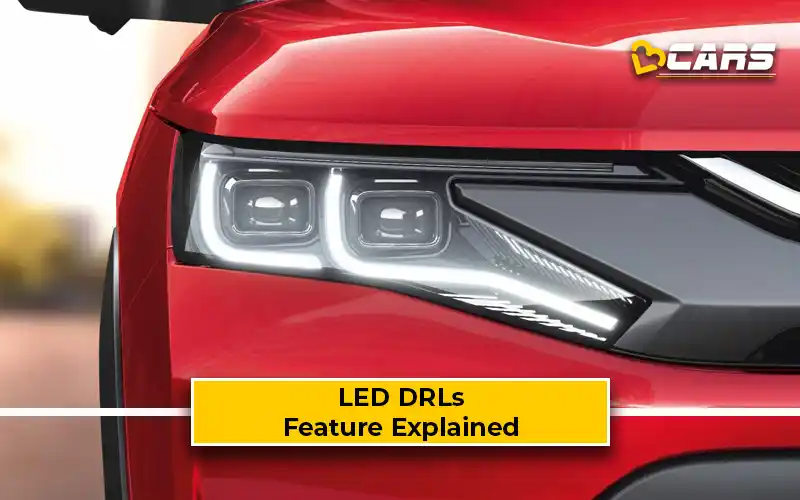 What Are The Pros And Cons Of LED DRLs?
The pros, or advantages, of LED DRLs in a car, are:
The LED DRLs in your car make your vehicle more visible to other road users even during the day
The design of the LED can add to the style of the car and make it easier for others to recognise the make or model of the car
LED DRLs, or daytime running lights, have the following disadvantages or issues:
LED DRLs can cause battery drain. Since all lights, including LED DRLs, deplete the car battery, they can cause your car battery to drain if they are left on for too long
LED DRLs are expensive to replace
DRLs add limited functionality, especially during the night
Also Read: Height-Adjustable Driver Seat - Detailed Feature Explained
What Are LED DRLs?
When you are driving, it is just as crucial for other drivers to be able to see your car clearly as it is for you to be able to see other vehicles around you. To make your car noticeable to other drivers, the front of some cars has bright white LED lights, which turn on and stay on even if you're driving the car during the day.
In India, there are 2 distinct types of DRLs in cars today. Take the Tata Harrier for example. While the base variants of the Tata Harrier come with halogen-powered DRLs, the mid- and top-spec variants get LED illumination for the DRLs.

How Do LED DRLs Work?
LED daytime running lights, or LED DRLs remain on during the day as well as night. To make the car more visible to the traffic in front of you, the DRLs are brighter during the day time and turn dimmer at night when you turn on the headlamps.
How Expensive Is It To Repair Or Replace LED DRLs?
The cost of repairing or replacing the LED DRLs in your car depends on how it is assembled. If the LED DRLs are not integrated within the headlamp assembly, like in the case of the Hyundai Grand i10 Nios, replacing them could cost Rs. 10,000 or more for a pair. However, if the LED DRL is integrated into the headlamp assembly, like in the case of the 3rd-gen Maruti Suzuki Swift, you might have to replace the entire assembly in case of a malfunction. Replacing the headlamp assembly on a Maruti Suzuki Swift or Dzire will cost you Rs. 20,000 or more, including the cost of labour. Hence, we see many car owners installing aftermarket LED DRLs as they function pretty much in the same way as OEM LED DRLs but cost significantly less.
What Is The Cost Of Aftermarket LED DRLs?
If you just need a pair of LED DRLs to make your car more visible on the road and are not bothered about improving the overall aesthetics of your vehicle, you could get LED DRL strips from brands such as Philips, Hella or Osram. A set of Philips Daylight 4 costs Rs. 6,500. However, there are much cheaper LED DRLs from the aftermarket from unknown brands for most mass-market cars sold here. A quick search online suggests that aftermarket LED DRLs mounted on the fog lamp housing for the 2nd-gen Swift costs just over Rs. 2,000 for a pair. Aftermarket LED DRLs for the current Hyundai Creta cost about Rs. 5,000 for a pair.
How Easy Or Complex Is It To Install LED DRLs?
Installing LED DRLs is a very fairly easy process. However, unless you are very proficient at electronics, we would not advise you to carry this work by yourself. Poorly connected LED DRLs could cause a blown fuse or even worse, fire. Once you've acquired the LED DRL you wish to connect to your car, take it to a trustworthy mechanic and let them take care of the installation for you.
What Cars Get LED DRLs?
In India, almost all cars currently on sale come with LED DRLs at least in their top variants. LED DRLs are even available as accessory with cars like the Maruti Suzuki S-Presso.
Verdict - Should I Get Aftermarket LED DRLs?
If the purpose of fixing aftermarket LED DRLs is to improve your car's visibility on the road, then you can go ahead with the purchase. Studies in the US have shown that LED DRLs reduce the chance of road crashes by 3%. So, in a country with one of the highest road fatalities, even a set of affordable aftermarket LED DRLs can go a long way to ensure your safety on the road. However, please make sure that the aftermarket LED DRLs comply with all safety norms in the country and get them installed by a professional to avoid any mishaps or electrical malfunction.
Note: Check your Car EMI with our - Car Loan EMI Calculator
You can use our Fuel Cost Calculator to see how much any petrol, diesel or CNG car will cost to run based on the latest fuel price in your city.